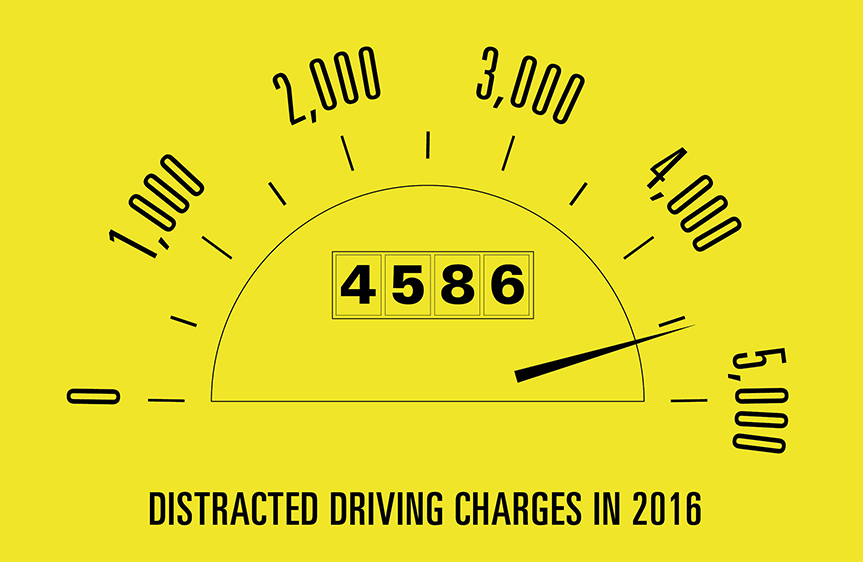 Why is YRP riding the bus?
We're on the bus to catch distracted drivers - and we're catching a lot of them.
York Region Transit buses offer our officers a unique vantage point that allows them to see drivers using handheld devices while driving. It also allows YRP to connect with pedestrians who ride the bus, who are put in danger by drivers who are distracted behind the wheel.
Since the launch of the YRT/VIVA distracted driving initiative in August 2016, officers have issued four distracted driving tickets per hour spent on the bus.
On April 13, York Regional Police unveiled a new transit campaign showing our commitment to keeping our roads safe.
We're on board to stop distracted driving. Are you?
Tickets Issued Through the YRT/VIVA Initiative
| | | |
| --- | --- | --- |
| Officer Hours on the Bus | No. of Distracted Driving Tickets Issued | Total No. of Tickets Issued |
| 81 | 260 | 311 |
Total Tickets Issued for Distracted Driving
| | | |
| --- | --- | --- |
| Total No. of Tickets Issued in 2016 | Tickets Issued from Jan. 1 to April 5, 2016 | Tickets Issued from Jan.1 to April 5, 2017 |
| 4,586 | 1,041 | 1,759 (69% increase) |
What is distracted driving?
Today, it's not uncommon for people to use their phones to do just about anything. That might include talking, texting, finding your favourite song, navigating a map or looking for a good bite to eat.
And they're all illegal behind the wheel.
But you don't have to have a phone in your hand to be charged with distracted driving. Eating, reading, applying makeup or tinkering with your vehicle's info-tainment system could all net you a nasty ticket.
What if I am caught driving distracted?
Drivers convicted of distracted driving will face penalties that include:
A fine of up to $1,000, plus victim surcharge and court fees
Three demerit points
Novice drivers, who carry a G1, G2, M1 or M2 license, face the same fines, but will also have their licenses suspended for a distracted driving conviction:
A 30-day licence suspension for a first conviction
A 90-day licence suspension for a second conviction
Cancellation of your licence for a third conviction
Drivers caught driving distracted could also face Careless Driving charges, which may result in up to a $2,000 fine, six demerit points and even jail time. If they endanger other drivers, they may face Dangerous Driving charges that could land them in jail for up to 14 years.
For more information about distracted driving laws, visit Ontario.ca/DistractedDriving.