The Association of Black Law Enforcers (A.B.L.E.) 31st Annual Scholarship and Awards Gala is Saturday, November 4, 2023 from 6 p.m. to midnight at The Terrace Banquet Centre in Concord, Ontario.
To register or sponsor the event, click here. Last day to book is Friday, October 20.
Sponsorship Packages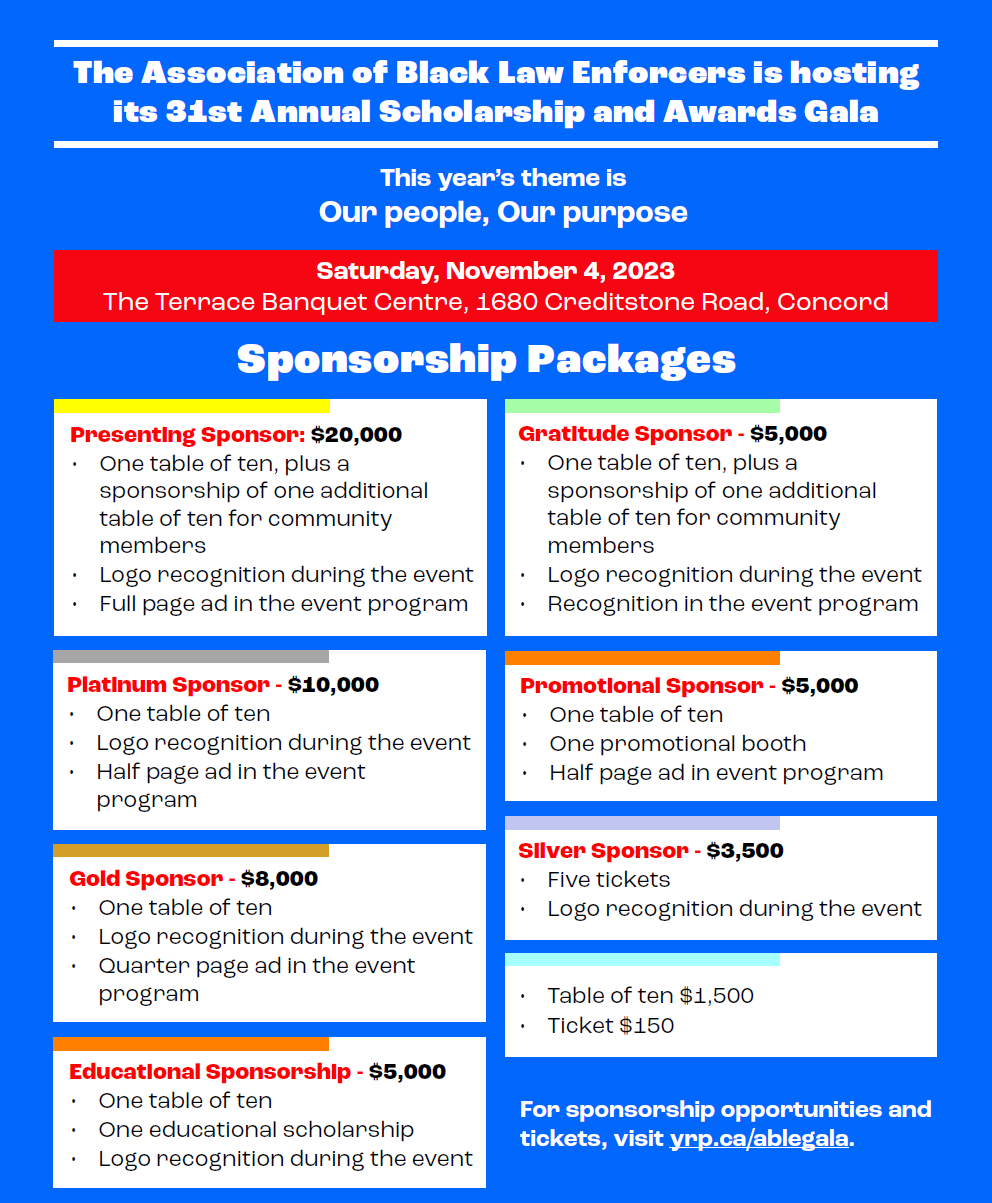 Sponsorship packages are also listed within the event page.
Scholarship Program
A.B.L.E. is also encouraging contributions to its scholarship program.
A.B.L.E. is committed to ensuring that the criminal justice system is reflective of the entire Canadian mosaic, by providing opportunities for our young people to serve, protect and correct. Accordingly, A.B.L.E. will contribute funds towards the tuition fees of each successful candidate pursuing post-secondary education in one of the following areas of study:
• Law Enforcement/Law & Security
• Correctional Worker Program
• Law and Criminal Justice Studies
• Police Foundation Studies
• Criminology
A.B.L.E. created its scholarship program to commemorate the contributions of Rose Fortune (1774-1864) and Peter C. Butler III (1859- 1943) – the first Black police officers in Canada. By awarding scholarships, A.B.L.E. assists Black and visible minority students in achieving their educational and career aspirations.
To apply for a scholarship, email applications to ablegala@yrp.ca by September 25.
For the scholarship guidelines and more gala information, click https://linktr.ee/ableorg.
Hotel
Sheraton Parkway Toronto North Hotel & Suites is $179 per night. An automatic $10 destination fee will be applied to this rate at time of booking.
The group rate is valid for three days before and after the event date: