2015 Police Appreciation Night
Last year, we celebrated 10 years of the Community Safety Village of York Region. Check out the evening's program.
Winners
Herbert H. Carnegie Award - Alicia Lauzon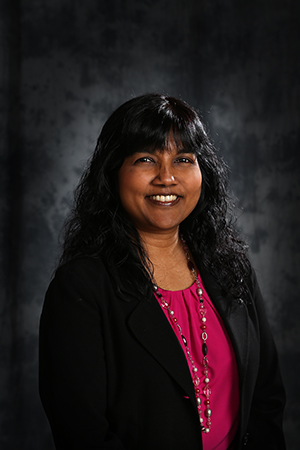 Alicia Lauzon has a passion for inclusion. Her commitment to diversity, equity and human rights shines through her work, highlighting her day-to-day activities and motivating her as she devotes her spare time to assisting new immigrants to Canada and doing her part to drive positive social change.
Alicia is the York Regional Police Internal Diversity Specialist. She's responsible for the alignment of systems and policies in supporting human rights and diversity while creating an inclusive organizational culture.
Alicia, guided by an initiative led by Chief Jolliffe, was instrumental in the formation of the first Internal Support Networks at YRP, groups where like-minded individuals with similar experiences come together for supportive networking. The first YRP ISNs include LGBTQ, Afro-Caribbean Canadian, Women in Leadership and Experienced
Hires.
Alicia recently led the Taking It Local collaboration between YRP and the Ontario Human Rights Commission, delivering human rights training to multiple stakeholders including local service partners.
A 2009 nominee for the York Regional Police Association Civilian of the Year award, Alicia continues to distinguish
herself as a community ambassador for York Regional Police.
About Alicia
Alicia Lauzon is the Diversity, Equity and Inclusion Specialist at York Regional Police. She received her Bachelor of Arts in Employment Relations from the University of Toronto and is currently working on her Master of Arts in Equity Studies from Athabasca University. She has volunteered as Chair for the Women's Centre of York Region and is a TRIEC Connector Advisory Committee Member, a national award-winning networking program aimed at helping skilled immigrants.
Civilian Recognition Award - Carrie Rutledge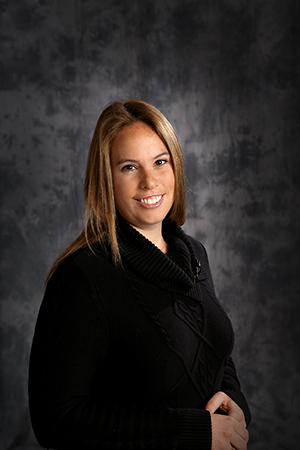 Described as unselfish and caring, with a demonstrated ability to get the job done, Carrie Rutledge is a key player on the Special Investigations and Support Unit team as its administrative assistant.
Carrie truly excels in her organizational abilities and puts them to good use supporting the many fundraising events York Regional Police hosts for a variety of causes.
With Carrie's assistance, York Regional Police hosted its first Candlelight Vigil in 2014, in conjunction with the National Peace Officers' Memorial Run honouring fallen officers. Carrie coordinated the purchase of the luminaries to line the 20-kilometre torch run route and the sale of T-shirts to support memorial associations. More than $2,000 was raised for the survivors of those killed in the line of duty.
Carrie also managed the United Way payroll deduction for members of Special Investigations for the 2014 United Way campaign and has assisted at Volunteer Appreciation dinners, Police Appreciation Night and Suri's Smile fundraisers.
Carrie clearly exemplifies the shared values of York Regional Police and is the deserving winner of Civilian of the Year.
About Carrie
Carrie started her career at York Regional Police more than seven years ago and is currently working as an Administrative Assistant in Investigative Services. She was not new to policing, having grown up in a policing family. Carrie joined the York Regional Police Auxiliary Unit prior to her full-time position in Community Services. Preceding York Regional Police, Carrie held a position at Markham Stouffville Hospital Foundation and has always
had a passion for volunteering and fundraising. Carrie recently celebrated her first wedding anniversary with her husband, Kyle.
Rob Plunkett Outstanding Service to the Community Award - Staff Sergeant Julie Provis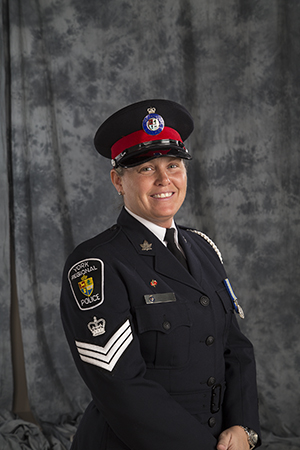 As a new, young officer with York Regional Police in 1990, Staff Sergeant Julie Provis began supporting Special Olympics Ontario at the urging of mentor and colleague, Detective Constable Rob Plunkett.
She served as a member of the organizing committee for the Cops and Lobsters fundraiser, in partnership with Red Lobster restaurants, for more than 20 years. When that partnership ended in 2012, Staff Sergeant Provis was determined the successful program would not end with it.
She persuaded Lone Star restaurants to host a similar event, now called Cops and Cowboys, and introduced the fundraiser to dozens of police services across Ontario with restaurants in their jurisdictions.
By 2014, Staff Sergeant Provis had 16 police services and 15 restaurants participating in the event that raised a whopping $30,000. For 2015, 20 restaurants and more than 20 police services from Windsor to Ottawa were on board.
Staff Sergeant Provis' ongoing dedication to serving her community and continuing support of Special Olympics makes her a fitting recipient of the award named in Rob's honour.
About Julie
Staff Sergeant Julie Provis began her policing career in 1990 and has worked in various areas of the organization including Uniform Patrol, Child Abuse, Recruiting, Community Services and Professional Development. Julie is also an alumni member of the York Regional Police Critical Incident Stress Management Team. She is a proud mother to her beautiful daughter Rachel, who is 13 years of age.
Trademark Investigation
The committee recognized: Detective Sergeant Don Cardwell, Detective Dean Anderson, Detective William Newton, Detective William Rinna, Detective Tracey Turner, Detective Constable Jeffrey Chabrzynski, Detective Constable Sebastian Cultrera, Detective Constable Steve Galonomos, Detective Constable Ryan Gay, Detective Constable Jessica Hay, Detective Constable Richard Kearns, Detective Constable Daniel Moore, Detective Constable Dalton O'Neill, Detective Constable Varien Paron, Detective Constable Daniel St. Amand, Detective Constable Gregory Whyte and Crime Analyst Dave Tomlin.
In early 2014, officers in the Criminal Investigations Bureaus (CIB) in York Region's south end identified a disturbing pattern of residential break and enters and the incidents were increasing.
Similar methods of operation were being used and investigators suspected the crimes were being committed by the same organized group, which was using a number of sophisticated techniques to commit dozens of break and enters in Markham, Richmond Hill and Vaughan.
Officers from #2, #4 and #5 Districts CIBs established an internal investigative team and began working together under the name Project Trademark.
Investigators got a break in June. The suspects rented a vehicle that was previously used in a break and enter in Peel Region and officers decided it was time to make their move. They boxed in the car at Woodbine Avenue and Major Mackenzie Drive and arrested three suspects on scene. While the driver managed to make good his escape, he was arrested a week later in Regina, Saskatchewan.
All four men face numerous charges including Break and Enter and Possession of Property Obtained by Crime Over $5,000 and more than $68,000 in stolen property was recovered, along with two handguns.
This crew is believed to be responsible for more than 25 break and enters in York Region and are suspected of committing more than 100 in Toronto, Durham and Peel.
Tugboat Investigation
The committee recognized: Detective Sergeant Duncan MacIntyre, Detective Douglas Cole, Detective David Ecklund, Detective James Wright, Detective Constable Kelly Firanski, Detective Constable Arden Guler, Detective Constable Daniel Hammond, Detective Constable John Nechay, Detective Constable Kevin Selwood and Crime Analyst Susan Dunlop.
A suspect well known to police, nicknamed Tuggy, was the established leader of a sophisticated group of high-level drug and weapons dealers operating across the Greater Toronto Area in 2013.
Officers in guns and gang units of several police services had been working for months to build a solid case against Tuggy and his group, including members of the York Regional Police Guns and Gangs Enforcement Unit.
As the gangs' operations crossed municipal borders, investigators worked closely with the Provincial Weapons Enforcement Unit and entered into a joint-forces operation aimed at dismantling this group.
In March 2013, investigators began an intense 60-day period gathering further intelligence about the gangs' activities and movements.
On March 26, 2014, more than a year after the investigation began, 16 pre-dawn raids were executed in York, Durham, Peel, Toronto and Hamilton.
Fifteen gang members were arrested and face numerous charges including Possession of Cocaine for the Purpose of Trafficking, Weapons Trafficking, Possession of Prohibited Firearms and Conspiracy to Commit an Indictable Offence.
Officers seized five handguns, four rifles and three shotguns along with 13.6 kilos of cocaine, 8.5 pounds of opium, 341 grams of marihuana and more than $87,000 in cash.
Chief for a Day - Serena Saltarelli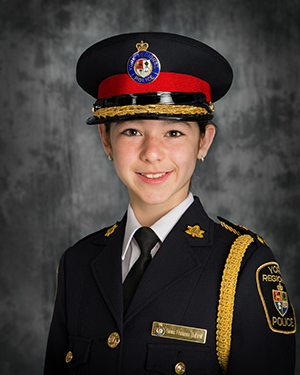 York Regional Police was proud to announce Grade 5 student Serena Saltarelli from St. Cecilia Catholic Elementary School in Vaughan as the winner of the 2015 annual Chief-for-a-Day Contest.
Serena delivered her winning essay before a panel of judges on March 9, 2015. This year the contest was open to Grade 5 students from the York Catholic District School Board. Students were asked to discuss the importance of the Community Safety Village in teaching young people valuable safety lessons. Serena's essay focused on the importance of learning how to use 9-1-1 properly and educating kids about Internet safety.
Serena's swearing-in ceremony took place on April 27, 2015 and she wore her specially-made Chief of Police uniform. Assuming command of more than 2,100 officers and civilian members of York Regional Police, she toured a variety of police units including Emergency Response and Canine Units and the Communications Bureau. Serena also spent time at the Community Safety Village, where she presented her essay to a local Grade 3 class, before watching Air2 land at Bruce's Mill Conservation Area.
The Chief-for-a-Day Contest is sponsored by the York Regional Police Appreciation Night committee and the Richmond Hill and Markham Chinese Business Association.
About the Chief
When Serena Saltarelli isn't working for York Regional Police, she enjoys playing ringette and running. Her favourite subject is social studies, especially Canadian Government, which she finds engaging. Serena isn't sure what she wants to do when she grows up, but as her favourite pastime is reading (she owns 164 novels), it makes sense that she's considering something to do with writing. And one day she hopes to visit Ireland as her dad has family there. She likes to say she's a "sliver Irish."