Last year, we celebrated 45 Years of Policing Excellence. Check out the evening's program.
Winners
Herbert H. Carnegie Award - Detective Constable Grayson Shillingford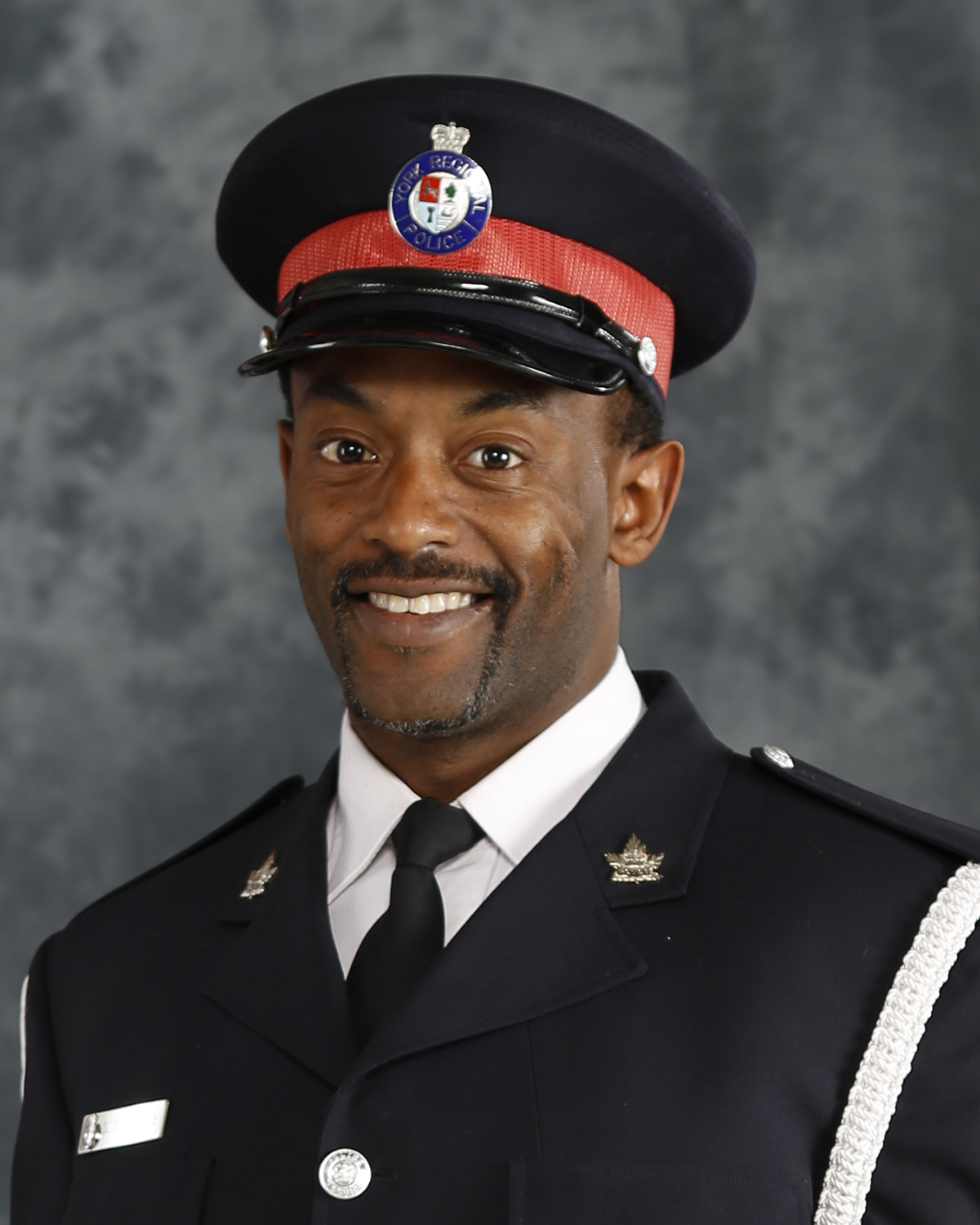 Detective Constable Grayson Shillingford is an excellent ambassador for York Regional Police, with an innate ability to connect with people from a variety of communities and circumstances. Immigrating to Canada from Dominca at age four, he learned to find the positive in life at an early age, excelling in academics and athletics.
A former professional football player, Detective Constable Shillingford provides
guidance and leadership through his volunteer coaching duties at Villanova
College in King City. He has also given his time to the YRP YIPI (Youth in Policing
Initiative) program and 360°kids, an organization which provides support to atrisk
youth. Detective Constable Shillingford routinely participates in York Regional Police initiatives as well, including Black History Month, Asian Heritage Month and the annual Davis Ahlowalia Charity Basketball Tournament.
He has built strong bridges with youth and community organizations across York Region and is a role model due to his solid work ethic and positive attitude. Detective Constable Shillingford serves his community with pride and distinction and is a deserving recipient of the Herbert H. Carnegie Award.
Leo McArthur Civilian Recognition Award - Crime Analyst Cliff Aguiar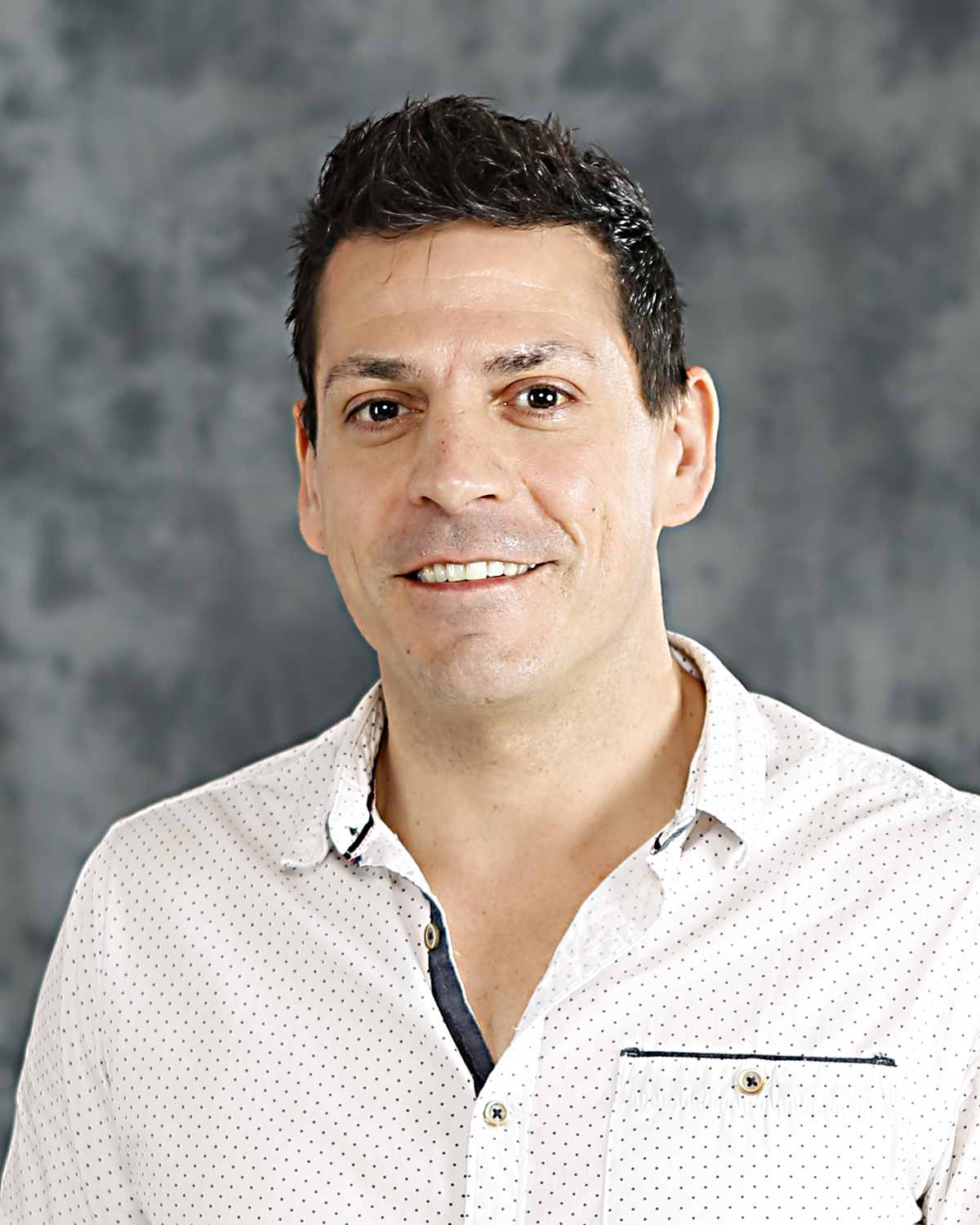 Crime Analyst Cliff Aguiar has faced his share of intolerance as a member of the
LGBTQ community, but he has turned a negative into a huge positive for all
members of York Regional Police. With support of senior command, Cliff created
the LGBTQ internal support network, one of the largest and most visible committees in the organization.
For years, Cliff has supported members of Pride York, the AIDS Committee of York
Region, Parents, Family and Friends of Lesbians and Gays (PFLAG) and Serving
with Pride, a national organization of law enforcement professionals promoting
diversity. Cliff's work led to the first YRP Pride flag-raising at headquarters in 2015.
He also organized a day-long training on LGBTQ issues and Zero Discrimination Day.
Cliff's analytic skills in the Real Time Operation Centre also serve YRP well. He is an innovator in using social media in investigations and shares his skills as a member of the faculty at Seneca College. Cliff has made a dramatic impact on many individuals in our community and a lasting impact at YRP.
Rob Plunkett Outstanding Service to the Community Award - Inspector Lou Malbeuf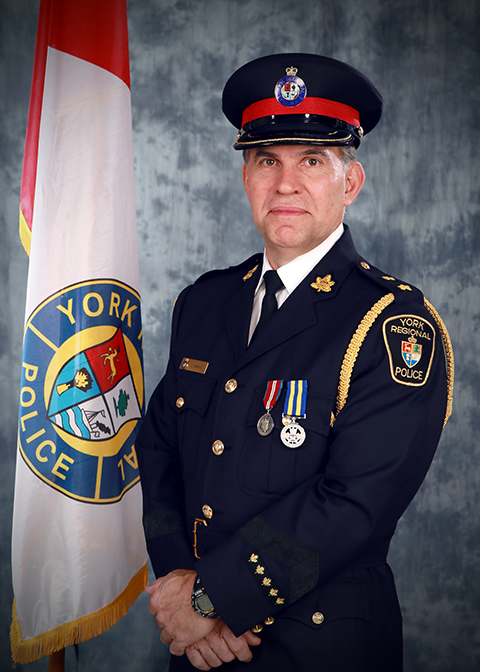 Inspector Louis Malbeuf has done his best to honour the memory of his good friend
and colleague Rob Plunkett since his tragic death in 2007. The two were classmates
when they joined York Regional Police in 1985, remained close as they both became
members of the Emergency Response Unit and Inspector Malbeuf served as an usher
at Rob's wedding.
A high school athlete, Inspector Malbeuf had for years participated in the Law
Enforcement Torch Run. Following Rob's death, Inspector Malbeuf organized
the Rob Plunkett Memorial Softball Tournament, with participants including
Special Olympics athletes as well as first responders from across the GTA. Since its
inception in 2008, the tourney has raised more than $150,000 for Special Olympics
Ontario. He was also a key organizer for the 2013 Summer Games in York Region.

Inspector Malbeuf also supports the Georgina Association for Community Living,
Newmarket's Doane House Hospice, the Barrie War Vets and the Constable Garrett Styles trust fund. When asked why these causes, Inspector Malbeuf replied: "I try to give money to things Rob would approve of and would
like to be associated with."
Excellence in Policing - Pan Homicide Investigation
It was just past 10 p.m. on November 8, 2010, when three armed men stormed into a suburban Markham
home owned by Han Pan and his wife Bich. Their daughter, Jennifer, 24, called 9-1-1. Jennifer told police Han was violently dragged from his bed to the basement. She said the assailants had tied her to the stair railing upstairs with a shoelace, while her mother, Bich, was also being held at gunpoint in the basement.
At 10:32 p.m., York Regional Police received a 9-1-1 call from a hysterical Jennifer Pan. Investigators found Bich had been murdered. Han survived two gunshots and a bullet lodged in his orbital bone. Jennifer was uninjured.
For three days, York homicide investigators worked to determine why the Pans were the target of a deadly home invasion, while Han remained in an induced coma. When he awoke, his story had striking differences to the one his daughter told.
As part of the probe, officers obtained more than 100 production orders from wireless phone companies and
pored over 1,000,000 text messages and phone calls, eventually exposing a conspiracy to commit murder
between Jennifer and her boyfriend.
The strong teamwork of several York Regional Police units and the competence of our members, who used
innovative investigative and interviewing techniques, led to four First Degree Murder convictions and a fifth
conviction for Conspiracy to Commit Murder.
Excellence in Policing - Project Hydra
A child pornography investigation that began with a single search warrant in York Region continues to put
away dangerous predators nearly two years later.
The joint-forces operation began after York Regional Police were notified by the National Child Exploitation
Coordination Centre that images of child exploitation were being uploaded from an IP address in York Region.

Officers soon learned that person was a victim, who was coerced into taking self-exploitive pictures and
posting them on the Internet. Those images found their way to the Internet's ugliest corners across the globe - chatrooms and social networks where child predators used cloud-based storage to upload and exchange exploitive images.
Investigators named the project Hydra, after the multiheaded serpent in Greek mythology. According to myth, each time one of Hydra's heads was cut off, a new one would regenerate.

So far, the investigation has led to 57 arrests, 433 charges and the identification of 57 victims who have been rescued. Officers are continuing to identify and rescue victims, who range in age between infants and
teenagers. There could be up to 2,000. Investigators also spent months gathering evidence to put together 350 investigative packages they sent to other police agencies for follow up. Those packages continue to lead to arrests within Canada and worldwide.
Excellence in Policing - Project Ice Castle
It was hidden in plain view. A clandestine drug lab tucked away in a wealthy Markham neighbourhood became the site of the largest ketamine bust in Canadian history. Ketamine is a dissociative anesthetic sometimes used as a date-rape drug.

Members of the Drugs and Vice Unit Grow Team launched a joint-forces operation dubbed Project Ice Castle, after surveillance began at a residence on Castle Court in November 2014.
After watching suspects purchase industrial equipment and discarding laboratory waste, it became clear that they were part of an organized group manufacturing, producing and distributing ketamine. Soon, members of the Synthetic Drug Team joined the investigation.
Covertly, officers entered properties, including storage facilities, where suspects were storing dangerous chemicals used in the production of ketamine. Once they had the evidence they needed, they enlisted the help of surrounding police agencies.
On April 23, 2015, more than 150 officers from York Regional Police, the Toronto Police Service, the Durham
Regional Police Service, Ontario Provincial Police and the Royal Canadian Mounted Police executed 10
search warrants across Toronto and York Region.
Clandestine lab teams seized nearly 80 kilograms of ketamine, with a street value of $2.5 million, 4,500 litres of liquid chemicals, 3,900 kilograms of solid chemicals and $407,000 in cash. Nine people face more than 30 charges.
Chief for a Day - Alesandra Di Giovanni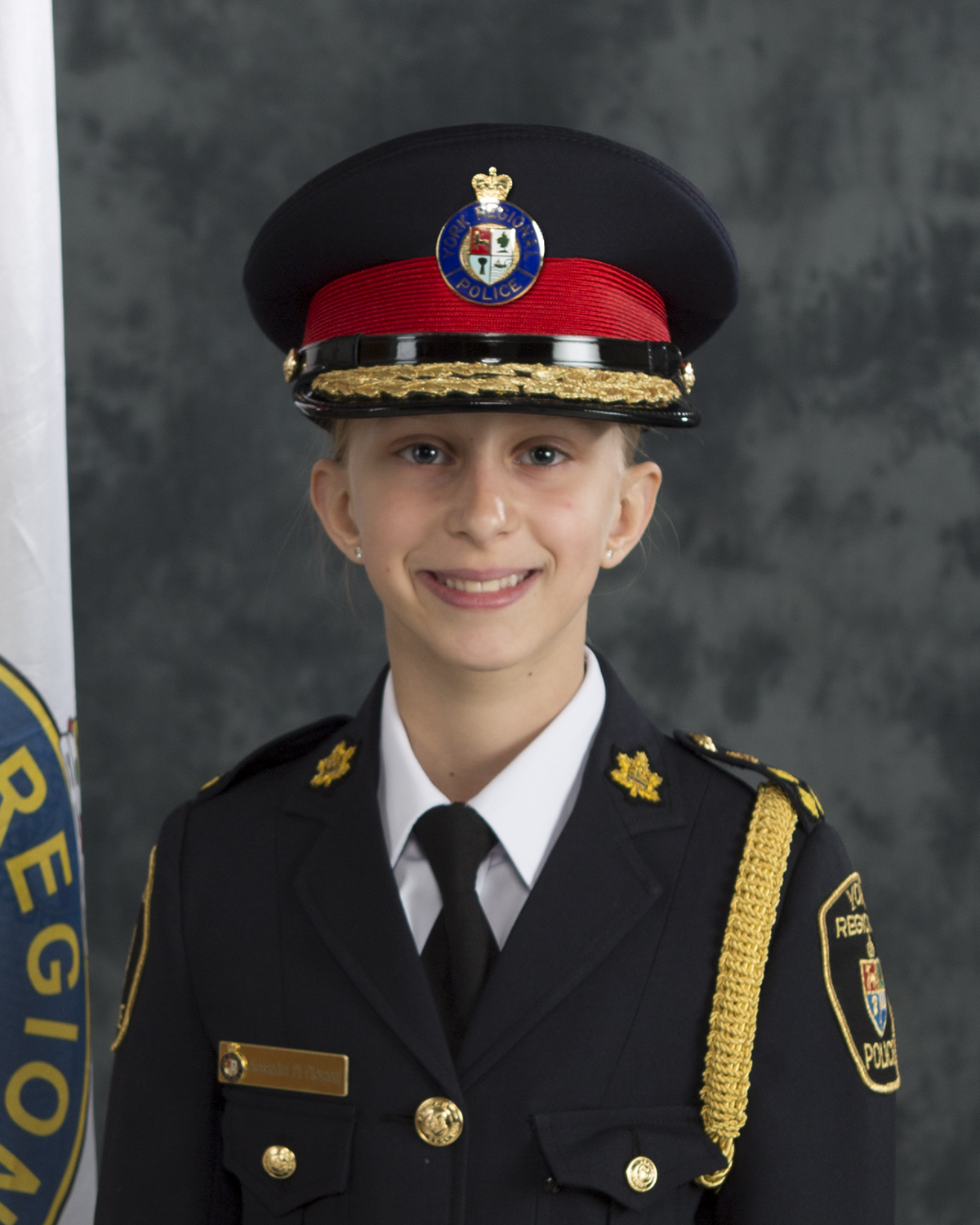 York Regional Police was proud to announce that Grade 5 student Alesandra
Di Giovanni, from Nobleton Public School, is the winner of the annual Chief-for-a-
Day Contest.

Alesandra delivered her winning essay before a panel of judges on March 9, 2016.
In her essay How Can York Regional Police Help Kids be Safe when Using Social
Media?, she outlines several innovative suggestions on how York Regional Police
can better connect with teens and children on the safe use of social media.
Alesandra's swearing-in ceremony took place in Chief Eric Jolliffe's office on May
5 as she assumed command of more than 2,200 sworn officers and civilians.

Donning her specially-made Chief of Police uniform, she ensured staff was
up to snuff while touring the Marine, Emergency Response, Air2 and Canine
Units as well as stopping into Corporate Communications to see the York Regional Police social media team at work.
The Chief-for-a-Day Contest is sponsored by the York Regional Police Appreciation Night committee, the Richmond Hill and Markham Chinese Business Association and Shanahan Ford Lincoln Sales Newmarket.
About Alesandra
Alesandra Di Giovanni is a voracious reader and a huge fan of the Harry Potter books. She also enjoys writing
stories, so it's no surprise English is her favourite subject. The Grade 5 student at Nobleton Public School wants to be an orthodontist when she grows up because it's important to have a healthy smile. She likes movies and music, including One Direction and Taylor Swift. Her dream destinations include Rome and Florence to see the historical
sites and art museums. She also enjoys spending time with family and baking with her mom.