2017 Police Appreciation Night
This year we celebrated the 25th annual Police Appreciation Night. Check out the evening's program.
Winners
Herbert H. Carnegie Award - Detective Constable Maryam Alikhani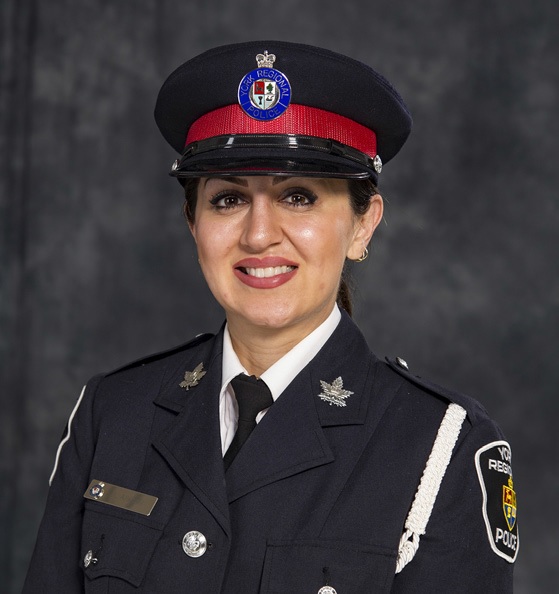 In 2016, when a young man in our community was lured into a life of extremism, Detective Constable Maryam Alikhani spent untold hours into guiding him back to a stable, fulfilling path.
Over the course of the year, the man went from the brink of self-destruction, being identified as a high-risk traveller, to allying himself with York Regional Police in hopes that others could be saved from a path of extremism.
Detective Constable Alikhani's work in the Hate Crime Unit has helped to establish a foundation of trust and inclusion between police and leaders in our diverse communities.
The hate crime investigator has established strong ties with members of the Muslim faith. She played an integral part in organizing an event at headquarters on November 10, 2015, that opened up lines of communication and brought the police service closer to its Muslim community.
Her work is part of a proactive approach to community policing, allowing her to form bonds with our citizens that can prove invaluable during investigations.
Leo McArthur Civilian Recognition Award - Corporate Communications
Their work is not measured in arrests, search warrants or cleared cases. Instead, members of the Corporate Communications Bureau are tasked with keeping our residents connected with YRP and aware of important crime prevention and law enforcement initiatives.
In 2016, this highly-creative team developed captivating social media campaigns, such as #ReservationsNotRequired and #ImTHATPerson, to raise awareness about the dangers of impaired driving. They reached more than five million social media users, received extensive media coverage and earned awards from the Ministry of Transportation and the Ontario Association of Chiefs of Police.
The team also produces award-winning annual reports, to educate our community about our organizational goals and successful initiatives and the video series Behind the Badge, giving citizens an inside look at the specialty units and activities of our police officers. Media releases and social media posts issued by the Media Relations Officers help solve crime, identify suspects and locate missing people.
YRP is committed to keeping our community engaged through strategic and professional communications.
Rob Plunkett Outstanding Service to the Community Award - Detective Constable Melanie Moffatt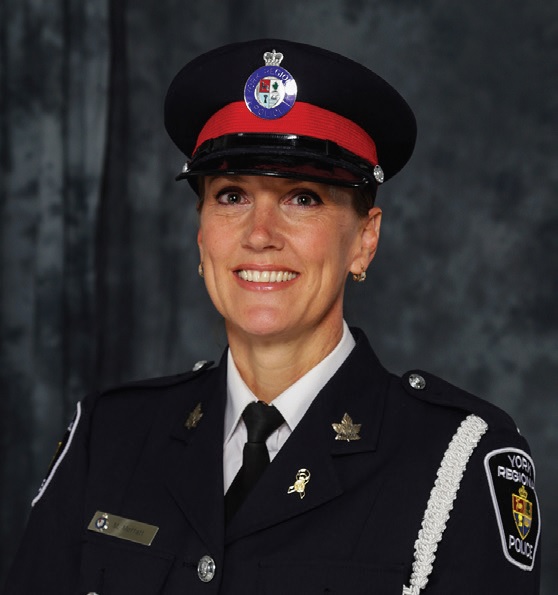 Detective Constable Melanie Moffatt spent years actively participating and contributing to events in support of Special Olympics Ontario.
But it was in 2015, when she took over as Chair of the Rob Plunkett Torch Run, that she made her greatest impact in support of the charity organization. Detective Constable Moffatt changed the event, turning the torch relay into a timed Race for Plunkett. She opened it up to members of the community and Special Olympics athletes, who commenced the race by carrying the Flame of Hope to the start line. In the two years since taking over the reigns, the event has raised an outstanding $60,000.
Detective Constable Moffatt is also an integral contributor to many events in honour of fallen officers, including the National Peace Officers' Memorial Run and the Candlelight Vigil. She knew Detective Constable Plunkett and honours him not only in memoriam, but also indirectly through the passion she displays for Special Olympics - a passion that could only be rivalled by Detective Constable Plunkett himself.
Excellence in Policing - The Vaulter Bandit
The Vaulter Bandit was Canada's most notorious bank robber, responsible for 21 bank heists across the country between 2010 and 2015.
Thanks to the exceptional work of members of the York Regional Police Hold-Up Unit, The Vaulter Bandit was captured in Geneva, Switzerland and returned to Canada to face charges in February 2016. His spree began in February 2010, when he robbed two Markham banks on back to-back days. Over the next seven months, the suspect would rob another eight banks across the Greater Toronto Area.
He earned the nickname 'The Vaulter Bandit' because of his modus operandi-vaulting over the counter to demand money from the tellers at gunpoint. He also earned the attention of the Canadian Bankers' Association, which offered a $10,000 reward for information that led to his arrest.
Five years and 11 bank robberies later, that reward grew to $100,000 in 2015. Finally investigators got a break. A fingerprint was pulled from a heist in Mississauga and the suspect was identified and tracked to Europe. On the strength of an Interpol Red Notice, he was arrested and extradited back to York Region, where he is currently before the courts.
Excellence in Policing - Project Cyclone
In 2015, the so-called 'King of Car Thieves' made the biggest mistake of his lengthy criminal career--he moved his car-theft operations to the City of Vaughan.
That's where investigators in the York Regional Police Auto/Cargo Theft Unit picked up his trail following several warm-up thefts in the area. On March 2016, they arrested two suspects, as they attempted to ride off in two luxury cars after they were left warming up in a driveway. Officers discovered the thefts were being committed by a sophisticated organized crime ring. By the end of 2016, officers had recovered 78 stolen vehicles, worth more than $4 million in total. The haul included expensive supercars like a Lamborghini Huracan, Mercedes-Benz S63 AMG and an Audi R8.
During the investigation, officers also seized cocaine and heroin that the group was trafficking. Two guns were seized, as well as more than $200,000 in cash- including $20,000 buried in a backyard. They also recovered $1.4 million dollars of stolen merchandise in a warehouse, including liquor, e-cigarettes and car parts.
The hard work of these investigators resulted in 37 arrests and more than 600 charges laid.
Excellence in Policing - Back in Black
At first, it appeared to be a street-level property crime. A woman, walking to her car at a Richmond Hill mall parking lot on July 19, 2014, is accosted by a knife-wielding man, who steals a piece of identification and her keys before she fends him off.
But four days later, the man was spotted at her apartment building. The woman's son noticed her distinctive set of keys in his hand, called police and the suspect was arrested.
Less than six months later, another woman was followed home from the same Richmond Hill mall by a man who tried to force his way into her apartment. Members of #2 District recognized similarities between the two crimes and asked the victim to identify the suspect in a photo lineup.
She identified the man who had committed the July robbery. Police were able to arrest the suspect for a second time on February 12, 2015. Since then, officers have worked tirelessly to link the suspect to several other violent crimes across the Greater Toronto Area. Not only have they solved existing cases, but their work has prevented others from being victimized.
Chief for a Day - Bianca Basso
York Regional Police was proud to announce that Grade 5 student Bianca Basso, from St. Margaret Mary Catholic Elementary School, as the winner of the annual Chief-for-a-Day Contest.
Bianca delivered her winning essay before a panel of judges on March 9. The topic for this year's essay contest was: How has policing in York Region changed with the advancement of technology and equipment over the last 25 years and what might it look like in the future? Bianca detailed the changes in technology police officers have seen over the last two decades and the advancements they now enjoy to keep the community safe, including predictive analysis software, unmanned aerial devices and in-car cameras.
On May 4, Bianca was sworn in as Chief, taking the helm from Chief Eric Jolliffe and assumed command of more than 2,200 sworn officers and civilians.
The Chief-for-a-Day Contest is sponsored by the York Regional Police Appreciation Night organizing committee, the Richmond Hill and Markham Chinese Business Association and Shanahan Ford of Newmarket.
About Bianca
Bianca Basso is a busy 11-year-old with a wide array of interests. Math is her favourite subject and she enjoys learning something new every day. She loves curling up in a cozy spot and reading.Bianca's favourite types of books are fairy-tale/fantasy and actionadventures like the Harry Potter and Land of Stories series.
She loves swimming and is currently in the Lifesaving Society's Star Patrol. When she grows up, she wants to be a lawyer, specializing in human rights.
History
The Police Appreciation Night Dinner began 24 years ago when five local businessmen approached the Chief of the day with the idea of an annual fundraising event which would also showcase York Regional Police and its members.
More than $2.5 million has been raised over the past 24 years, thanks to the generosity of our sponsors and attendess.
Some of the items funded include:
Memorial recognition markers
A marine vessel
All-terrain vehicles/trailer
Bicyles
Snowmobiles
Radar recorder units
Bear Care child victims program
Helicopter
York Regional Police Memorial Wall
Crime Stoppers Tip Fund
Police Service Dogs
Safety Village - outdoor equipment (BBQ, tables and Chairs), Playing Fields, Leo McArthur Youth Leadership Camp, Accessible Playground Equipment,
Hockey Card Program
Sea-Doos
To view founding members click here.
Mission
The Mission of the Police Appreciation Organizing Committee is to support the mandate of York Regional Police by organizing and conducting an event or events that will encourage public support of York Regional Police and raise money to fund police programs and equipment.
Highlights of the Annual Police Appreciation Night Dinner
Chief for a Day
Each year, the York Regional Police Appreciation Dinner Committee and the Richmond Hill and Markham Business Association sponsors an essay contest based on policing in partnership with the York Region Boards of Education. This year, five finalists from the York Catholic District School Board will be chosen to present their essays to a judging panel and the winner is named Chief for a Day. The Chief-for-a-Day is outfitted with a specially-made uniform, given a tour of police facilities and units across the region and presents the winning essay to the more than one thousand guests at the dinner.
Annual Dinner
The annual dinner also highlights the good work being done each and every day by members of York Regional Police. Awards include the Police Officer of the Year, in the following categories: Garrett Styles Bravery in the Line of Duty, Rob Plunkett Outstanding Service to the Community, Excellence in Policing. Also presented annually are the Herbert H. Carnegie Award and the Leo McArthur Civilian Recognition. Video re-enactments of events leading to each accomplishment are presented as part of the program.

2017 Organizing Committee Members
Co-Chairs: Eric Tappenden and Derek Sifton
Members: Desiree Amato, Lina Bigioni, David Blackwell, Charles Burns, Michael Burns, Deputy Chief Thomas Carrique, Scott Cole, Deputy Chief Andre Crawford, John Dunlap, Drew Gerrard, Susan LaRosa, Paul Martin, Blair McArthur, J. Phillip Parappally, Patricia Preston, Dem Rogers, Kelly Sinclair, Scott Smith, and Daisy Wai