Instead of our usual Police Week Open House, we've take our celebration online and will be highlighting our amazing members and the work they do in the community.
Each day we will share a small glimpse of what it take to police York Region and the people who keep us safe.
Check out our Careers page if you're interested in an exciting career with York Regional Police. This is Your Time.
Commercial Motor Vehicle Inspection Unit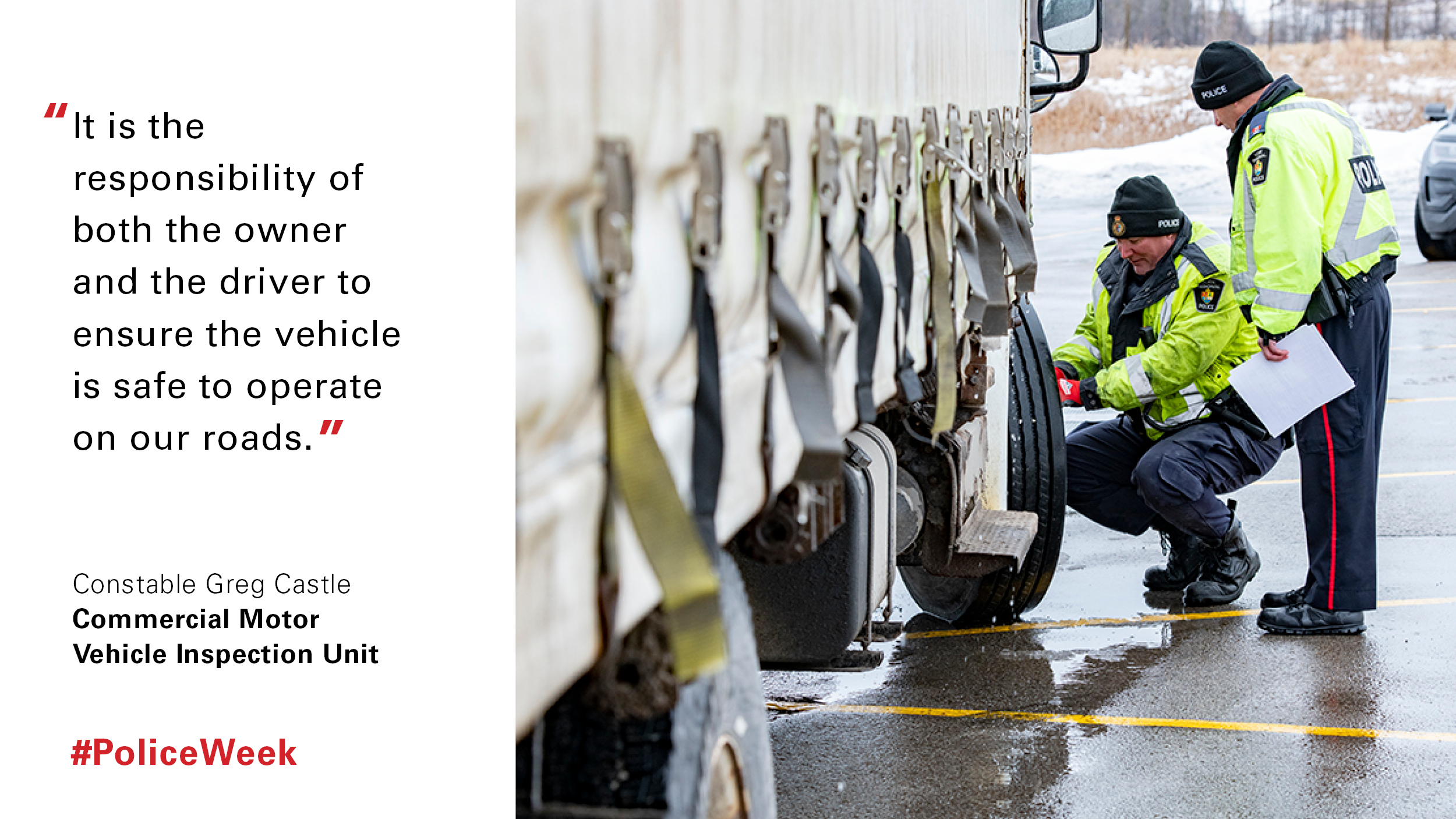 Constable Greg Castle
Commercial Motor Vehicles Inspection Unit
Constable Greg Castle has spent the past 11 years working in the Commercial Motor Vehicle Inspection Unit (CMVIU), one of five units that form the York Regional Police Road Safety Bureau. The main responsibility of the specially trained officers in the CMVIU is stopping and inspecting commercial motor vehicles including, buses, transport trucks, tow trucks and construction vehicles. More than 1,500 vehicles are inspected each year in York Region.
CMVIU also participates in multiple inspection blitzes throughout the year, where our officers partner with other agencies across Ontario to conduct large-scale inspections of commercial motor vehicles. On average, 30 per cent of the vehicles stopped during these events are deemed unsafe, due to various mechanical defects and safety violations. They are removed from our roads and drivers ticketed.
During his career, Constable Castle has taken thousands of unsafe vehicles off the road, making our streets safer by preventing breakdowns and dangerous collisions.
Q&A
Why is there a specific unit to enforce commercial vehicles?
Commercial motor vehicles are larger and often carry far more weight than the average car. They are also bound by additional pieces of legislation and more rules and regulations than the average vehicle. Our team of commercial motor vehicle enforcement officers go through extensive training on commercial vehicle legislation, vehicle mechanical safety and use specialized equipment to inspect these vehicles. A background in car and truck mechanics is a huge asset for officers interested in working in this unit.
How are commercial trucks weighed to make sure they comply with weight restrictions?
Our commercial motor vehicle enforcement officers carry mobile scales in their police vehicles. They are trained on how to use these scales on the roadside to measure the weight of vehicles and their loads and to ensure they are in compliance. Overweight vehicles not only damage our roads, but vehicle parts, like the suspension and braking systems, aren't designed to handle the extra weight and can pose serious safety risks.
What are the most common infractions that you see?
Commercial drivers must do a series of specified equipment checks before they start driving to ensure their vehicle is safe. We often see that those checks are not done or not properly documented. We see loads in vehicles that are not properly secured which can result in dangerous load shifts during transit or the load falling out of the vehicle. We also find equipment on commercial vehicles, such as tires, braking systems or attachments points, not in compliance with safety regulations or simply not operating properly.
Who is responsible for making sure that their commercial vehicle is safe, the driver or the owner of the vehicle?
In short, both. Owners of commercial vehicles must ensure that every commercial vehicle they plan to put on the road is in compliance with all legislation. It is also the driver's responsibility to make sure the vehicle is safe and inspected, prior to driving each day. Both the owner and the driver can be charged with many of the offences that are specific to commercial motor vehicles.
Canine Unit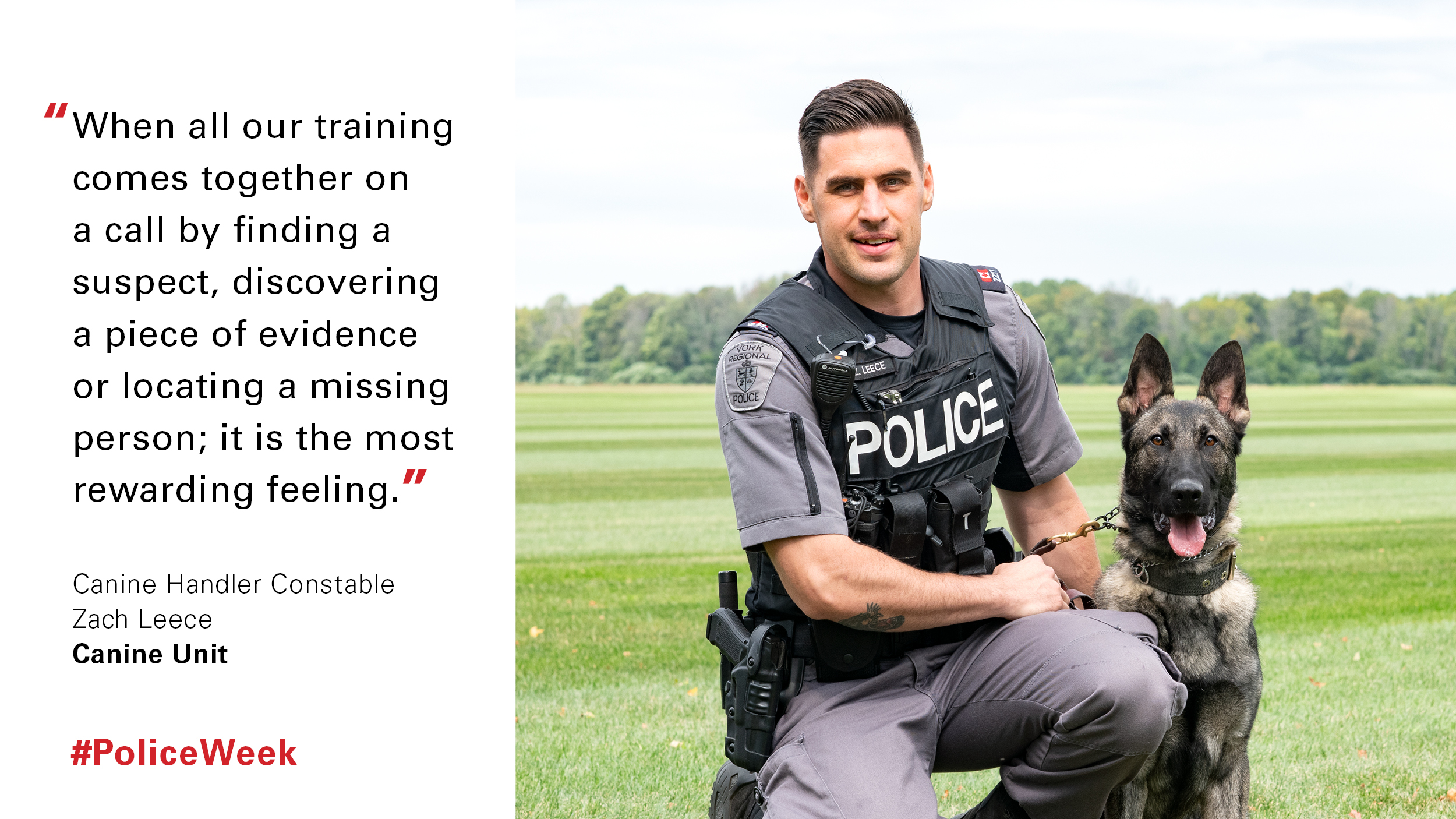 Constable Zach Leece
Canine Unit
York Regional Police Canine is one of Ontario's larger units that currently consists of 13 full- time handlers and utilizes 15 Police Service Dogs (PSDs).
The unit works in partnership with both Frontline Patrol and Investigative Services to provide assistance in apprehending suspects that flee from criminal incidents, the location of missing and vulnerable people while also providing support when searching for discarded or hidden pieces of evidence. The Canine Unit is also dedicated to working with Community Services to provide educational and learning opportunities to various youth and community groups.
Canine Unit members also provide support in the handling and detection of narcotics, cadavers, explosives, firearms and ammunition.
In 2019, Canine responded to more than 2,400 calls for service that resulted in the location of 36 suspects and reunited five missing vulnerable people with their families.
Q&A
How do you become a canine officer?
You need to have been a police officer for at least four years and need to complete a physical fitness test, an interview and be successful during selection week. Selection week includes training scenarios and officer interaction with different dogs.
Officers must demonstrate a high level of initiative and leadership, physical fitness, problem-solving skills, teamwork skills and performance. Officers must also be flexible and show a compatibility with dogs. All canine dogs and their handlers take part in a 55-day course that includes training in tracking, building and area searches, evidence location, obedience and criminal apprehension. This training also involves exercises related to agility and creating a bond between the handler and the dog.
Why did you want to be a canine officer?
Growing up playing sports, I was eager to challenge myself to the next level and be a part of a team with like-minded individuals. I was drawn to the Canine Unit as a place where I would be able to constantly face new challenges with a dog by my side.
Since joining the unit I can say there is no place I would rather be than in the Canine Unit as a handler with my partner York, responding to calls and helping people every day.
What do you think is the most rewarding thing about being a canine officer?
I am new to the unit and still learning a lot, but it is truly humbling to see the capabilities of these dogs. Watching the dog grow and learn is amazing. I think being able to observe all the training come together on a call and seeing the dog perform right in front of you by locating a suspect, or finding that missing person is the most rewarding.
Marine Unit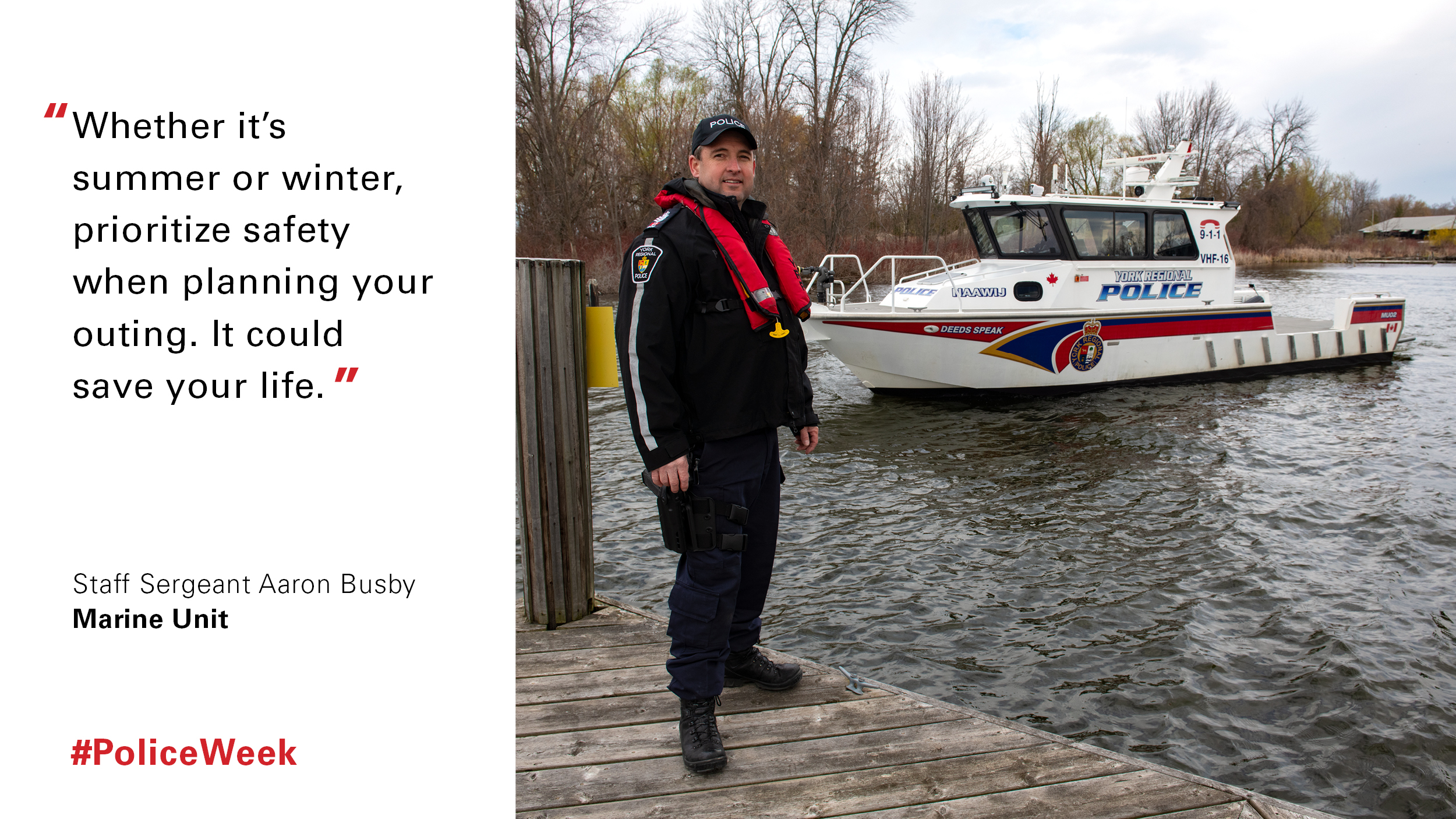 Staff Sergeant Aaron Busby
Marine Unit
The York Regional Police Marine Unit provides year-round patrol and emergency response to the community on both land and water. The unit is comprised of nine members, who are equipped with a unique and versatile fleet to adapt to changing and seasonal weather conditions.
The summer fleet includes the 38-foot long Naawij, featuring state-of-the-art electronics and firefighting capabilities; the 34-foot Waawaatesi; two-ridged hull inflatable Zodiacs; and a two-person watercraft. Over the winter, members respond to emergencies on the ice in a custom-24-foot airboat named Dawaabin, as well as patrolling trails on snowmobiles and all-terrain vehicles.
Marine officers also participate in community events and those at local marinas to educate boaters and water users on the important safety measures they need to take to reduce the risk of injury or death.
In addition to enforcing laws and regulations, the Marine Unit responds to emergencies on all bodies of water within the region and on all-terrain vehicle and snowmobile trails. Officers continually develop their skills through co-operative joint-training initiatives with five neighboring police agencies, local fire and paramedic services, the Canadian Coast Guard and the Joint Rescue Coordination Centre.
York Region is home to more than 32 bodies of water, including a large portion of Lake Simcoe, which measures 744 square kilometres. Members are responsible for enforcing the Criminal Code, Fisheries Act, Canada Shipping Act, Small Vessel Regulations, Vessel Operation Restriction Regulations, Collision Regulations, Provincial Offences Act and local municipal bylaws
Q&A
What are the most important safety tips?
Whether summer or winter, prioritize safety when planning a trip
Wear a Personal Flotation Device (PFD)
Tell someone your intended trip plans and when you expect to return
Ensure your cellphone is fully charged in the event of an emergency
If you're operating a boat, learn and understand the laws associated with it
Under no circumstances can a person under the age of 16 operate a personal watercraft
Be prepared for changing weather conditions
Check your fuel - apply the 1/3 rule - 1/3 to embark, 1/3 to return and 1/3 for reserve
Inflated PFDs must be worn to be considered safety equipment on the boat
What are the consequences of impaired boating?
The consequences of impaired boating are the same as a driver operating a motor vehicle. A conviction of impaired operation of a boat can result in the loss of driving privileges, both on the water and land, as well as substantial fines and a potential jail sentence.
Officers have the authority to enforce the Liquor Licence Act on the water.
The only time occupants may consume alcohol on a boat is when the vessel is docked or moored. The vessel must be equipped with an affixed head (toilet) and permanent sleeping and cooking facilities.
Why do members like working in the Marine Unit?
Armed with state-of-the-art equipment and technology, Marine Unit officers assist in safeguarding community members and saving lives on the water. This rewarding career assignment is a highly sought-after position, which supports professional growth and community engagement.
Forensic Identification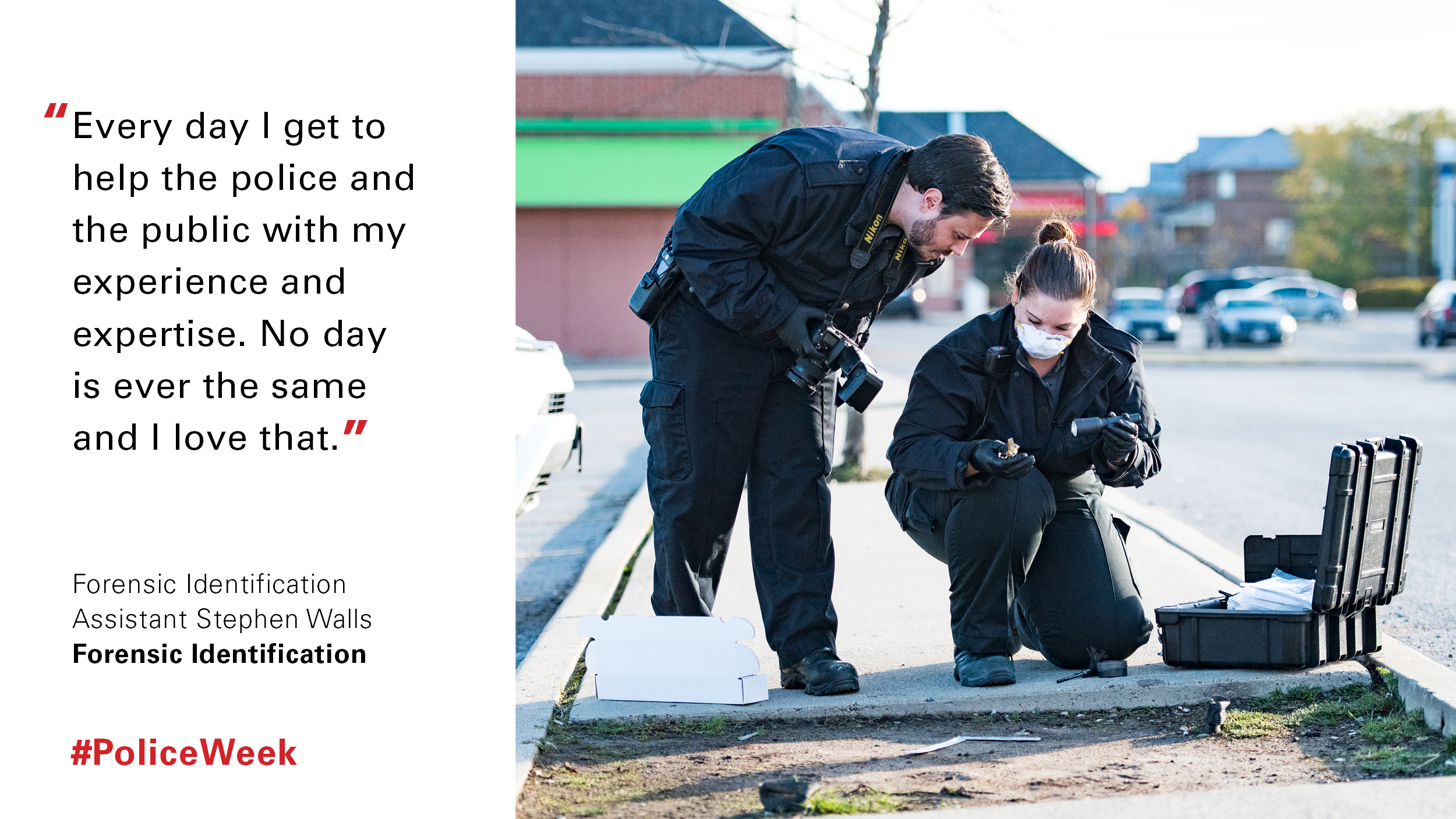 Forensic Identification Assistant Stephen Walls
Forensic Identification Unit
Forensic Identification Assistant Stephen Walls joined York Regional Police in September 2014 and has spent more than five years as a valued member of the Forensic Identification Unit. He is one of 16 YRP Forensic Identification Assistants (FIAs).
As civilian members, they don't carry badges, however they still have the skills to put away serious criminals. Our FIAs are crime scene investigators, responsible for examining and collecting evidence at a variety of crime scenes. Scenes that they typically attend include:
Break and enters
Thefts
Recovery of stolen property
Assaults
Property damage
Motor vehicle collisions with non-life-threatening injuries
Armed with the latest equipment, our FIAs utilize high-tech performance cameras, latent fingerprint development powders and chemicals and alternate light sources to help our officers investigate and arrest those who threaten the safety and security of our citizens.
Q & A
What makes this a great job?
I get to be in the field every day, working with police officers and the public to help our community with my experience and expertise. I have the chance to go to different scenes and take different approaches in examinations and investigations. No two days are ever the same and I love that.
What did you take in school before joining YRP?
I have a bachelor of science in biology/anthropology, a bachelor of arts in sociology/psychology and a diploma in forensic science.
What is one of your most memorable investigations?
I had to process a recovered stolen vehicle and there were no leads on any suspects. My work at the scene generated a fingerprint and a DNA sample that identified a suspect and helped investigators make an arrest. Moments like that give me a great sense of accomplishment, knowing I helped both investigators and victims of crime.
Road Safety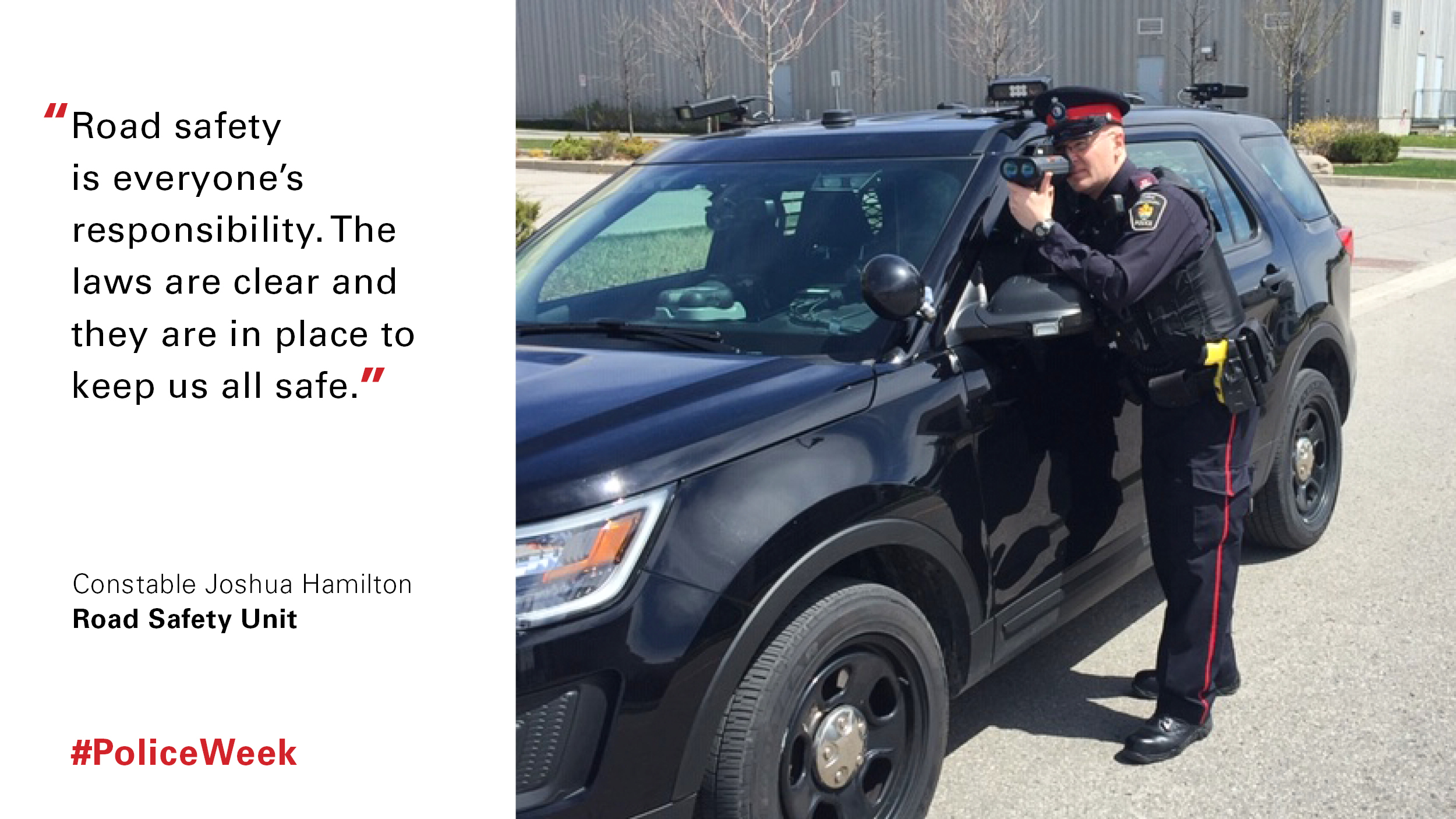 Constable Joshua Hamilton
Road Safety Unit
Constable Joshua Hamilton has been an officer with York Regional Police since 2015. As an officer in the Road Safety Bureau, the focus of his job is to ensure the safe and lawful use of our roadways. The police cruiser that Constable Hamilton often operates is equipped with automated licence plate readers, laser and radar speed-measuring devices, as well as a computer and printer to issue tickets and summonses. Officers within the Road Safety Bureau work day and night, watching for impaired drivers, distracted drivers and vehicles that are speeding. Unfortunately, we have recently seen many drivers travelling at high speeds. The officers in our Road Safety Bureau are watching for those drivers and will impound vehicles travelling in excess of 50 kilometres per hour over the posted speed limit, suspend their driver's licence for seven days and issue a summons to court. Road safety is everyone's responsibility.
For more information, visit the Road Safety Bureau section of our site.
Q&A
Are the high speeds you're seeing on the highways?
For the most part, our enforcement occurs on residential streets where concerned citizens have complained about vehicles travelling too fast. We are seeing drivers travelling in excess of 50 kilometres per hour over speed limit in all areas, including construction zones where workers are present.
What are the most common offences that you see?
Speeding, distracted driving, impaired driving, failing to stop at stop signs and drivers not wearing seatbelts. All of these offences create serious safety issues for the drivers and those they share the road with.
What's the most common excuse you hear when you stop drivers for an infraction?
We have heard it all, from speeding to get to the bathroom to driving fast to dry off the car after a car wash. Regardless the excuse, the laws are clear and they are in place to keep us all safe. Road safety is all of our responsibility and it's important that drivers educate themselves on the laws they need to follow.
2020 to 2022 Business Plan
For the first time ever, we've taken our Business Plan online. Find out about our past accomplishments, our future priorities and how we adapt to the evolving requirements of policing one of the fast-growing and diverse communities in Canada.
Chief Jim MacSween introduced the new plan on all our social media channels to help keep our citizens informed.
Watch the video below.