Photo Gallery: Behind the Badge will appear here on the public site.
Not Your Everyday 9 to 5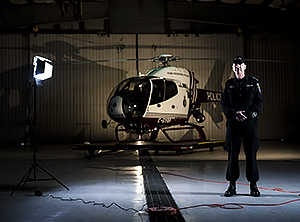 Go Behind the Badge with the latest YouTube series from York Regional Police, offering an inside look at our most interesting units. This series highlights the unique skills of YRP officers in specialty units, as well as the cutting edge technology they use to do their jobs well.
New Behind the Badge episodes are released monthly on the York Regional Police YouTube channel and will be embedded below. Stay tuned for exciting episodes featuring:
Episode 1: Search and Rescue Unit
Join members of the Search and Rescue Unit on a training session in Whitchurch-Stouffville, where they explore the art and science of tracking.
Episode 2: Air Support Unit
Police work can take you to exciting new heights...literally. Strap in and prepare for liftoff with members of the Air Support Unit, as they assist officers on the ground from 1,000 feet up.
Episode 3: R.I.D.E. Program and the Traffic Bureau
Clock in for the night shift with officers conducting R.I.D.E. spot checks. Despite increased enforcement and education about the dangers of impaired driving, this episode makes it clear: drivers are still not getting the message.
Episode 4: Drugs and Vice Unit
Dismantling a clandestine lab always provides officers in the Drugs and Vice Unit with a sticky situation. But if that lab explodes, or officers are exposed to hazardous chemicals, things quickly become a matter of life and death.
Step into your hazmat suit and follow these officers through the murky hallways of drug dens, grow ops and clandestine labs.
Episode 5: Forensic Identification Unit
Want to know something strange about your DNA? You spread it everywhere you go. And if you've committed a crime, we're going to find it. And then we're going to find you.
Members of the Forensic Identification Unit are at the heart of most York Regional Police investigations - learn more about what they do in this fifth episode of Behind the Badge.
Episode 6: Major Fraud Unit
Take the money and run? Tough for fraudsters to do when the Major Fraud Unit gets the case.
Every year, Canadians and Canadian institutions lose hundreds of millions of dollars to fraud. Don't get scammed - get a frauducation - on this episode of Behind the Badge.
Episode 7: Underwater Recovery Team
Suit up in your scuba gear and dive into this episode, featuring the Underwater Recovery Team.
It's anchors aweigh on the boating season, which means members of the Marine Unit has to be ready for action at all times. Learn about how they discovery what lies beneath.
Episode 9: Marine Unit, Winter Edition
Tread some thin ice with YRP with this special winter edition of Behind the Badge. Learn more about our awesome airboat Daawabin and how our Marine Unit gets put on ice, literally, during the frigid winter months.