Learn the Run, Hide, Defend strategy
York Regional Police is proud to take the lead on educating individuals, community organizations and businesses on life-saving strategies that can be used in the event of an active attacker.
Our active attacker survival strategy Run, Hide, Defend provides tools that employers and community organizations can review with their staff to give them the best chance of survival in case of an attack. Run, Hide, Defend principles can be incorporated into emergency management and critical incident response plans already developed by businesses and community organizations.
Today may feel like any other, ordinary day. But a terrifying situation may happen at any time, in any place--and it could happen to you. York Regional Police is committed to the safety and security of our citizens. But if you encounter an active attacker, the actions you take before help arrives could save your life. Your first thought should always be, what's important now? Run, Hide, Defend.
Watch Run, Hide, Defend to learn how you can take ownership over your own survival:
What will the police response to an active attacker look like?
In the case of an active attacker, the goal of the police response is to put an end to the threat as soon as possible. The first responders will often:
Enter the area in teams of one to four
Wear regular patrol uniforms with Kevlar vests, or other tactical equipment
Be armed with rifles, shotguns and handguns
What should I do when police respond?
When police officers respond to an active attacker situation, they will not stop to tend to the injured until the threat has been eliminated. When they arrive:
Remain calm and follow instructions
Put down items in your hands that could be mistaken for a weapon
Raise your hands and keep them visible at all times
Avoid making quick movements toward officers, pointing, screaming or yelling
Officers may order you to lay down and/or handcuff you
Do not stop to ask officers for help or directions to escape
Proceed in the direction from which officers entered the area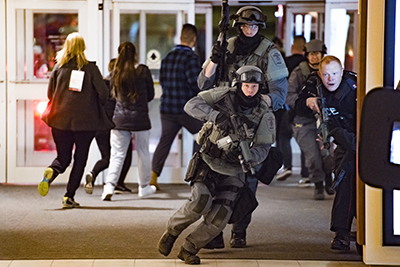 How can I help the police when they respond?
Police officers may ask you questions to help locate and eliminate the attacker. Be prepared to provide them with:
The location of the attacker
The number of attackers, if there is more than one
A physical description of the attacker
The number and type of weapons being used by the attacker
Potential victims and their location
Downloadable resources
In addition to our Run, Hide, Defend video, York Regional Police has created downloadable, printable resources for members of the public, employers, community organizations and their staff to print, review, discuss and share.
Contact us
Do you have questions about the Run, Hide, Defend active attacker survival strategy? Contact us:
Public Safety Unit
RunHideDefend@yrp.ca