Honouring the fallen
York Regional Police honours the memory of those who gave their lives in the performance of their duty in York Region. Their legacy lives on through the courage and dedication of our present-day officers who carry on their proud tradition of service.
An official memorial site dedicated to our own fallen officers is located outside of #2 District Headquarters at 171 Major Mackenzie Dr. W. in Richmond Hill. Our members attend both the provincial and national memorial services each year to honour sacrifices by men and women in Ontario and across Canada.
Fallen officers in York Region and the County of York
Since the service's inception in 1971, four York Regional Police officers have died in the line of duty:
Before 1971, six police officers died in York Region or, previously, the County of York:
---
Constable Garrett Styles
York Regional Police
June 28, 2011
Constable Garrett Styles was a seven-year veteran of York Regional Police when he died in the line of duty June 28, 2011. He came from a proud policing family that included his father, retired Staff Sergeant Garry Styles, who served with York Regional Police for 33 years and his cousin, Constable Joe Styles, a current member. Constable Styles had been conducting routine patrol at 5 a.m. when he spotted a van driving dangerously and engaged the vehicle in a traffic stop near the intersection of Herald Road and Highway 48. He approached the driver's side window and found several youths inside, including a 15-year-old driver.
As Constable Styles was investigating the driver at the vehicle's door, the vehicle accelerated, dragging the officer roughly 400 metres before the driver lost control, rolling over the van and pinning Constable Styles. Even as he lay injured, trapped beneath the vehicle, Constable Styles radioed dispatch and expressed concern for the condition of the youths in the van. Police and Emergency Medical Services workers arrived on scene and transported the occupants and Constable Styles to Southlake Regional Health Centre. Tragically, he succumbed to his injuries.
Constable Styles served the communities of Newmarket, Aurora, East Gwillimbury and King Township as a member of #1 District uniform patrol. He previously worked out of #2 District where he served Richmond Hill. He is survived by his wife Melissa, a Records Validator with York Regional Police, and his two children, Meredith and Nolan.
---
Detective Constable Robert Plunkett
York Regional Police
August 2, 2007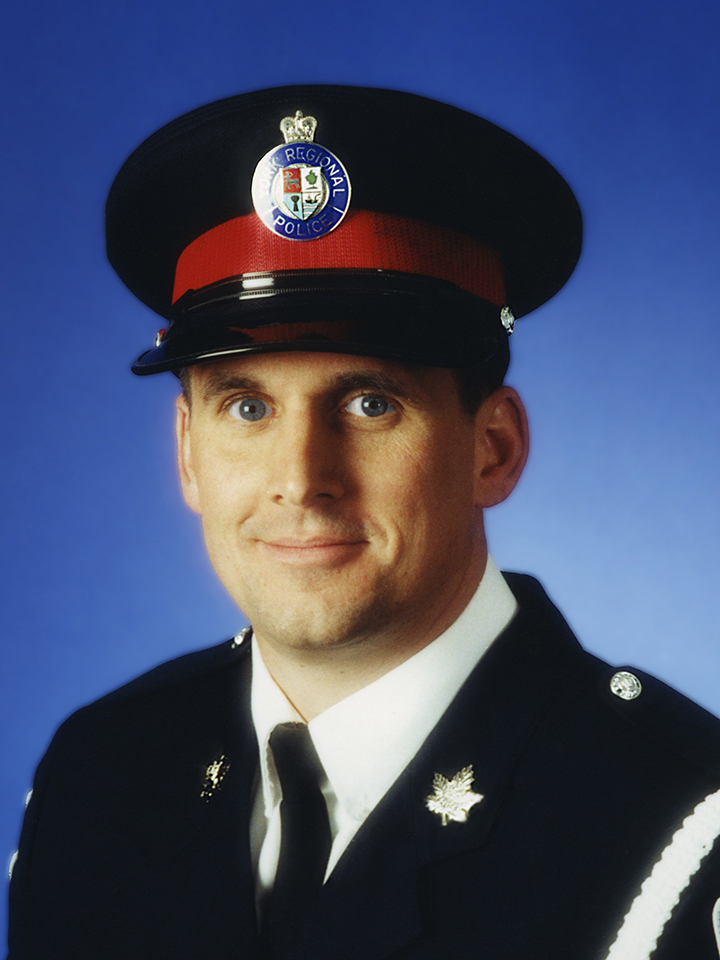 Detective Constable Robert Plunkett had proudly served York Regional Police for more than two decades when he was killed on duty in the early morning hours of August 2, 2007.
Detective Constable Plunkett and a group of plainclothes officers were conducting surveillance on the drivers of two vehicles near Ascot Crescent and Harvest Moon Drive in Markham. One vehicle, a gold Honda, was believed to be stolen and the driver of the vehicle was seen opening the driver's side door and removing the car's airbag.
When Detective Constable Plunkett attempted to arrest the driver for theft, the suspect reversed the vehicle and accelerated over a curb, across a lawn and over several shrubs. Detective Constable Plunkett was pinned between the open driver's side door and the vehicle as it struck a tree. He was thrown from the car as the suspect continued to reverse across the lawn.
Assisting officers rammed the vehicle and arrested the suspect as he attempted to flee. A second suspect, driving a white Honda, also attempted to flee but was arrested nearby. Detective Constable Plunkett was rushed to Scarborough Grace Hospital, where tragically, he succumbed to his injuries.
Over 22 years with the police service, Detective Constable Plunkett had worked in a uniform capacity in #2 and #5 District, serving Richmond Hill and Markham. He also served as a tactical officer in the Emergency Response Unit. During the 1990s, Detective Constable Plunkett was the co-ordinator for the York Regional Police Law Enforcement Torch Run in support of Special Olympics and in 2000 he acted as the co-chair of the Ontario Special Olympic Spring Games.
---
Constable William Grant
York Regional Police
October 9, 1984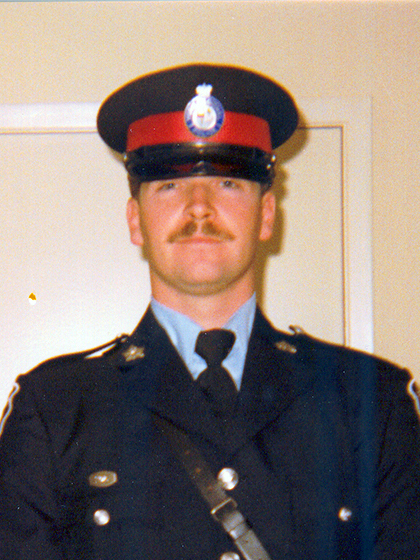 Constable William J. Grant had been a member of York Regional Police for four years and was just 26 years old when he was killed in the line of duty October 9, 1984.
Just after midnight, Constable Grant spotted an automobile ahead of him being driven erratically. He attempted to stop the vehicle but the driver sped away, leading Constable Grant into a high-speed pursuit.
The vehicle continued northbound on Kennedy Road and outdistanced Constable Grant's cruiser. The driver then turned the vehicle around, shut off the headlights, and drove straight at the officer. The ensuing collision caused Constable Grant to suffer massive internal injuries. When radio could not contact him, officers were dispatched to search for him until they discovered the wreck. Constable Grant was dead at the scene, while the 19-year-old driver of the vehicle was found dead in a nearby field after shooting himself with the officer's revolver.
Officers later discovered that the driver, a Thornhill teen, had stolen his parents' vehicle after a fight with his girlfriend.
Constable Grant, an exemplary officer and outstanding family man, leaves behind his wife Susan and 19-month-old daughter, Lara. His second child, William James Grant, was born two weeks after his death.
---
Constable Douglas Tribbling
York Regional Police
August 21, 1984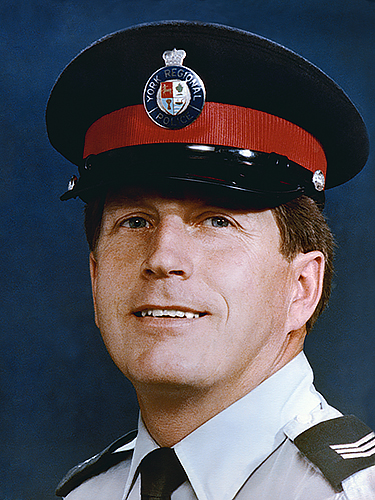 Constable Douglas F. Tribbling was a thirteen-year veteran of York Regional Police Force when he was killed in the line of duty on August 21, 1984. He was 49 years old, with only two years until retirement.
On the night of August 19, Constable Tribbling responded to a burglar alarm at a Markham computer company. He called for backup when he discovered the door smashed in and proceeded to investigate the premises. When his backup arrived only minutes later, Constable Tribbling was found with multiple gunshot wounds to the chest while his own weapon was still holstered. He was rushed to North York General Hospital in critical condition.
More than 100 officers from York Regional Police and Toronto Police Service joined the search for Constable Tribbling's shooter, locking down the surrounding area and searching every car. However, officers had a difficult time finding the killer due to a lack of description.
Almost two days later, Constable Tribbling succumbed to his injuries in hospital without regaining consciousness. The officer was admired for being an exemplary officer, quickly advancing to the rank of Detective for his hard work and dedication with York Regional Police.
---
Constable Gerald F. Mills
Whitchurch Township Police
May 29, 1968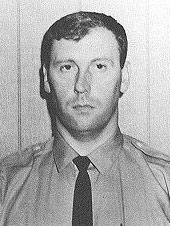 Constable Gerald F. Mills was a member of Whitchurch Township Police for four years before being killed in the line of duty by an out-of-control vehicle May 29, 1968.
After responding to a collision on Woodbine Avenue just south of the hamlet of Vandorf Constable Mills deemed one of the drivers to be under the influence of alcohol and placed him in his cruiser. Conditions at the scene of the accident were foggy, reducing visibility down the road. When the officer took one last assessment of the accident, a northbound motorist swerved onto the shoulder to avoid the crash scene and struck Constable Mills. He was taken to York County Hospital where he died soon after.
Constable Mills was survived by his wife and then-three-year-old daughter. His funeral was attended by more than 20 police services from the surrounding area and members of the Whitchurch Township Police Department acted as honorary pall bearers.
---
Constable Edward G. Holdsworth
Whitchurch Township Police
May 15, 1966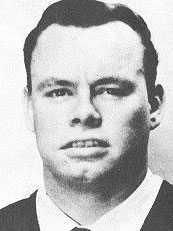 Constable Edward G. Holdsworth was 21 and engaged to be married when he was killed in the line of duty in 1966.
On May 15 around 1 a.m., Constable Holdsworth responded to a single motor vehicle collision on Woodbine Avenue, just north of the hamlet of Vandorf. The vehicle had inadvertently struck a hydro pole, killing the driver and knocking dangerous high voltage cables to the ground.
Unaware of the immediate risk at the scene, Constable Holdsworth approached the vehicle and tripped over one of the electrified wires hidden in the tall grass. He sustained fatal injuries from the encounter and died as a result.
---
Constable Lewis R. Durant
Markham Township Police
August 18, 1956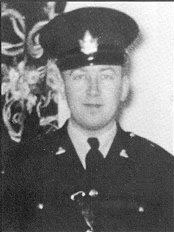 Constable Lewis R. Durant, 22, had only served with Markham Township Police for 18 months when he was killed in the line of duty on August 18, 1956.
At about 2 a.m., Constable Durant came across a parked car on the gravel shoulder of Woodbine Avenue. After parking his cruiser behind the suspicious vehicle, Constable Durant approached the car. While questioning the driver, a southbound vehicle struck Constable Durant, killing him.
The driver of the southbound vehicle was charged with careless driving resulting in death, but the charges were dropped due to the non-attendance of witnesses and a lack of evidence.
---
Sergeant Thomas Kirk
York County Police
April 17, 1930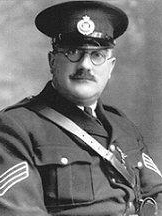 Sergeant Thomas Kirk, a York County police officer, was appointed to the York County Police Force in 1920 and was stationed in Newmarket during the 1930s. He was a respected member of the community. The following is an account of his death as reported by A. Wallace in The York County Constabulary:
"About two o'clock on the morning of April 17th Kirk, accompanied by Constables W.M. Shadwick and R. Hull, was driving south on Yonge Street. About one mile north of Thornhill his car was sideswiped by a north-bound car and went out of control, going over the radial tracks, striking a post and turning over several times. The occupants were thrown out. Kirk's body was picked up about sixty-five-feet from the crash with a neck broken and being terribly disfigured. By whim of fortune the only damage to the other car was a flat tire and a smashed rear mudguard."
Sergeant Kirk was laid to rest April 19, 1930. His funeral was one of the most impressive in Newmarket's history at that time, with over 100 cars forming the funeral cortege. A large number of uniform officers and 200 members of the Tuscan Masonic Lodge attended the service. Unfortunately Constables Hull and Shadwick were still too badly shaken to attend.
As a direct result of Sergeant Kirk's death, the County Warden and Commissioners reported to the Council that they believed that Constables should be insured under the Workmen's Compensation Board Act. By December of the same year, each Constable was insured for $2,000.
---
Constable William Boyd
York County Police
June 4, 1901
Fifty-eight year-old Constable William Boyd had been a member of York County Police for 15 years before being shot and killed during a prisoner transfer on June 4, 1901.
En route from a local court house to a Toronto Jail, Constable Boyd and two other officers were transferring three gang members of the vicious Chicago Bank Robbers, charged with breaking into an Aurora post office the previous year.
As the horse drawn carriage carrying Constable Boyd and his fellow officers neared a man standing on the road, the stranger - an accomplice of the gang members -- threw a hat into the carriage holding three revolvers. A struggle ensued over the weapons until one of the prisoners, Fred Rice, got hold of one of the guns and shot Constable Boyd in the head.
The prisoners fled the carriage but were captured soon after by York County Police officers. Constable Boyd was taken to hospital where, tragically, he succumbed to his injuries only an hour later.
Constable Boyd left behind a wife, two sons and two daughters. Little else is known about Constable Boyd, except that he operated a general store and post office on Main Street in Markham during the late 19th Century.
---
Constable John Fisk
High County Constable, King Township
October 7, 1804
John Fisk had been appointed to the position of High County Constable less than a year earlier when he died in a shipwreck on October 7, 1804.
High Constable Fisk was transporting an Ojibwa native, charged with the murder of a fur trader, to a new courthouse in Newcastle, Ont. The men sailed aboard a schooner named Speedy, before boat ran into a sudden storm and sank, taking High Constable Fisk and all other passengers to their deaths.
In 1801, High Constable Fisk, along with his wife and six children, moved from Grand Isle in Lake Champlain, Vermont, settling on a 210 acre farm located on what is now the area of Ransom Drive to Brookland Avenue in the Town of Aurora. He was made High Constable of the Home District in 1804, which at the time encompassed the present day counties and regions of York, Durham, Peel, Simcoe and Toronto (then York).
Born in Wallingford, Connecticut on September 24, 1752, High Constable John Fisk served as an Ensign in Elmore's Connecticut Battalion, which supported independence for the American colonies, during the American Revolution.