Constable Mandy Bambrough has what it takes.
From the moment she joined York Regional Police nine years ago, she had her sights set on the Canine Unit. She knew the physical requirements would be tough, but this former NCAA Division 1 hockey player was up for the challenge.
After four years as a frontline officer, Constable Bambrough became the first female officer to pass the rigorous training process required to join the Canine Unit. Partnered with police service dog Kye, a German Shepard specializing in narcotics detection, she works to locate missing persons, track suspects and take illegal drugs off our streets.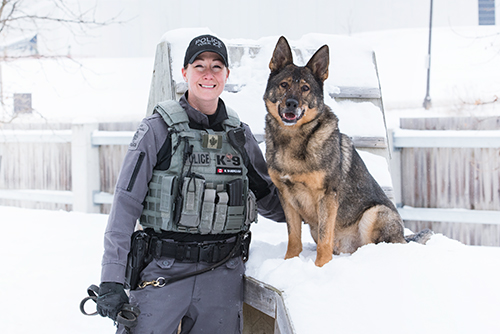 Why did you choose a career in policing?
Growing up in the neighbourhood of Malvern in Toronto, there was always a very strong police presence. As a kid, I remember the lights, the sirens and the officers working together. And I always wanted to be a part of that.
What was one of your most impactful experiences on the job as canine handler?
I was assigned to a missing person call on a cold winter day. We were trying to find an elderly lady with dementia and schizophrenia. When I arrived on scene, I deployed Kye who was able to track her scent onto Musselman's Lake. I couldn't see her, but I could hear her scream and I realized she had fallen through the ice. I was able to direct officers who were closer to her location and they successfully pulled her out of the water. Being a part of the team that saved her life made me feel extremely proud of who we are and what we do as police officers.
How did your experience as a uniform officer prepare you for your future assignments?
My time as a frontline officer really taught me how to communicate with people. I learned the importance of being calm, collected and approachable when interacting with any member of the public, whether they're a victim or a suspect.
How did it feel to be the first woman to earn an operational spot in the Canine Unit?
Before I even applied for the unit, people would rattle off the names of female officers who had tried and failed. So when I actually made it as a canine handler, I was incredibly humbled. In fact, I didn't even really celebrate, I just kept my head down and worked hard. I didn't just want to be that female who made it in the Canine Unit. I wanted to be that skilled female handler who makes good arrests and good finds.
What drew you to the Canine Unit?
I like being very physically active, which is a big part of a canine handler's job. I also have a huge amount of respect for the capabilities of our dogs and the bond they have with their handlers. My dog Kye and I could be in the middle of a huge crowd, but he has a constant awareness of where I am. Kye's dedication and loyalty to me is very different than I have ever experienced with any of my pet dogs.
What are the traits of a good canine handler?
You need to be motivated, confident and have a very strong sense of situational awareness. And you definitely need to have a great understanding of dog behavior.
What advice do you have for officers starting their career with YRP?
Get as much experience on the road as you can. Don't shy away from situations that put you outside your comfort zone. These challenges will ultimately better you.