Online collision reporting
After certain motor vehicle collisions, drivers may now skip the trip and lineups at a collision reporting centre and report their collisions online. If they are able to, drivers are strongly encouraged to report online.
A collision may be reported online if it occurred within the past 72 hours. The collision must have taken place in Aurora, East Gwillimbury, Georgina, King Township or Newmarket.
Following a collision
First steps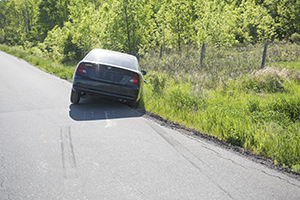 Stay calm, don't drive away. Assess your next steps:
If it is safe, move your vehicle to the side of the road.
Be careful to avoid traffic when moving your vehicle or exiting from it.
Do not leave the scene. Failing to remain at the scene is an offence that cost you up to $2,000 and seven demerit points.
If you can, check the well-being of other motorists involved.
When to call 9-1-1
Contact police if your collision involves:
Someone who is hurt or in danger
A driver you suspect has committed a crime, such as impaired driving
A pedestrian or cyclist
An uncooperative driver
Damage to private property
A public transit or government vehicle, or a vehicle that is transporting dangerous goods
If police attend, ask for the officer's name and badge number, as well as the incident number assigned to the collision. Officers attending the scene will determine if an investigation is required and may direct you to a collision reporting centre.
If the combined damage to vehicles is believed to be less than $2,000 and none of the above circumstances are true, you do not require a police report. Exchange drivers' licenses, ownership and insurance information with any other drivers involved and report directly to your insurance company.
Towing your vehicle
If your vehicle must be towed, you should:
Understand that you, as the vehicle's owner, have the power to decide which tow truck operator to hire.
Ensure there is an agreement on where the vehicle will be towed, what services are required and what the cost of those services will be
Ask for an cost estimate in writing
Only allow a tow truck operator to hook up your vehicle once you have hired its services
If your collision occurred in York Region, you are no longer required by police to have vehicles towed to a collision reporting centre to be inspected by an officer, provided you have taken close-up, wide and comprehensive photos of the damage and those are shared with the officer upon reporting.
Attending a collision reporting centre
If you are directed by police, or if combined damage is believed to be more than $2,000, you must report the collision in person at a collision reporting centre or online. Before attending, you should:
Call 1-866-876-5423 to be assigned a report number, which will simplify the reporting process
Determine where you should report the collision:

If your collision occurred in Aurora, King, Markham, Newmarket, Richmond Hill, Vaughan or Whitchurch-Stouffville, report at the Community Resource Centre, located at 10720 Yonge St., Richmond Hill. Officers are available to take your report at the CRC from 8 a.m. to 7:30 p.m., seven days a week.
If your collision occurred in East Gwillimbury or Georgina, report at #3 District headquarters, located at 3527 Baseline Road, Sutton. Officers are available to take your report at #3 District from 7 a.m. to 7 p.m., seven days a week.