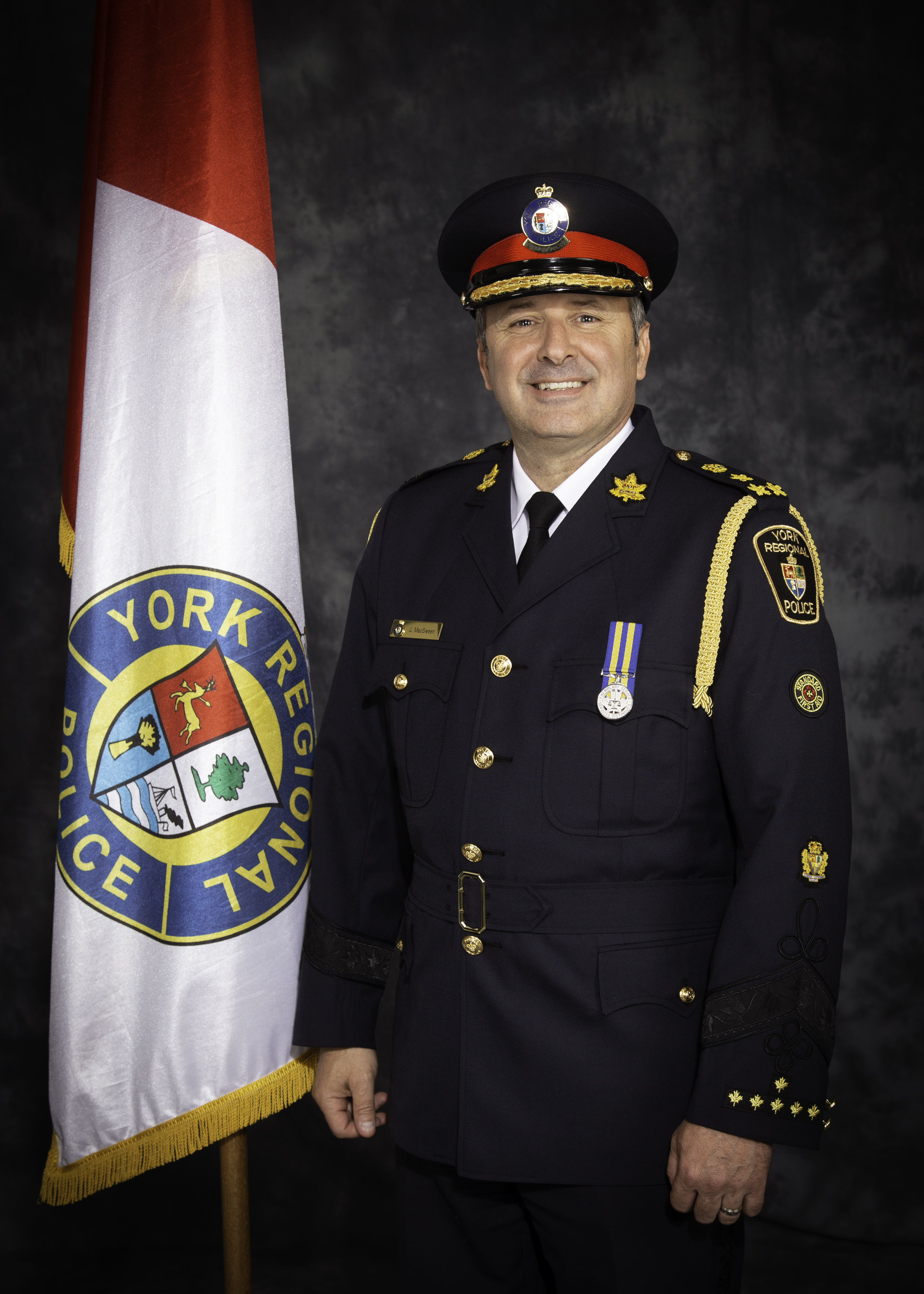 Born and raised in Nova Scotia, Chief MacSween moved to Ontario in 1987 and began his career with York Regional Police in 1989. He brings a balance of operational, administrative and strategic experience to his current role.
Chief MacSween is responsible for 2,300 employees, an operating and capital budget of $390 million and community safety for 1.2 million citizens.
He has previously served in the #2 District Criminal Investigations Bureau, the Hold-Up Unit and the Community Services Bureau. Chief MacSween was promoted to the rank of Inspector in 2013 and was assigned to the Duty Inspector Bureau in the Town of Aurora. He also served as an Inspector in the Training and Education Bureau. In 2016, he was promoted to the rank of Superintendent and served as the officer in charge of #2 and #4 District respectively. He served as Superintendent of Operational Command, which includes the 9-1-1 Communications Centre and the Real Time Operations Centre. He was promoted to Deputy Chief on May 15, 2019 and assigned to the Support Branch before assuming the role of Chief on May 1, 2020.
Chief MacSween holds a Bachelor of Applied Arts Degree in Justice Studies from the University of Guelph and a diploma in Police Foundations Leadership from the Humber College Institute of Technology and Advanced Learning. His professional leadership training includes the Police Leadership Program at the Rotman School of Management and the Executive Strategic Management program at the Senior Management Institute for Police in Boston, Massachusetts.
He is a recipient of the Governor General's Exemplary Service 20-year medal and completed his 30th year of policing in October of 2019.
Active in the community, Chief MacSween has volunteered his time with such organizations as Habitat for Humanity and Special Olympics Ontario, including serving on the games organizing committee for the 2013 Special Olympics Summer Games held in York Region. He is currently on the Board of Directors for St. Johns Ambulance and has previously served as Chair of the Community Services Committee. He is also an annual participant in the Law Enforcement Torch Run.
An active member of the Canadian Association of Chiefs of Police, Ontario Association of Chiefs of Police and the Police Executive Research Forum, Chief MacSween is also a member of the International Association of Chiefs of Police and the Major City Chiefs Association.
He also has extensive experience in the areas of leadership development, performance management, project management, innovation and technology and change management.
Chief MacSween is proud of the partnerships York Regional Police share with both policing and non-police agencies and the strong relationships that have been developed with the diverse communities in York Region.
Chief MacSween is married with four children and enjoys spending quality time with his family.