Together with our community, York Regional Police (YRP) is proud to celebrate Asian Heritage Month. This is an opportunity to honour the rich legacy and contributions that Canadians of Asian heritage have made to our great nation.
We are lucky to live in one of Canada's most diverse communities, where we embrace the opportunity for cross-cultural learning and allyship.
With the collaboration and support of our residents and partners, YRP is committed to building a safe and inclusive community, where everyone belongs.
Member Spotlight
Throughout the month of May, YRP is proud to highlight inspiring members of Asian descent. Be sure to follow our social media channels, as we'll be spotlighting one member each week.
Harsimran Mangat, Research Coordinator, Professionalism, Leadership and Inclusion Office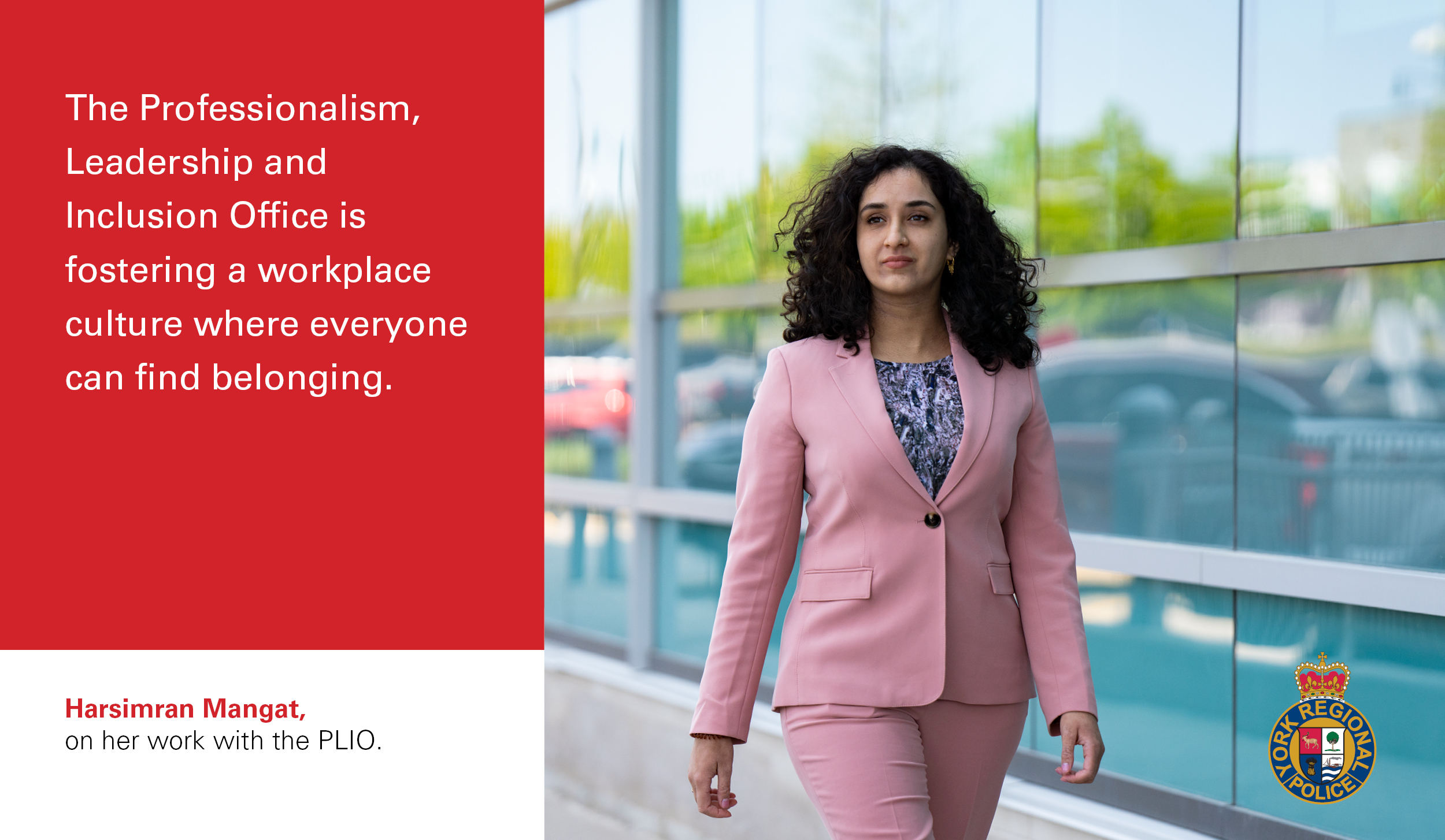 Harsimran Mangat was motivated to undertake a career in public service by the Sikh concept of Seva, which means selfless service, helping others without thought of reward or personal gain.
"I always knew whatever career path I carved for myself would have to have this concept embedded in it," Harsimran said.
Harsimran has been research coordinator with our Professionalism, Leadership and Inclusion Office (PLIO) since September 2022, which strives to ensure YRP is a professional, diverse, inclusive and equitable workplace.
PLIO is currently working on conflict resolution structures, leadership development, awards and recognition, wellness initiatives, improvements to the promotional process and an Inclusive Policing Action Plan to advance equity, inclusion and anti-racism.
"My role is to ensure we have the most accurate, up-to-date information to inform these initiatives," Harsimran said. "We are fostering a workplace culture where everyone can find belonging."
Harsimran knows first-hand what a lack of belonging feels like, seeing the discrimination her family has endured throughout her life.
"Seeing these things growing up gave me a strong mission to accomplish justice," she said. "If I could prevent anyone from feeling the way my family felt, I've made my impact on this planet."
In addition to her transformative work with PLIO, Harsimran is advocating for justice as the co-chair of the South Asian Internal Support Network.
"Internal Support Networks have incredible value. Not only do they run social events and charitable initiatives, they help our members to voice important issues with leadership," she said. "These groups show the breadth of diversity here at YRP."
Harsimran says anyone looking to embark on a career in policing should never feel pressure to leave their culture, heritage or identity behind along the way: "It's these experiences that give you a unique perspective. YRP needs your perspective to better serve a community as diverse as York Region."
Detective Constable Dinnesh Kulasekaran, Hate Crime Prevention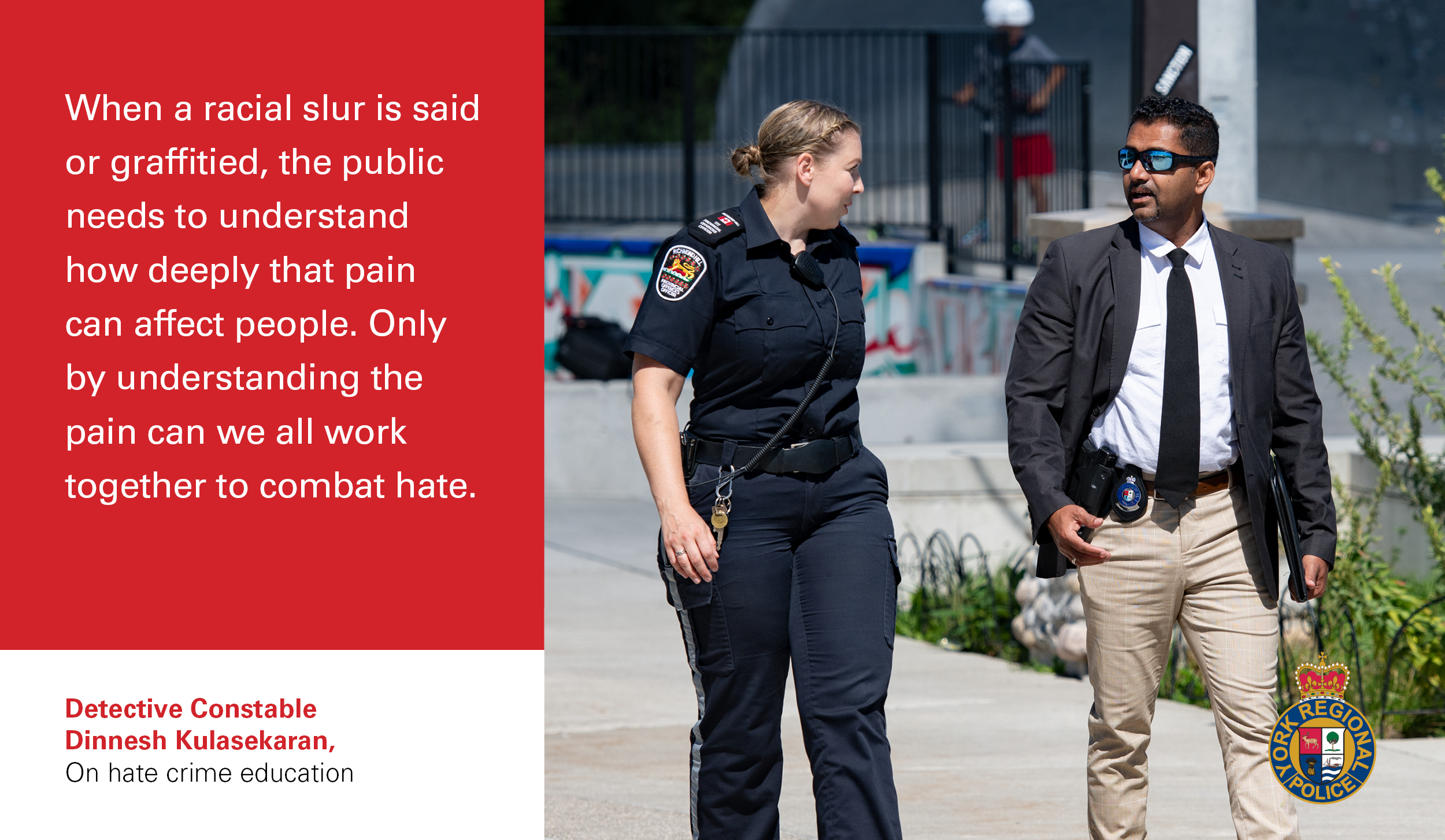 Detective Constable Dinnesh Kulasekaran was motivated to become a police officer when he came to Canada from Sri Lanka in 1988 as a child and saw that police were trusted by the community.
"Police were feared by the community in Sri Lanka," Dinnesh said. "Having seen that, and coming here where police are relied upon to help out when people are in crisis, where you can walk up to an officer and have a conversation, that was a big eye opener for me."
Police liaison officers also made an impression on Dinnesh when they visited his high school: "They were so friendly, that ignited a passion in me."
Now, Dinnesh, a YRP officer since 2006 who works in Hate Crime Prevention, is reaching out to people who come from cultures where police are not trusted: "We need to build and foster trust so that we can break down barriers and effectively assist to those who need help."
The Hate Crime Prevention Unit investigates hate-motivated assaults, harassment, vandalism and propaganda, in addition to meeting with cultural and religious groups and organizing community presentations.
"Education is key to combating hate," Dinnesh said. "When a racial slur is said or graffitied, the public needs to understand how deeply that pain can affect people. Only by understanding the pain can we all work together to combat hate."
Another effective path to eliminate hatred in our community, according to Dinnesh, is recognizing and celebrating our diversity: "As a person of colour, I can provide a unique perspective based on my background and experiences. But every member of the community has something valuable to add to this conversation. Absorbing our differences only makes us stronger and allows us to face injustice as a united front."
Alex Tang, Projects and Continuous Improvement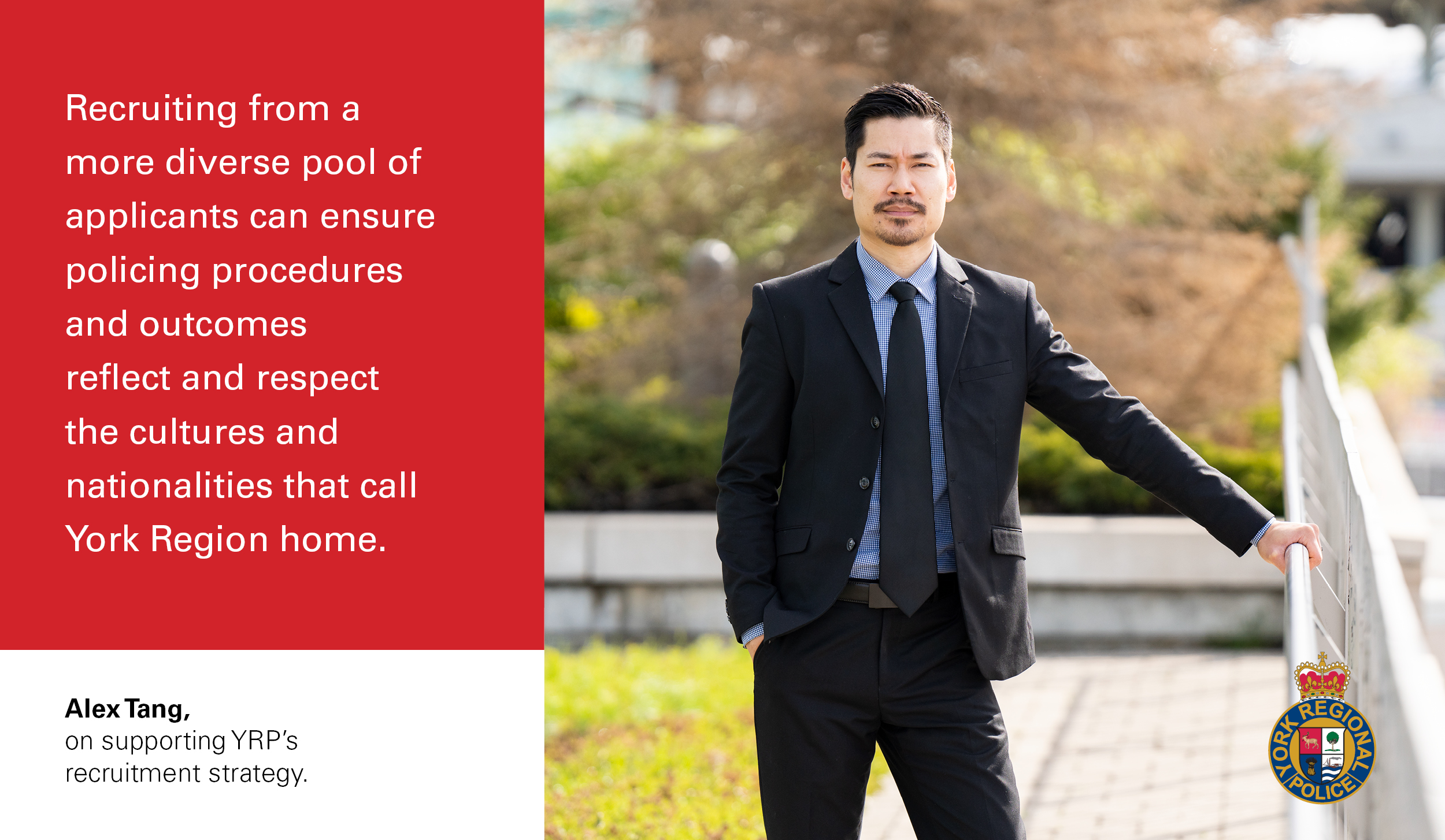 It was a familial connection and a desire to serve his community that drew Alex Tang to YRP 10 years ago.
"My brother, a YRP member, told me about his experiences working for YRP and how much he enjoyed it," Alex said. "I wanted to give back to the community, and this was a way to do that."
After working throughout the organization in several service areas, Alex is now an acting supervisor with Projects and Continuous Improvement, where he supports the implementation of projects that improve the services YRP delivers to the public.
Beyond Alex's critical work implementing organizational improvements, he has made an indelible impact through the East-Southeast Asian Internal Support Network (ESEA ISN), which he co-founded at the height of anti-Asian hate crime during the COVID-19 pandemic.
"I wanted us to provide support to our members. My colleagues and I connected and wanted to create change," said Alex, who emigrated from Hong Kong with his family in 1994.
The ESEA ISN provides support and camaraderie to YRP members of East and Southeast Asian heritage, facilitates important conversations about diversity and inclusion and works extensively in the community.
The ISN has sent Chinese speaking officers to senior homes to do crime prevention presentations, worked with youth associations and in April 2023 it hosted an Asian-centric recruitment event with our Training and Education Bureau, which was attended by over 100 people. Similar events will be planned in the future to break down barriers and help YRP become more representative of the community it serves, which is over 31 per cent East and Southeast Asian.
Alex sees great strength in greater diversity at YRP: "Recruiting from a more diverse pool of applicants can ensure that policing procedures and outcomes reflect and respect the myriad of cultures and nationalities that call York Region home."
Inspector Alice Tsang, #3 District
With more than 28 years of dedicated service with YRP, Inspector Alice Tsang has been a leader in equity, diversity and inclusion for her entire career.
She is also a pioneer, serving as the first ever female officer of Chinese descent to wear the YRP badge.
"Growing up in Hong Kong, I always wanted to be a police officer," she said. "I wanted to serve and do something for people."
Alice has more than achieve that goal, especially when it comes to building bridges with our diverse communities. Her work has resulted in genuine, long-term relationships with many York Region communities, founded on building trust, enhancing policing through mutual understanding and developing cultural competence. With her deep understanding of geopolitics, she knows global conflict often has a local impact and is committed to policing with a global mindset.
"One thing we must believe in is mutual respect," said Alice. "I think through understanding and respect - that will help us overcome. And by spending the time to listen, that is what helps us melt the ice."
As the officer in charge of the Hate Crime Prevention Unit and Diversity, Equity and Inclusion Bureau, in 2020 Alice and her team developed and hosted YRP's first-ever Diversity Summit and Hate Crime Conference, now an annual training event for officers across Ontario. In 2015, Inspector Tsang developed a community engagement initiative called Say No to Hate, which promoted diversity as our strength.
Within YRP, Alice is well-respected as a mentor for many of her colleagues. She established and is a member of the Can Be Conquered Internal Support Network to assist members affected by cancer. She is also the advisor
for the East Southeast Asian Internal Support Network and serves on the Chief's Equity Advisory Committee.
For her work as an agent driving positive social change, along with her dedicated service to the policing profession, Alice was recognized as the recipient of the 2023 Herbert H. Carnegie Award at the YRP Police Appreciation Night.


Detective Constable Francis Yu, #1 District Criminal Investigations Bureau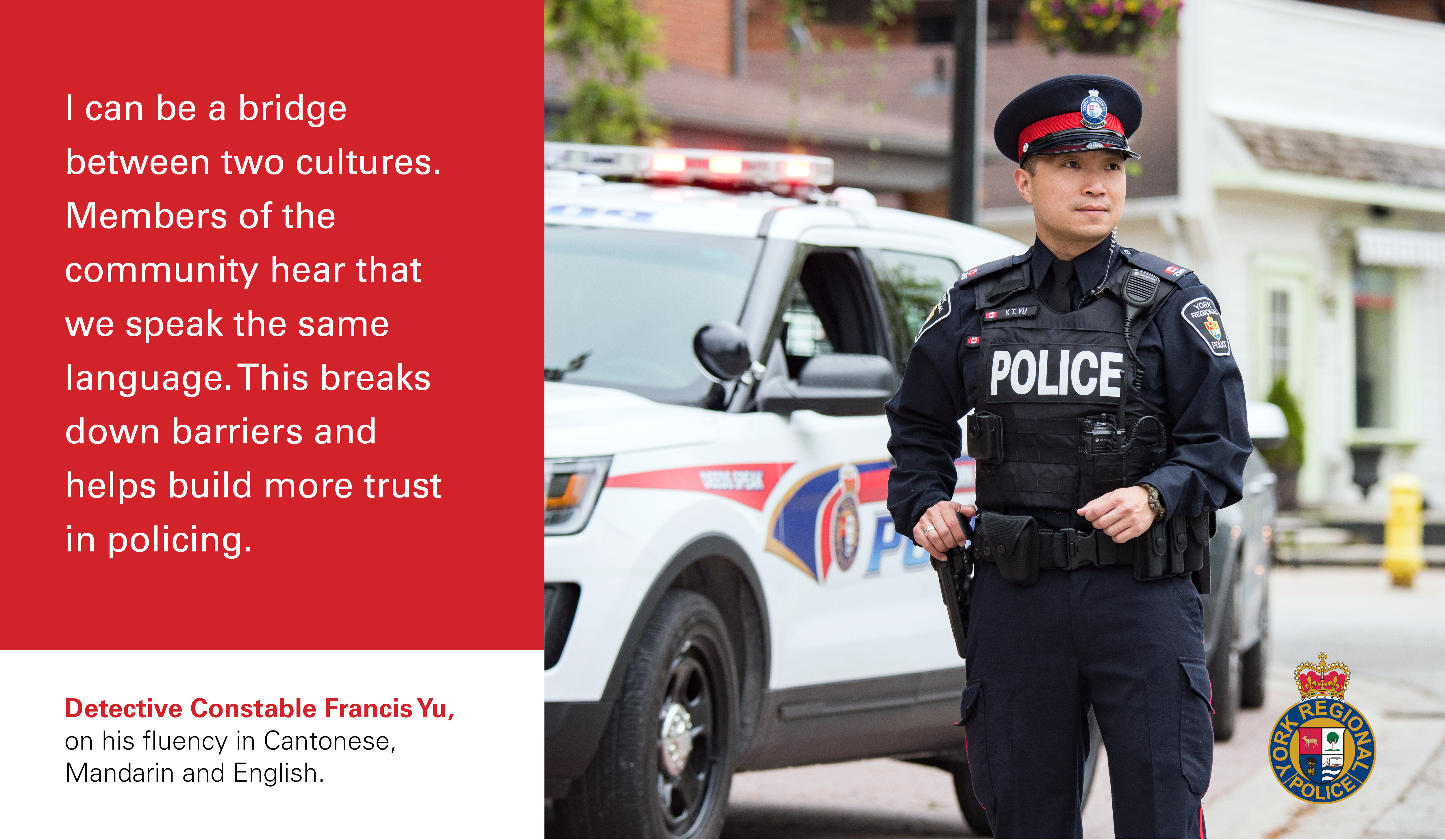 As a child growing up in Hong Kong, Francis Yu dreamed of becoming a police officer to solve crimes and help people.
And he was determined to make that dream a reality when he immigrated to Canada.
"English is not my first language. It's actually my third, after Mandarin and Cantonese," said Francis. "But I was not going to allow that to be my barrier."
Francis worked hard on his language skills, physical fitness and mental readiness to become a police officer. In 2014, he joined the York Regional Police Auxiliary Unit and two years later, he was sworn in as a police constable.
Reflecting on his career so far, Francis says that his fluency in three languages has been a significant asset.
"I can be a bridge between two cultures," he said. "Members of the community hear that we speak the same language. This breaks down barriers and helps build more trust in policing."
As a child, Francis thought policing was all about catching criminals and making drug busts like in the movies. And that is definitely a part of the job, but for him, there is something more important.
"To help a victim and their family – that's fulfilling," said Francis. "While we all enjoy the fast paced nature of this job, like making a good traffic stop or arresting criminals, it's actually more rewarding when parents or victims say thank you. Helping people that need it is what this job is all about."
If you're interested in a career in policing, visit www.yrp.ca/PeopleFirst.