Asian Heritage Month 2021 goes virtual
With the COVID-19 pandemic shuttering our usual in-person Asian Heritage Month celebrations, members of the Diversity, Equity and Inclusion Bureau were pleased to host a virtual gathering on Saturday, May 15, 2021.
The event featured a cooking demonstration with Chief Jim MacSween and Deputy Chief Cecile Hammond, creating the traditional Korean dish Bulgogi. Entertainment was provided by our partners from the Canadian Multicultural Council. There were also educational sessions, greetings from Chief Jim MacSween and a presentation of the YRP Deeds Speak award.
Thank you to everyone who made this event possible and to all of our attendees. It was an incredible success!
Honouring the contrbutions of our Asian community
Nee How, Asalam alai kum, Nay homa, Sat Sri Kal, Konichi wa, Salaam, Namaste, Ma boo hai, On yay hasayo, Vanakum.
Asian Heritage Month gives our members and our community the opportunity to acknowledge the unique legacies of Asian Canadians that have been, and continue to be, among the building blocks of our great nation. York Regional Police is proud to honour the contributions made by members of our Asian community, which have strengthened and enriched our society.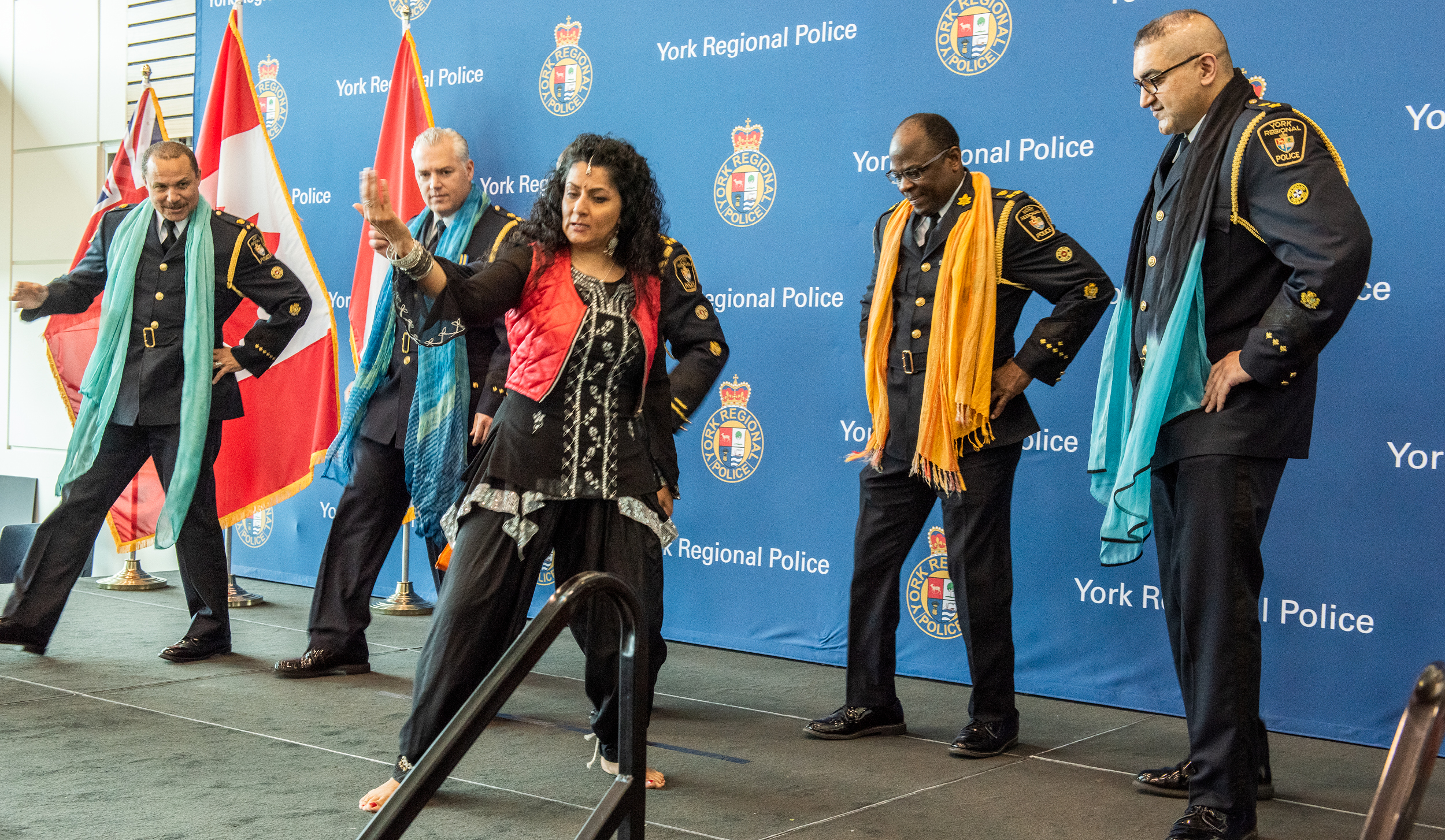 We are truly fortunate to live in a country where we can seize the many opportunities for cross-cultural learning that exist right here in York Region, one of the most diverse communities in Canada.
Since its inaugural celebration in Toronto in 1993, cities and organizations across Canada have been holding annual festivities during the month of May to recognize Asian Heritage Month. In December 2001, Senator Vivienne Poy introduced a motion in the Senate of Canada, which was unanimously passed, designating May as Asian Heritage Month.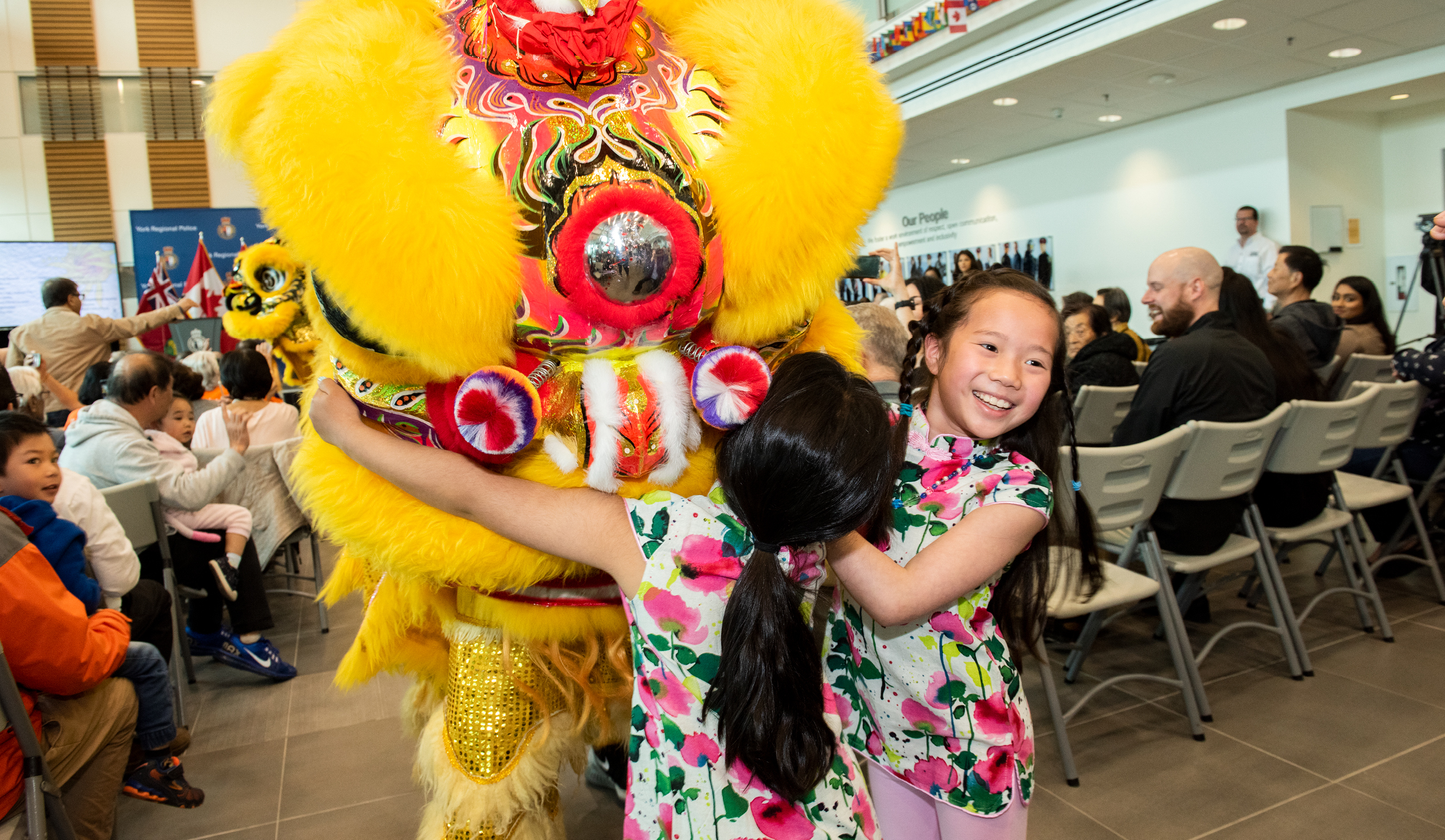 Profiles
Every May, we come together to celebrate the long and rich history of Asian Canadians at our headquarters in Aurora.
This year, while we aren't able to celebrate in person, we are taking the opportunity to highlight just a few of our members who are making a difference in their community every day.
Constable Gilbert Kwok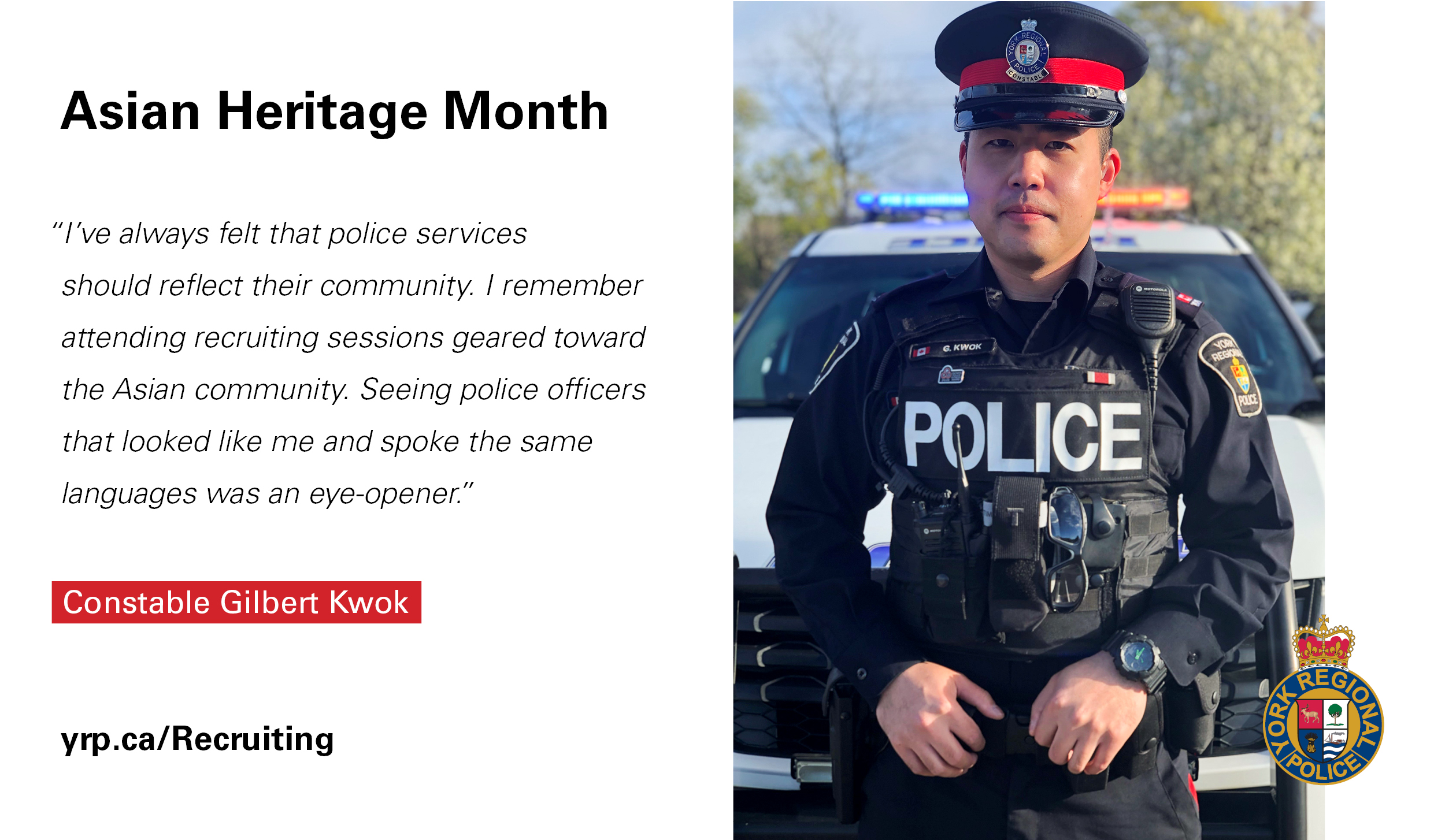 Growing up, Constable Gilbert Kwok always had a strong sense of justice. For him, that meant being ready to stand up and do the right thing.
"I think it's important to be the change you want to see in the world," said Constable Kwok.
That's exactly what drew him to a career in policing. As one of the newest members of #2 District 'A' Platoon, Constable Kwok is proud to serve the residents of Richmond Hill.
His favourite parts of the job include working as a member of a cohesive team and engaging with the community, especially kids, even though it is at a distance these days.
"I love seeing the excitement on the face of kids when they see a police officer. They are so curious," said Constable Kwok.
Prior to joining York Regional Police, the 30-year-old earned a masters degree in science, mental health and psychology and served as an Air Force Captain for seven years.
His educational background helps him better understand the needs of those in crisis and connect them to the needed supports.
In the Air Force, he had the opportunity to travel around the world and immerse himself in many different cultures. This experience has definitely come in handy as he serves York Region, which is considered one of the most diverse communities in Canada.
"I've always felt that police services should reflect their community," said Kwok. "I remember attending recruiting sessions geared toward the Asian community. Seeing police officers that looked like me and spoke the same languages was an eye-opener."
For anyone considering a career in policing, Constable Kwok is happy to offer a few words of advice.
"Don't let others discourage you from what you want to do in life. Be confident because your unique skills will be valuable to the team."
Interested in joining York Regional Police? Visit www.yrp.ca/careers.
Previous Profiles
Auxiliary Constable Tisha Persaud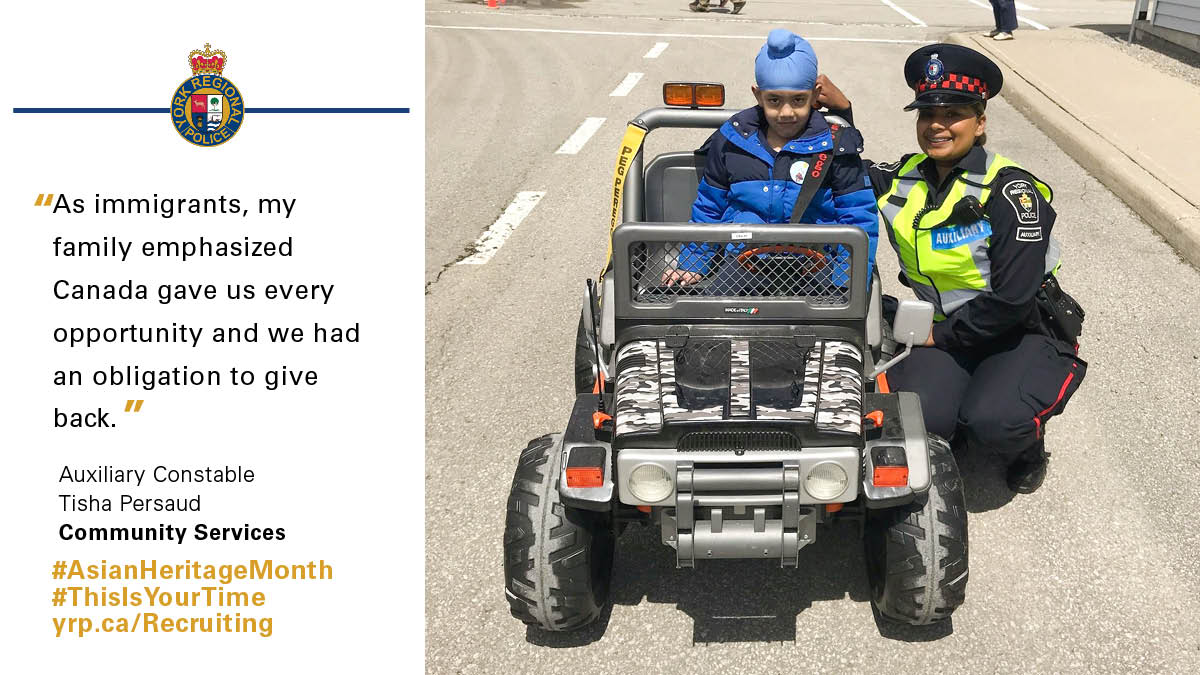 Auxiliary Constable Tisha Persaud joined our Auxiliary Unit in 2017 and she regularily volunteers 400 hours to the community every year. Auxiliary members support uniform patrol in the delivery of community-based crime prevention initiatives and ground searches for lost or missing people. Members also volunteer at community events such as parades, fairs and assisting in car and foot patrols. Specific duties include:
Emergency and disaster response

Community-based policing

Crime prevention initiatives

Traffic control

General patrol

Crowd control

Missing persons searches
Why did you choose to become an auxiliary officer with YRP?
My whole family immigrated to Canada. Growing up, there was not a day that passed when I did not hear one of my older relatives pass a remark on about how lucky our family was to find itself in Canada. My family always emphasized our new country of Canada gave us every opportunity and that we had an obligation to give back in any way that we could. After completing my post-secondary schooling, I became interested in policing and how all our communities live and work together. I wanted to be directly connected to all parts of our multicultural community, good and bad, fun and sad, in ways most people don't get to see or experience. I have always felt the urge to support others and being a part of the Auxiliary Unit gives me the opportunity to help people when they most need our support.
What is a career highlight from your auxiliary career?
One highlight was my selection as one of the first five Auxiliary Peer Support Officers in the new unit. Maintaining one's mental health is very important and while auxiliary officers spend more of their time helping with community events than they do on patrol, they are still exposed to many of the same experiences as sworn officers, such as serious accidents, sudden deaths, domestic violence and abuse. Each can take a toll and making sure we take care of each other is essential. Ensuring we are all safe, healthy and able to function effectively at work and at home is key to a resilient police service and strong community. I believe my training, empathy and experience will support officers who are experiencing the effects of trauma.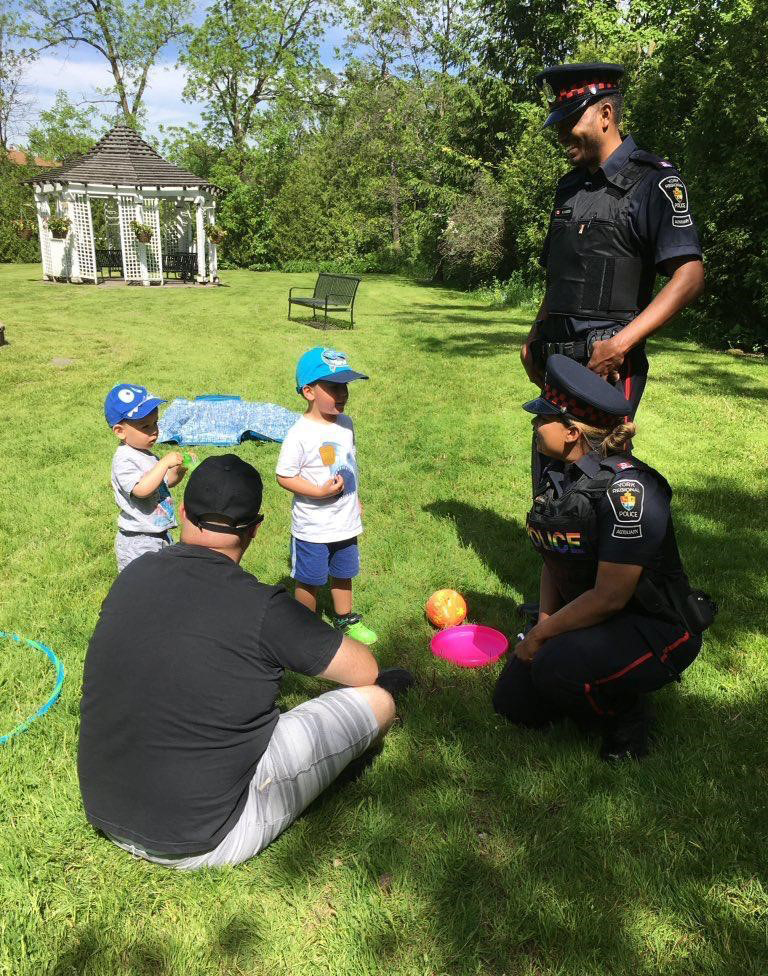 What advice do you have for anyone thinking of becoming an auxiliary officer with YRP?
Two words - DO IT! I believe a meaningful life is achieved through service. Whether someone is considering a career in policing, or simply wants to give back to the community, both are good reasons for making the commitment to serve. The uniform gives us an opportunity to exemplify our humanity and demonstrate it to others. Being an auxiliary officer gives me a strong sense of personal satisfaction for helping to make our community a safer place to live for everyone.
How do you stay involved in your community?
I contribute approximately 400 hours per year volunteering. That's how I stay connected to not only my community, but to all the other communities in York Region. I get to work with a wide variety of people and share in some of the best attributes and experiences our various community and cultures have to offer.
From your perspective, how has Asian culture improved our community?
Asian culture has absolutely brought more diversity to York Region and has changed what people consider Asian to be. A wide variety of Asian communities make up everyday life in our community. Food may be one of the easiest ways for many to initially experience a new culture because food opens people up to new experiences, ideas, new relationships across cultures and new traditions they would otherwise not experience. Asian is more than just Congee Queen and dumplings but includes Hakka, Korean BBQ, Pad Thai, Indian Dosas, Sri Lankan kothu roti, West Indian curries and more.
My volunteer work as a uniformed female member of the Asian community extends, and even breaks, many cultural and gender-based perceptions. It shows that regardless of one's background, anyone can take on a leadership role and women, who are often discouraged from taking this path, will see themselves able to volunteer or even pursue policing as a career. They too can make a difference in their community and show the world that a resilient community is built from the contributions of people from many different places, ideas, genders and cultures.
Jai Sharma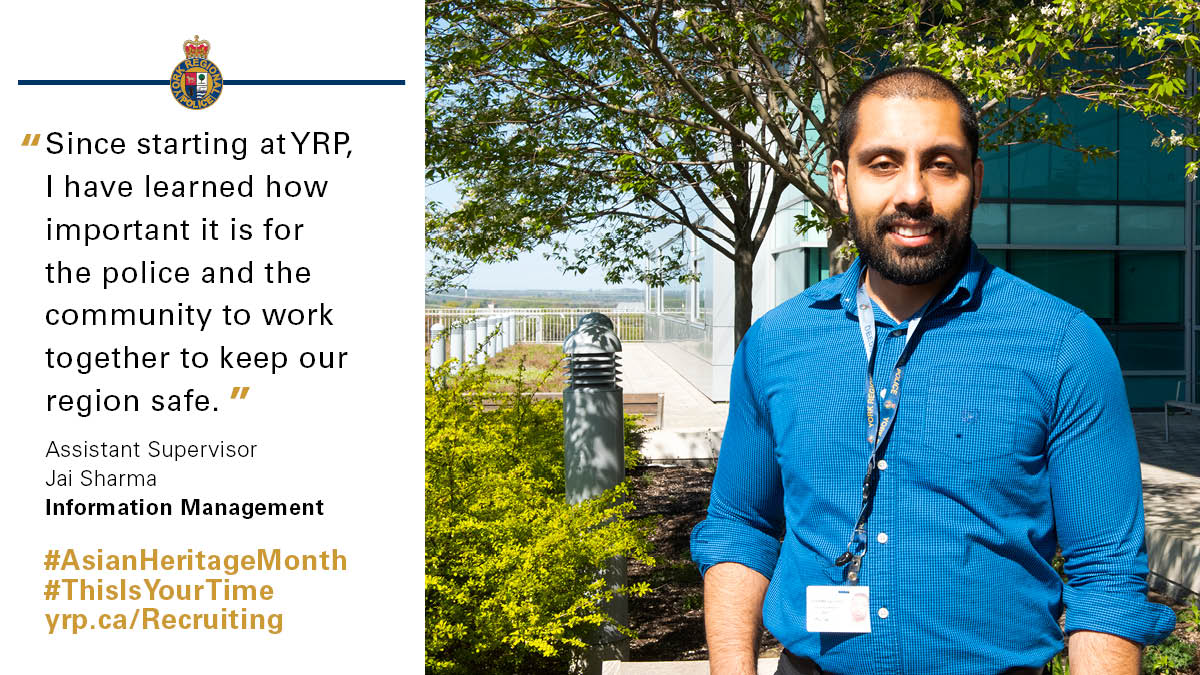 Jai Sharma joined YRP in 2015 and he is an assistant supervisor in our Information Management, Transcription Validation, and Crown Folder Processing Unit. This unit is responsible for updating our internal Records Management System and the national Canadian Police Information Centre information database to assist our officers. A few of the job functions includes ensuring reports are maintained, while meeting legislative mandates and operational requirements, creating folders for court purposes and providing support to policing partners to assist with investigations.
Why did you choose a career in information management?
While completing my university degrees, I worked as a security officer. Through the course of my duties, I was able to observe and interact with police officers on a frequent basis. Doing so allowed me to gain an appreciation for the integral role they play not only in crime prevention, but also in maintaining relationships between communities and municipalities.
Through my personal and professional pursuits, I developed a penchant for troubleshooting and solving problems. In my current role as an Assistant Supervisor in Information Management, I am able to assist our sworn members by identifying, analyzing and rectifying issues that could potentially hinder or delay an investigation.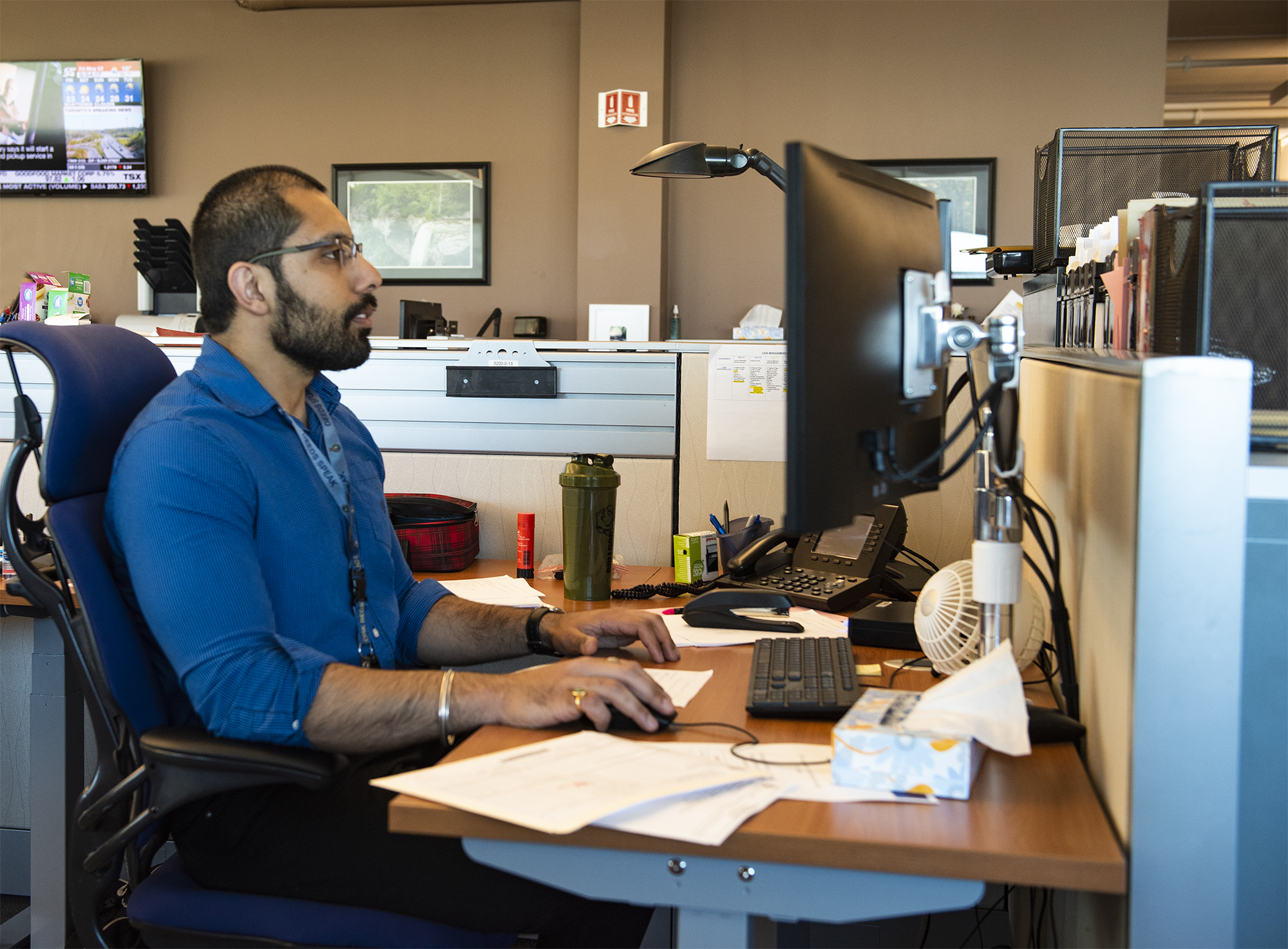 What is a career highlight at YRP so far?
One of my fondest memories at York Regional Police was volunteering at the International Day for the Elimination of Racial Discrimination. I was able to truly appreciate all of the diversity within York Region, as well as understand the importance of the role of law enforcement as an instrument of unity and social cohesion.
What advice do you have for anyone thinking of starting a career with YRP?
My advice for anyone who aspires to pursue a career with York Regional Police is to approach every challenge with enthusiasm and as an opportunity to learn. I would also remind people to stay humble and to put forth maximum effort in all your endeavours.
How do you stay involved in your community?
Through my career at York Regional Police, I have had the distinct privilege to participate in a variety of special events aimed at showcasing the diversity within York Region.
Coming from a North Indian background, I choose to celebrate my culture and community by maintaining involvement in performing arts, particularly dance. That has allowed me to establish relationships with members of the South Asian community and understand the spectrum of issues that affect them.
From your perspective, how has Asian culture improved our community?
Canada is a nation predicated on the values of unity, inclusiveness and diversity. Within York Region, 49 per cent of residents identify as a visible minority, a significant number of whom are of Asian background. Through their contributions, be it in politics, business, or healthcare, the Asian community has entrenched itself as a part of the fabric of York Region, and of Canada as a whole.
Superintendent Thai Truong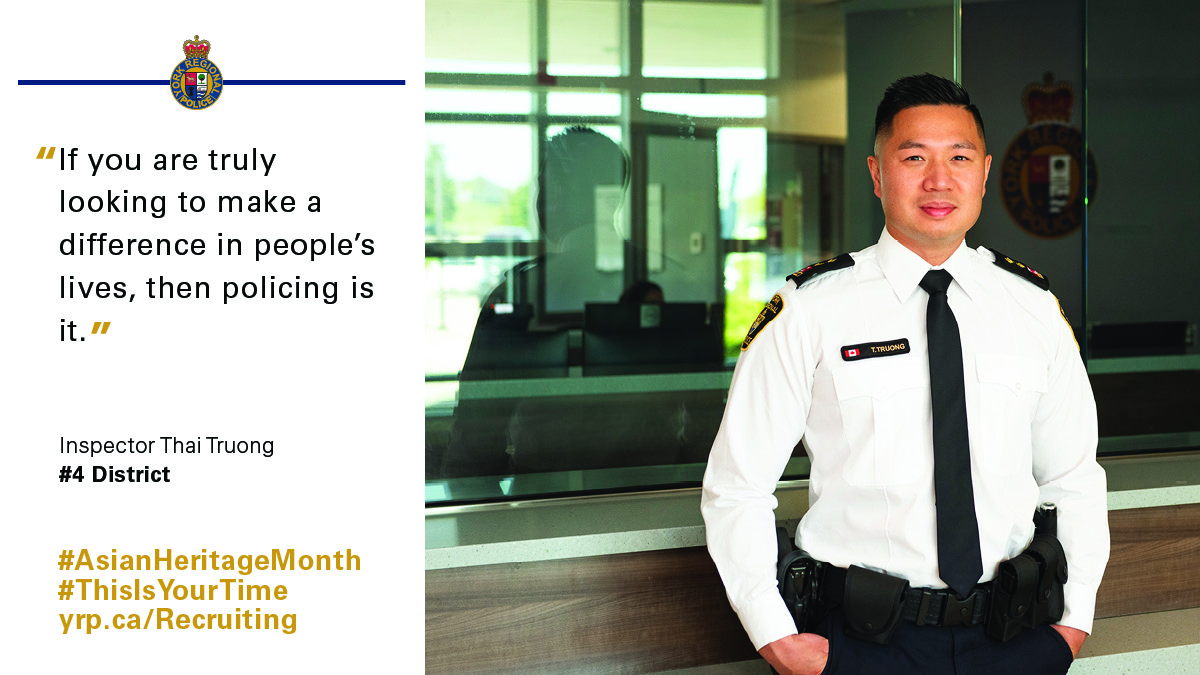 Superintendent Thai Truong started his career with York Regional Police in August 2001. Over the past 19 years, he has worked in Uniform Patrol, the Drugs and Vice Unit, the Special Victims Unit, the Real Time Operations Centre and Major Crimes. He currently serves as part of the #4 District command team in the City of Vaughan.
Why did you chose a career in policing?
My family escaped Vietnam after the war in 1975 and I was very young when we came to Canada in the early 1980s. I have a deep appreciation for the struggles and the sacrifices that my parents endured and I am forever grateful that Canada welcomed us with open arms.
I remember being in elementary school listening to a uniformed police officer speak. The police officer spoke about being kind to each other. I was in awe of the profession immediately. A lot had to do with how that police officer carried himself and how he spoke to us. Because of him, I associated the uniform with strength and kindness and I hope that others see our uniforms in a similar way. My father died when I was just a kid. He never learned how to speak English yet he watched the television show COPS any chance he could. He loved it and I loved watching the show with him. The excitement, the chase, I remember watching my father so focused on it. He did not need to understand English to know what was happening. My father admired the profession and I admired my father. When my father was killed in a car accident, I knew what I wanted to be when I grew up.
What is a career highlight for you from your policing career?
I have been fortunate to have an investigative background in gun and gangs, drug trafficking and crimes against people. Some of my best and worst highlights of my career were when I worked as an undercover officer across North America. Undercover work can be challenging at times and other times, simple, with minimal risk. Not all criminals are Mensa intellects. However, sharp criminals often operate sophisticated crime groups and infiltrating them was challenging. Infiltration involves your own emotions, connections and real trust with people. The same people you have gotten to know on a personal level, also have a violent side. When they develop trust in you and show it, you know that your sacrifices have paid off - but you do feel guilt for the consequences.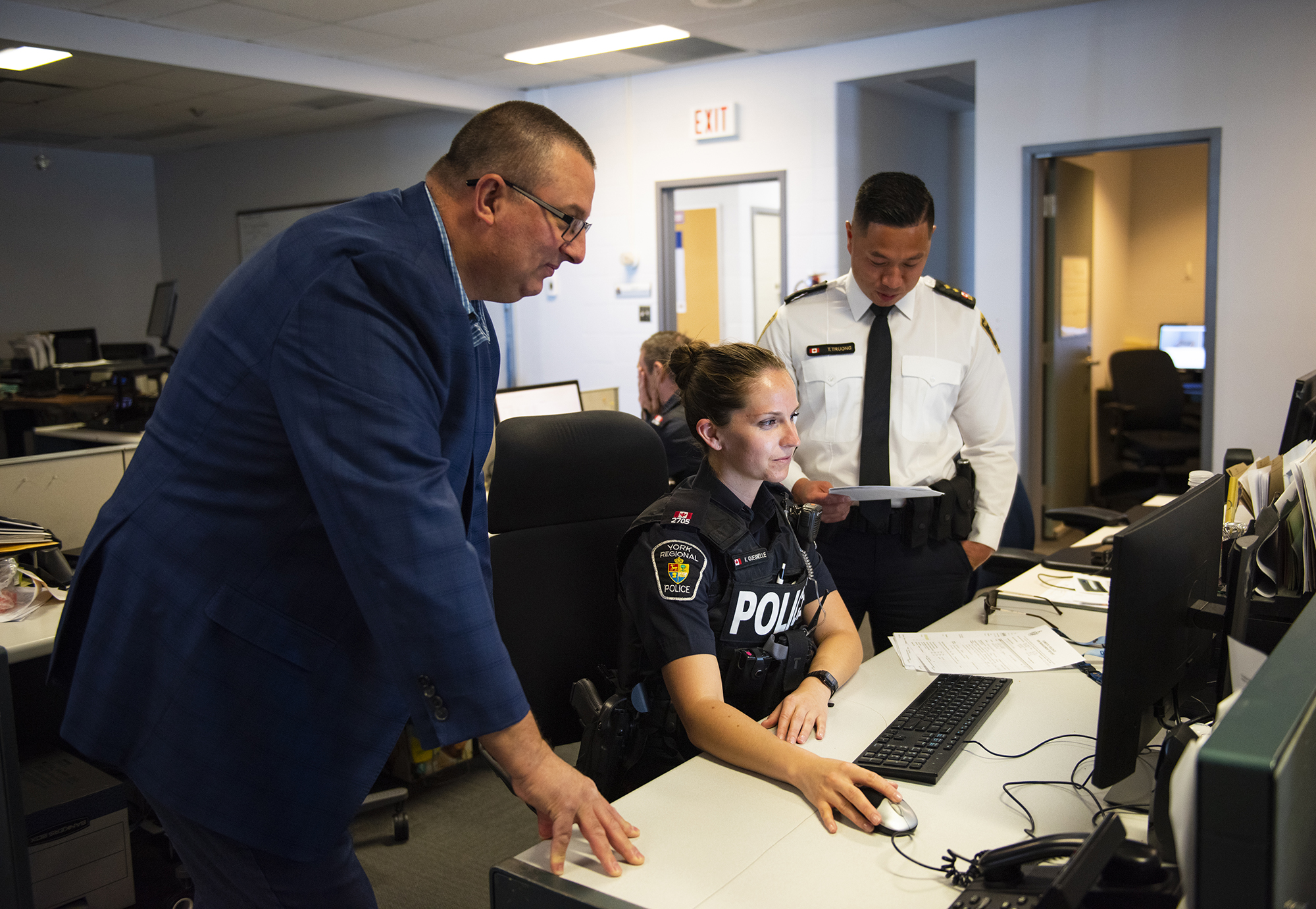 What advice do you have for anyone thinking of starting a career with YRP?
I would encourage anyone who is considering a career in policing to choose YRP. I truly feel that this organization is one of the top law enforcement agencies in the country. Policing in general is a noble and exciting profession. If you are truly looking to make a difference in people's lives, then policing is it. If you are looking to protect vulnerable people in the community or if you want to apprehend violent offenders, then policing is for you. It is also a place where your work associates become your friends and special ones become family.
How do you stay involved in your community?
I enjoy attending different types of community events and meeting members from all of our diverse communities. But for me, being involved in the community isn't just about shaking hands and being seen. It's about understanding the real issues that are important to each community, making real connections with people and being present in the moment with them. This is crucial in my involvement in any community.
From your perspective, how has Asian culture improved our community?
The hardships and the challenges that my family underwent to survive as immigrants are similar to many immigrant families, not just Asians. My experience has taught me to strive each and every day to be a good person, leader and citizen and I recognize there are many other immigrants reaching for the same virtues. I believe collectively, people in our multicultural country are making our communities a better place. So while I am proud to be Vietnamese, I am even more proud to be Vietnamese-Canadian, because Canada represents true diversity.
Constable Joon Kim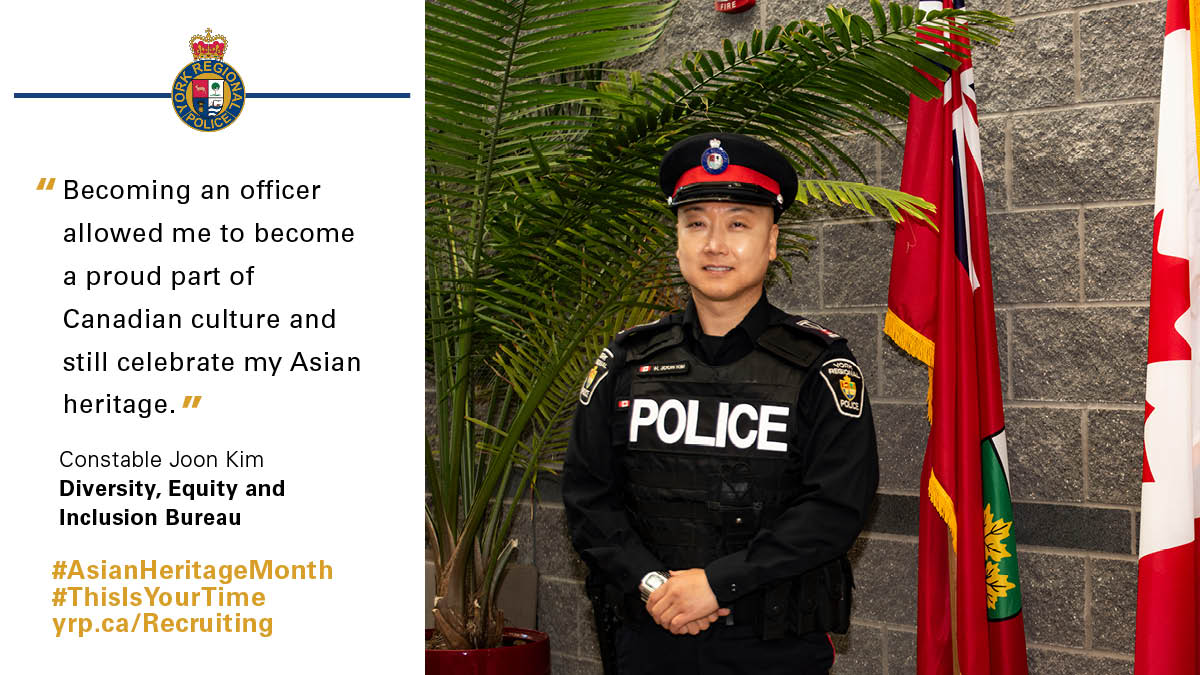 Constable Joon Kim began his career in 2000 and over the past 20 years, has worked in Uniform Patrol, Guns and Gangs Prevention, Information Management, Uniform Recruiting and as a school liaison officer. He is currently assigned to the Diversity and Cultural Resources Unit and is fluent in Korean.
Why did you chose a career in policing?
My parents came to this country from South Korea for a better life for our family and they encouraged me to engage with the community. They taught me the importance of learning and becoming a part of Canadian culture. This allowed me to embrace a new culture, lifestyle and language and policing was an ideal way to combine my two worlds. I could continue to help my community, make new friends and achieve a level of success of which my parents would be proud.
What is a highlight from your policing career?
I have had many highlights throughout my years at YRP. One was when I became a coach officer and was able to meet new constables and have the opportunity to teach them what I had learned from others before me. I believe giving and taking advice is an important part of my journey to become a great police officer. It also helps me to grow as a person and member of the community.
What advice do you have for anyone thinking of starting a career with YRP?
YRP is a great workplace. There can be challenges at first because there is so much to learn, but with a good attitude, it can be a fantastic career. I think life experience is one of the most important things a candidate can bring to the interview. It can't be taught in a classroom or read in a textbook. It's how each of us approaches a problem without the same answer in mind. That's the great part of this career - all of us bring something unique, but it benefits of the whole organization.
Working in recruiting, I always encouraged applicants from every culture and background. It is important that our police service reflects the communities we serve.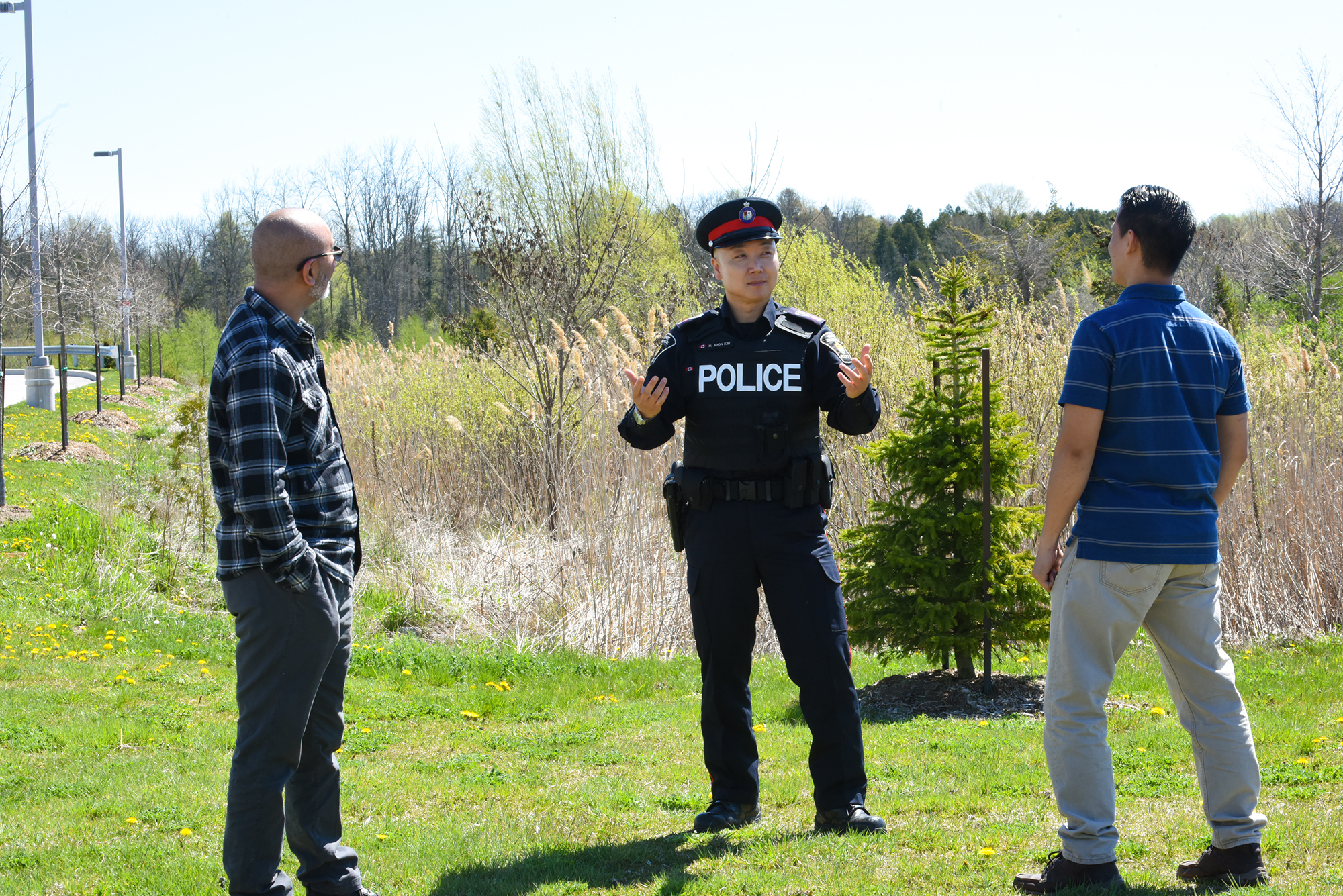 How do you stay involved in your community?
As a member of the Diversity Unit, I have been a part of the presentations and information sessions we host for the Asian community. We recently had several presentations just before the COVID-19 shutdown. The lunar New Year in January 2020 brought our unit to many Asian communities where I had the pleasure of meeting people and speaking to new community members who immigrated to Canada to achieve their dreams.
Last year, through the Diversity and Cultural Resources Unit, I organized a Meet and Greet with the Korean community at our headquarters. It was a great opportunity to reach out to the members of the Korean community and I served as Master of Ceremonies. My parents even got involved as we needed their assistance in finding a great caterer for the event.
From your perspective, how has Asian culture improved our community?
In York Region, we are seeing an increase in population of the Asian community and I am proud to be able to be a part of building relationships with Asian Canadians. I have witnessed many community members volunteering, helping out at community events and assisting newcomers to Canada. This is an extremely positive sign of how we are becoming more mindful about how we can all help the community. It's not a one-man effort, but a responsibility placed on all of us.
York Regional Police, with the help of the Asian community, can continue to ensure everyone feels safe.
Constable Kevin Nebrija
Constable Kevin Nebrija began his career in 2007 and spent his first 10 years as a frontline patrol officer at #5 District in Markham. In April 2018, he was assigned to the School Resources Unit in Community Services. Constable Nebrija is also a part-time member of the Public Order Unit, Search and Rescue Unit and is a member of YRP's Canadian Police and Peace Officers' Ride to Remember team.
Why did you chose a career in policing?
Growing up, I knew that I did not want the typical Monday to Friday office type of job. I wanted a job where I was doing something different every day. Since joining York Regional Police, every day has been different and I have met many new people. When people ask how my day was, I never answer, "it was fine."
What is a highlight from your policing career?
I have really enjoyed the variety of units I have been a part of during my career, especially the Public Order Unit. I was lucky to be a member of this unit during the G8 and G20 summits. These two deployments involved a lot of training and the chance to work with other police services. It was something different and something I will always remember.
I am also very proud of being a member of the YRP Ride to Remember team. I complete this 700-kilometre ride every year with hundreds of cyclists and it is an opportunity to remember and honour police officers who have lost their lives in the line of duty. We do this ride to remind the families we are here to support them and that we will never forget their sacrifice.
What advice do you have for anyone thinking of starting a career with YRP?
Give it your all. If it is your career passion, just go for it and don't give up. Don't limit your options to one or two specific units. In policing, there are so many different positions and opportunities for you, you can keep working to find what you love to do. Investigations, community outreach, training members; the possibilities are endless.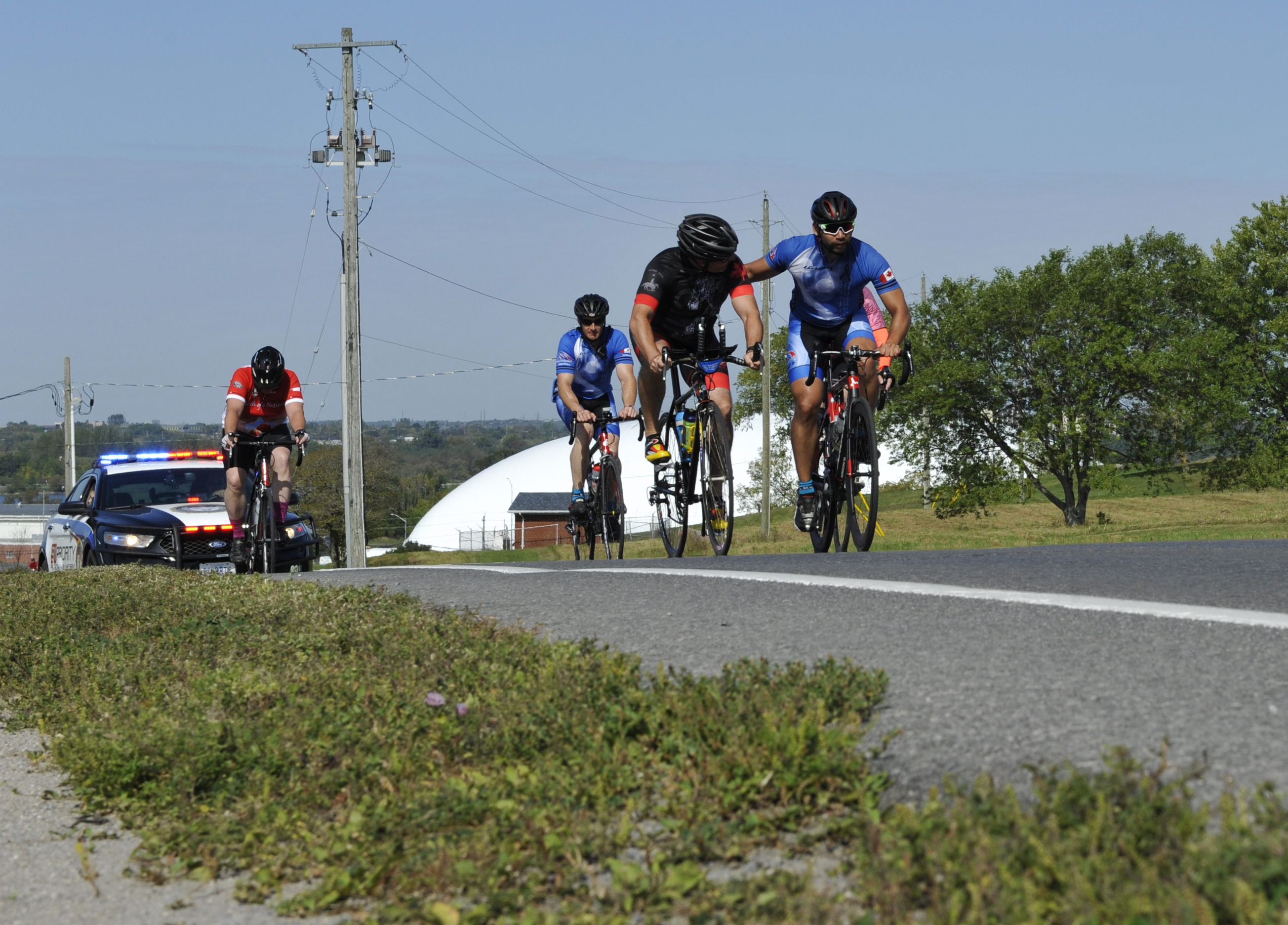 How do you stay involved in the community?
Being a school liaison officer allows me to interact with youth every single day. One of the most important parts of my job is breaking down the stigma of youth versus the police. Even though we are police officers, we are still people with experiences that we can pass on. Building a connection with young people will hopefully pay off in the long run. I also enjoy giving career presentations at high schools and encouraging students to explore policing as a great career option that they could choose to pursue.
I am also a Lieutenant with the Cadet Instructor Cadre as part of the Royal Canadian Air Force. In this role, I am a senior familiarization pilot at the Markham Cadet flying site and take air cadets flying as part of their training. This program stimulates an interest in the military for any young people interested in pursuing this path.
As a kid, I wanted to be a pilot after seeing the movie Top Gun. I joined the cadets as a 13-year-old and earned my glider pilot licence when I was 16. At the time, the military didn't accept laser eye surgery as acceptable eyesight for entry, so I had to shift my focus to something different. Flying has become my hobby and my volunteer pursuit where I can continue to serve my community in a different way.
What has Asian culture added to our community?
Asian culture, in all its many forms, adds so much diversity to our community. One of my favourite events is Markham's Taste of Asia. A lot of people do not have the funds to travel the world but at this festival, you can sample tons of different foods and talk to people about their unique life experiences and why they chose to come to Canada.
Both of my parents were born in the Phillipines, so I can absolutely relate to the stories of immigrants and why coming to Canada made such a significant impact on their lives.
Special Constable Mith Sivayogarajah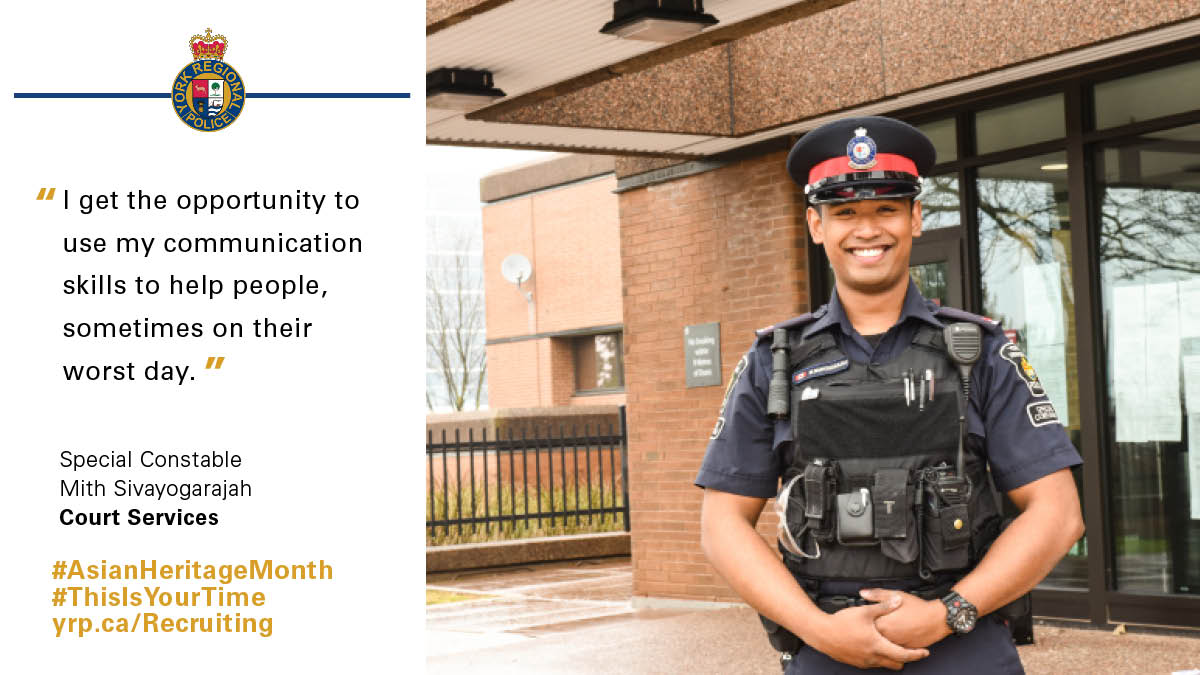 Why did you want to join York Regional Police?
Growing up in Toronto, I would always hear stories of how police officers would go to calls and either have to put a stop to what a person was doing wrong or how they would help solve a person's problems.
I always wanted to help people, be a part of my community and have a positive impact on people's lives.
My mom was born in the Philippines and my dad was born in Sri Lanka and helping the community was a value that both of them held highly.
Why did you choose a career as a Court Security officer?
During my high school years, I was able to complete a co-op student placement in the courthouse. I learned what the job was like and what was expected of the officers who worked there. I knew I would be able to make an impact as a Court Security Officer.
When you are working in the courts, you are dealing with people who are not going through the best of circumstances on that particular day. I knew that through talking to them and listening, I might be able to help them in some way.
I also get the opportunity to comfort victims, to ensure they are taken care of in a small way.
Working in court security, I also get to work with police officers who share their insights on how they would handle things and who are always open to passing along their wisdom.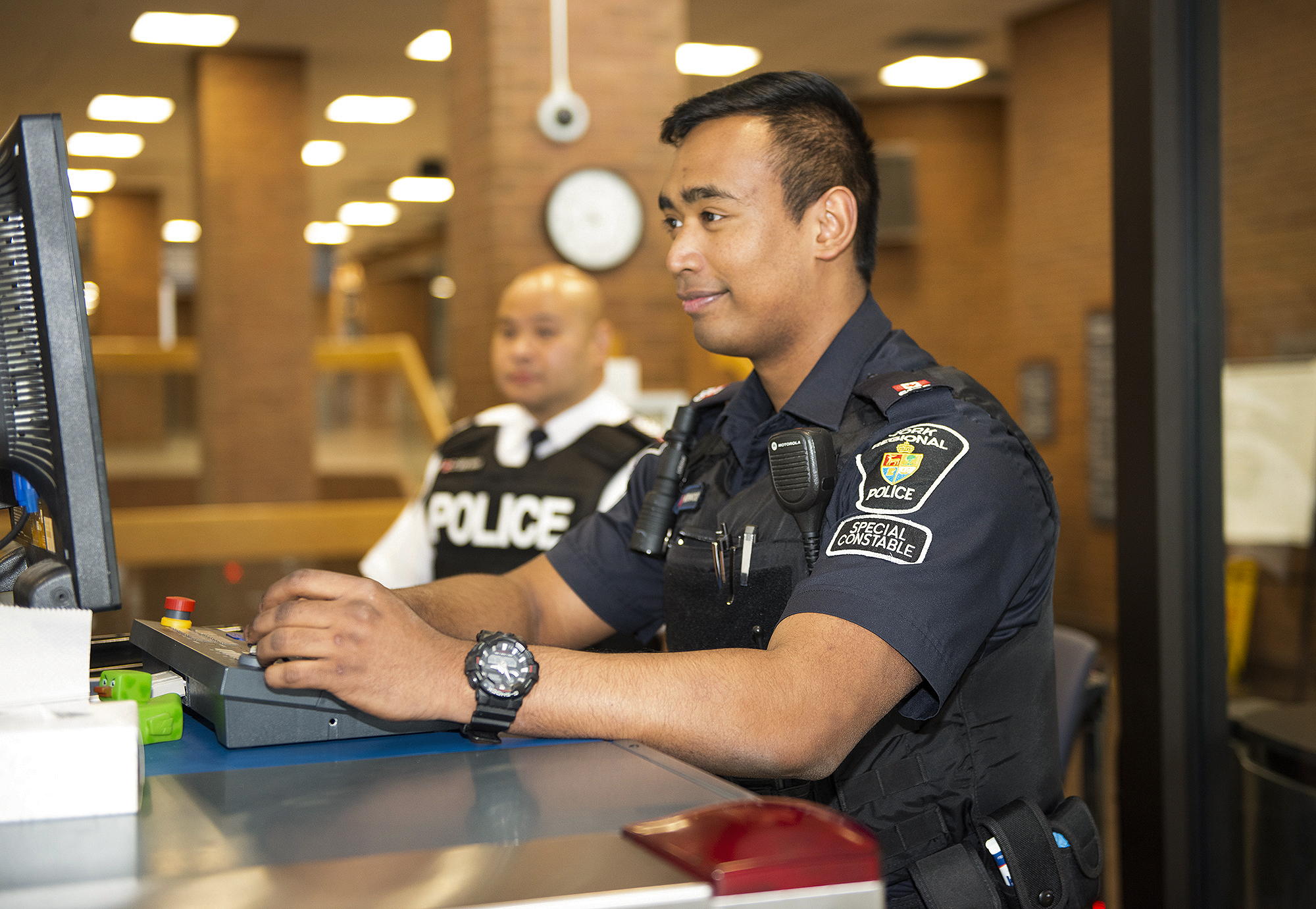 What is one of your favorite memories of working at YRP?
In addition to being a Court Security officer, I also volunteer my time as an Auxiliary Unit officer as this is another great way to give back.
Two years ago, I was volunteering in Markham at their annual Taste of Asia event. This is a great event as you get to meet a lot of people and try different foods.
I loved it when the people came up to me and wanted to have their photo taken with me because I look like them. They don't often see people in uniform that reflect their community.
What are your future plans at YRP?
Working as a Court Security Officer and volunteering as an Auxiliary Unit officer will hopefully assist me in my dream of one day becoming a police officer.
I am learning and developing a lot of important skills in my current position and I know it will help me down the road.
Inspector Alice Tsang - Community Services
Inspector Alice Tsang joined York Regional Police in 1995 and over the course of her 25-year career, she has worked in Uniform Patrol, Community Oriented Response, the Homicide, Intelligence and Criminal Investigations Bureaus and the Duty Inspectors' office.
She is currently the officer in charge of the Diversity and Cultural Resources Unit. Inspector Tsang was the first Asian female promoted to the rank of Inspector at YRP and is fluent in Cantonese, Mandarin and Haka.
Why did you chose a career in policing?
I always wanted to be a police officer because my whole family worked in policing or emergency services positions.
I was born in Hong Kong and came to Canada as an immigrant. As an immigrant, I knew there were always going to be opportunities. I believe in the values of social justice, serving the community and helping people. It truly brings me happiness when I can help others. Policing is a unique job with unique experiences that brings unique things to my life.
What is one highlight that stands out for you from your policing career?
The first one that immediately comes to mind is the ability to utilize my language skills and the opportunities that brings.
Even when I was first hired, I was helping people with translating. My career always had new opportunities because I had language skills.
I was able to assist members in the Homicide Unit on surveillance projects because my language skills were required. I assisted investigators with reading people their rights, interviewing victims of crime, you name it. I remember early on in my career going to Hong Kong with two homicide investigators to extradite a person charged with first-degree murder. I was the only person available that could speak Chinese so I had the opportunity to go.
I remember taking phone calls on Christmas Day when I was off duty because I was needed.
The commitment and the passion to ensure I am available to assist my colleagues is what drives me.
What advice do you have for anyone thinking of starting a career with YRP?
Be humble and willing to learn all the time. Don't lose your patience. With any career, there are ups and downs and you can't give up. You move forward with your goal and your passion to overcome the barriers. You need to come in and work hard. When you are approached to help with something, don't ever say no.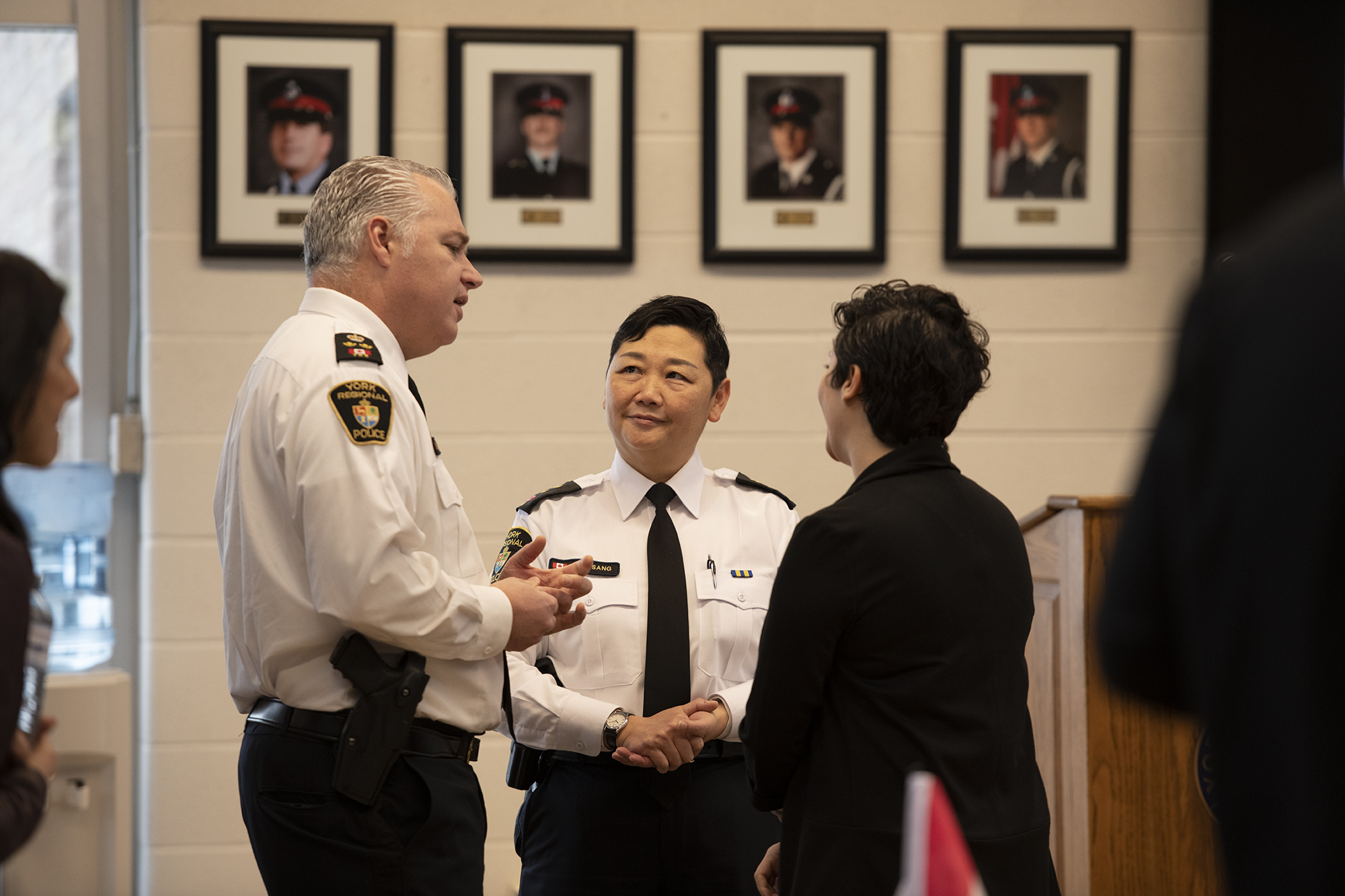 How do you stay involved with your community?
Through my position at YRP, I am very lucky to be able to attend a variety of traditional festivals and meet people from all walks of life.
I am very mindful of what is happening around the world. As my current position includes overseeing our Hate Crime Unit, I pay close attention to all crimes and especially to the victims.
Currently members of my unit are developing strategies to combat the recent negativity towards the Chinese culture because of COVID-19.
I take an active role of speaking on radio programs to educate people about what a hate crime is and why it should be reported. Everyone has a right to be engaged in society. I did not create these problems, but I definitely want to be a part of the solution.
How does YRP stay involved in our communities?
YRP is involved in a number of multicultural initiatives like Asian Heritage Month, International Day for the Elimination of Racial Discrimination and Meet and Greets with different communities at headquarters.
YRP invites everyone to partner with us to help make the community a safer place and I am proud to be a part of those partnerships.
What is your favourtie part of your job right now?
I am a supervisor who cares about every member of my team and I value each of them for what makes them unique person.
I am excited about the work happening at the Community Safety Village with the United Nations Human Rights Classroom. I am energized about how we can educate the children about inclusivity and the power of community.
There is lots of work to be done and I am excited to work with my team to create something special before I retire. I want to help everyone around me shine and then I can retire happy.