Every February, we come together to celebrate the long and rich history of Black Canadians at our headquarters in Aurora.
This year, while we aren't able to celebrate in person, we are taking the opportunity to highlight just a few of our members who are making a difference in their community every day.
Find out how you can join our team at yrp.ca/Recruiting.
Member Spotlight
Inspector Maurice James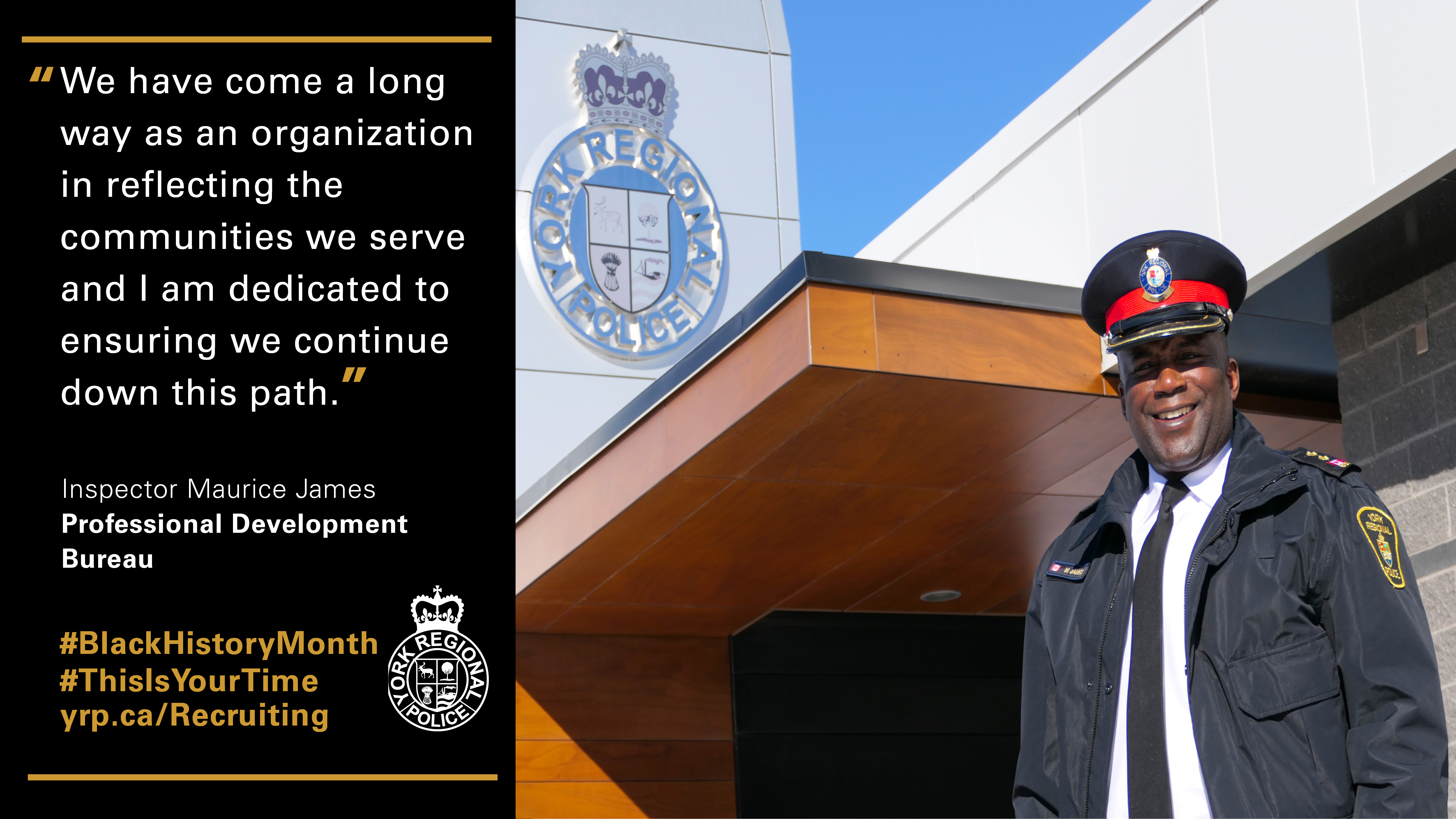 Inspector Maurice James started his policing career with York Regional Police as a cadet in October 1990. After being sworn in as a constable in August 1991, he has worked in Uniform Patrol, Community Oriented Response, Uniform Recruiting, Criminal Investigations Bureau and as a Street Beat officer. As a staff sergeant, he served at #5 District in Markham and at the Whitchurch-Stouffiville substation. He is currently the officer in charge of Uniform Recruiting and the Professional Development Unit.
Why did you choose a career in policing?
In Grade 2, we had a community officer from Toronto Police attend our classroom to present on many occasions. One particular visit, he asked if anyone wanted to have the handcuffs put on them. I did not volunteer, however, he still selected me. He then said he had forgotten the key and had to leave and respond to a call. He left the room for what seemed like hours and the other kids laughed and pointed fingers at me. When he returned, he removed the cuffs and it was at that point, I vowed that I would be the one putting cuffs on someone one day and protect the community.
When I joined York Regional Police as a cadet, I was so impressed by the training officers I encountered as they were in incredible physical shape and I wanted to be just like them. As a cadet at #2 District in Richmond Hill in 1990, it was months before I saw another Black police officer. After I graduated from the Ontario Police College and started my career at #1 District in Newmarket, I was the only Black officer there for several years. We have come a long was as an organization in reflecting the communities we serve and I am excited that in my current role I get to ensure we keep making strides in this area.
What is a career highlight from your policing career?
I have had so many incredible experiences being a police officer. I knew from the moment I joined YRP that I wanted to be a great street cop. I wanted to be out in my community, meet people and make a difference. I enjoyed serving as one of the original Street Beat officers at Huron Heights in Newmarket back in 1999. I also enjoyed working in recruiting by trying to hire the best possible candidates and then training new recruits to help prepare them for a long, successful career. Throughout my career, I have strived to a strong ambassador for this important career. I always remind officers to remember why they signed up for this job; you are here because you wanted to help people.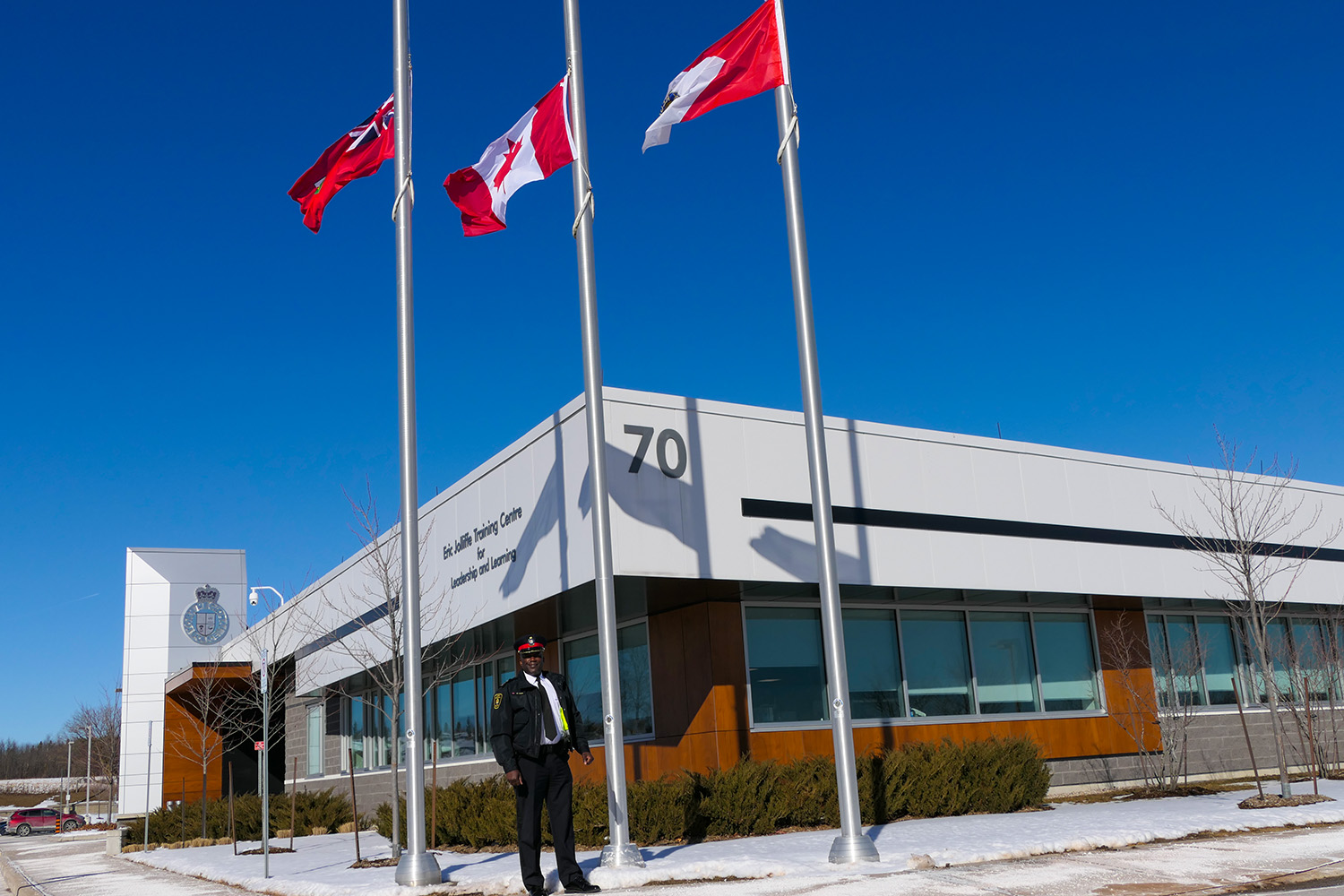 What advice do you have for anyone thinking of starting a career with YRP?
My advice for anyone thinking about starting a career with YRP is to learn as much as you can. Don't be afraid to try something different along the way and be good to everyone you meet as you never know how and when your paths will cross again. In this profession, how you treat people can affect the entire profession.
How do you stay involved in your community?
I have been involved with the Toronto Police Games, which raises money for the Toronto Police Widows and Orphan fund. I have also volunteered with the girls basketball program at a local high school.
Previous Profiles
Constable Shomar Griffiths
Constable Shomar Griffiths
Why did you choose a career in policing?
Both of my parents are Jamaican-born and immigrated to Canada in search of a better life. They moved to Oshawa shortly before I was born because they wanted to raise their family away from the influences of the city, but being one of the only minority families in the area introduced its own set of challenges for me and my three brothers. I had a number of negative experiences with police as a youth, but policing was always in the back of my mind because I wanted to break the cycle for kids in the community who felt like I did growing up. I chose a career in policing because I have always had a genuine interest in giving back. I love the idea of working in an environment where no two days are ever the same and I wanted to do more and to be a part of the change.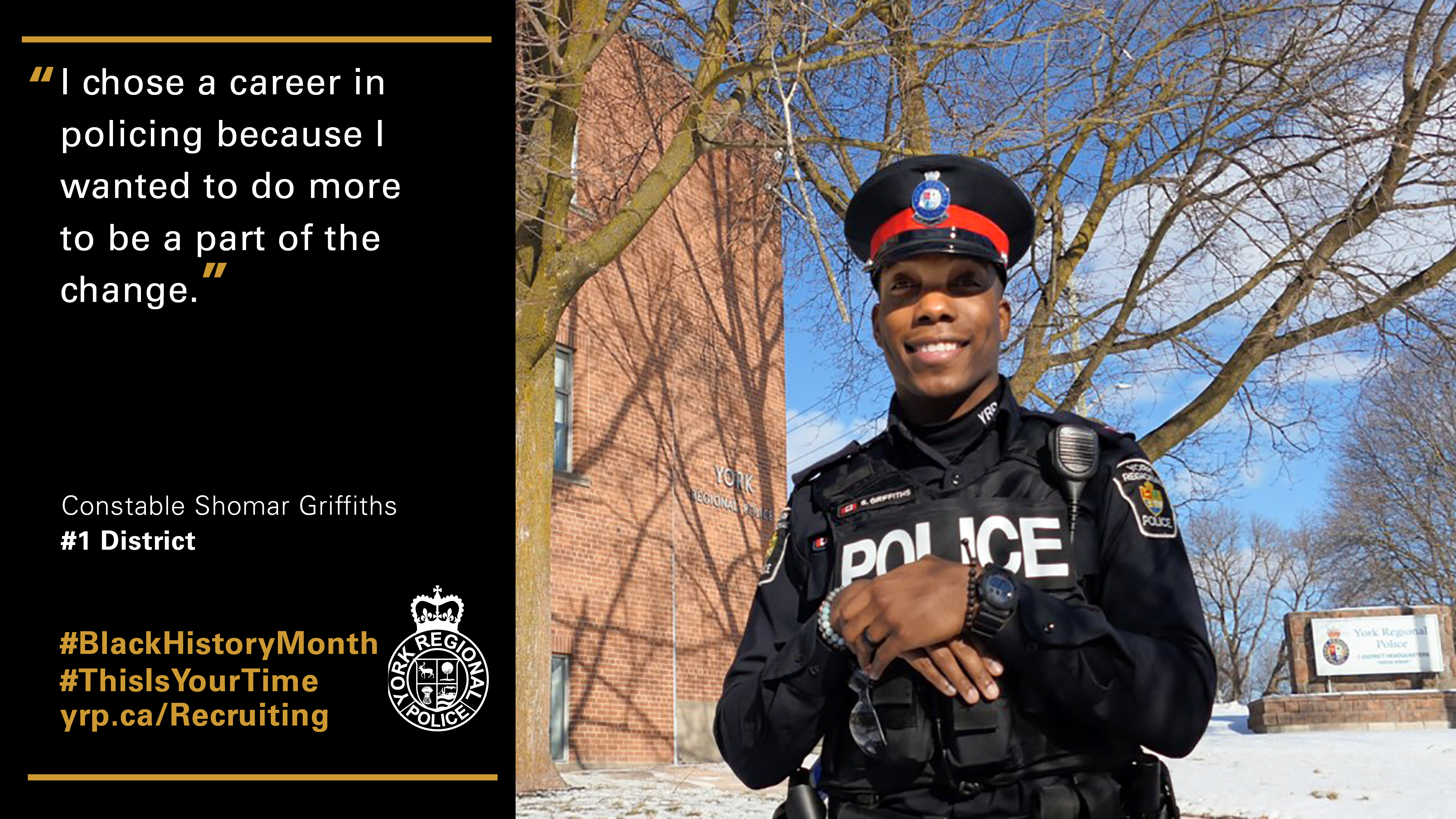 What is a career highlight from your policing career?
Although my career in policing is just beginning, a major highlight has been working with the other recruits from my hiring class to create a new program within YRP focused on breaking down the existing barriers between police and racialized youth in our community. We are hoping to launch this program called Cookie with a Rookie in 2021. This program is about reaching youth through social media platforms that matter to them and perhaps encourage youth to think of policing as a career option. If youth have the opportunity to have one positive experience with a police officer, this might change their entire outlook on the relationship between the community and the police.
What advice do you have for anyone thinking of starting a career with YRP?
If you are thinking about pursuing a career with YRP, I would first suggest attending an employment session. They are offered completely online now, so they are easily accessible to everyone. The recruiting unit does an excellent job of informing you what to do in order to make yourself the most competitive candidate possible. I attended three sessions prior to submitting my application, just to make sure I had everything completely ready to go before applying.
How do you stay involved in your community?
With the ongoing COVID pandemic, it has been a challenge to have the same level of involvement that I am accustomed to, but right now I am reading to the kindergarten students at St. Christopher's Elementary School in Oshawa as part of their online learning for Black History Month. I also feel that as a frontline officer, I am in the community every day, just trying to make a positive impact and to help change people's lives for the better.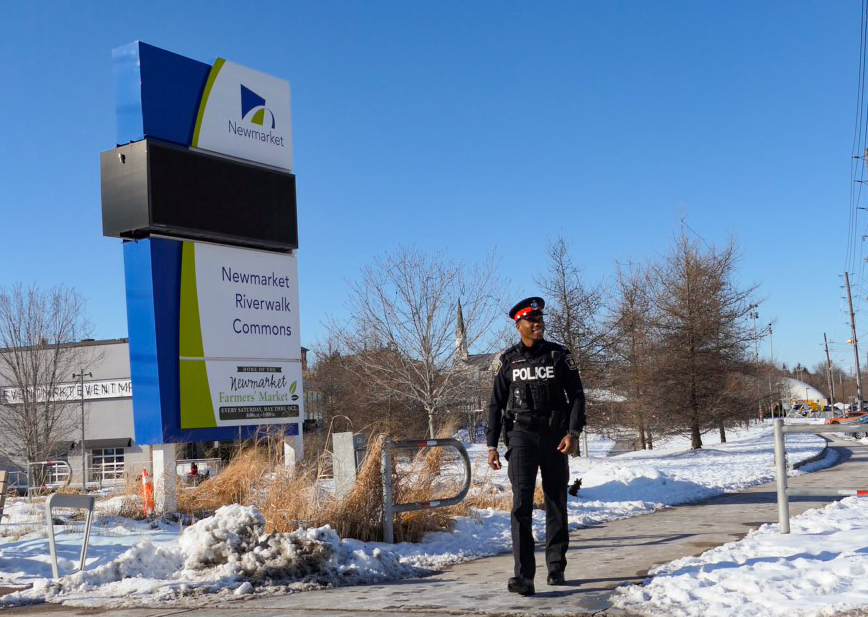 Constable Thea Whittaker
Constable Thea Whittaker is new to York Regional Police, being hired as a constable in June 2020. In the short time she has been with YRP, she has had an opportunity to work alongside members in the Emergency Response, Search and Rescue and Canine Units as well as the Criminal Investigations Bureau. She is looking forward to one day being able to move into a specialized unit to further help the community in a meaningful way.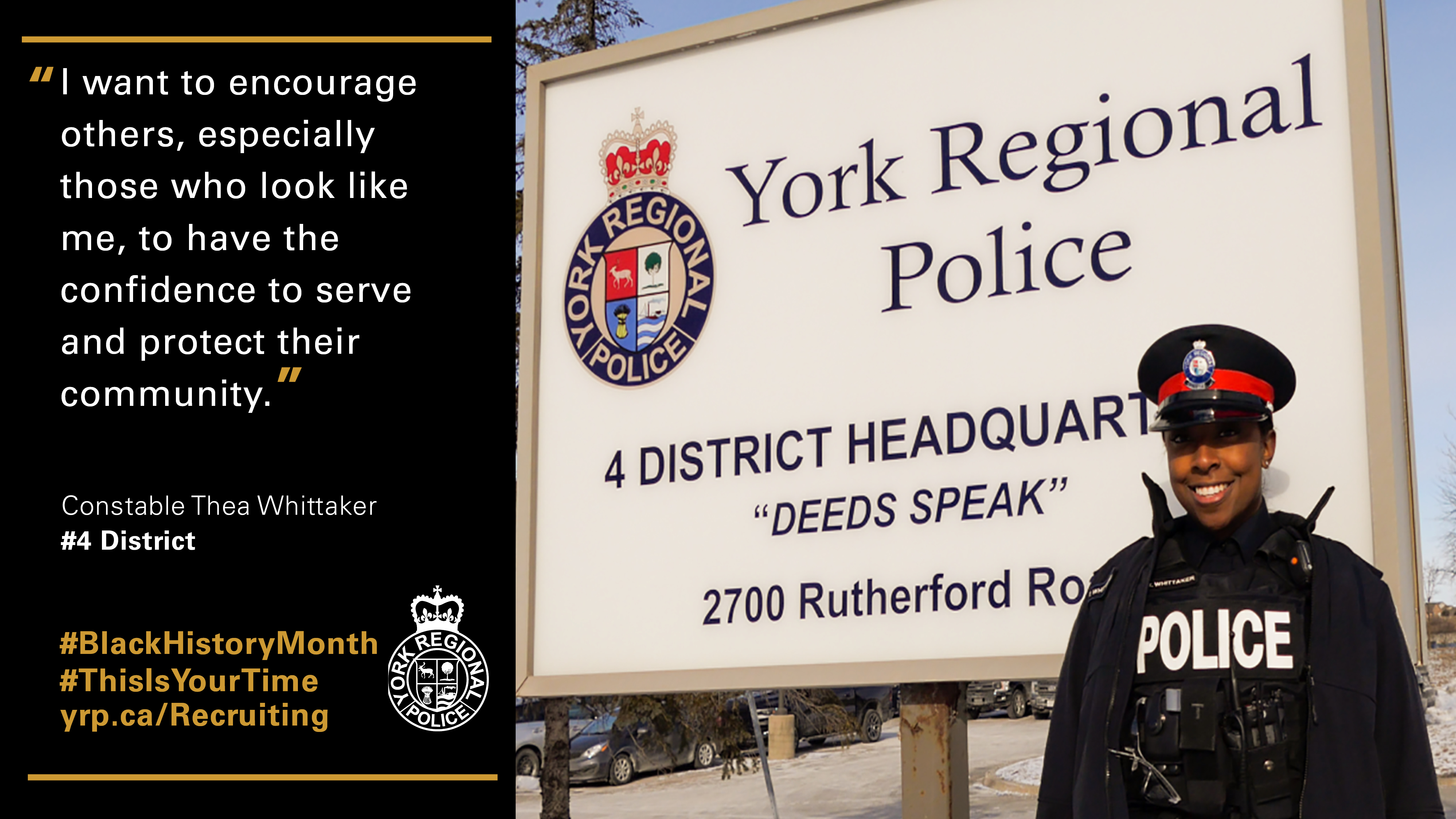 Why did you choose a career in policing?
For as long as I can remember, I have always wanted to be a police officer. Growing up, I did not see very many females in policing and I did not see very many people that looked like me working in the profession. It inspired me to be the change that I wanted to see. Often times we forget the importance of diversity and the role it plays in our society. I would be honoured to be a part of encouraging others, especially those who look like me, to have the confidence needed to serve and protect within their own communities. I hope that my presence will influence others to go after their dreams and pursue a life-long career in something they are passionate about, regardless of what others may think.
What is a career highlight from your policing career?
In the short amount of time I have spent as a frontline officer, I have seen and participated in a lot. During my first week, I had two separate occasions to work with the Emergency Response Unit. Both circumstances were by far the highlight of my career to date. Watching the team execute their duties with such professionalism, control and efficiency was incredible. I love that every day in policing is different and that there are so many opportunities to make a difference.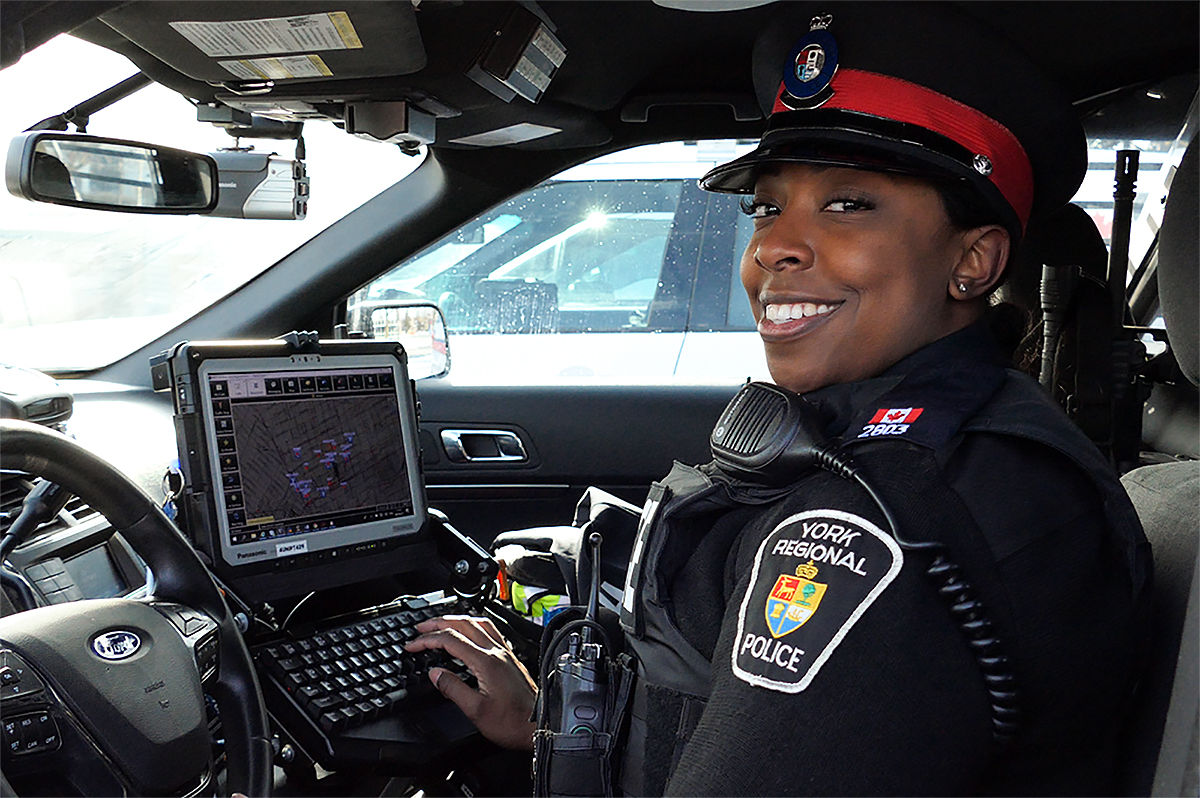 What advice do you have for anyone thinking of starting a career with YRP?
Now is the time to take that first step and walk confidently in the direction towards your dreams. YRP is one of the best organizations you could work for. From the very first time I walked through the door to drop off my application, to the day I signed my offer letter, I have always felt like I belonged. Everyone I met was always welcoming and willing to lend a helping hand. Do not be afraid to ask questions or ask for help if you need it. Everyone wants to see you succeed, so walk in there with a smile on your face and be ready to seize the day. If you are someone who enjoys helping others, making a difference in your community and committed to protecting those who are most vulnerable, YRP is the place to be. The best part about working with YRP is that you will never be alone. And even when you are alone, back up isn't too far behind.
How do you stay involved in your community?
Before the pandemic made it much harder to interact with others, I spent a lot of time delivering food to seniors through Meals on Wheels each week. I am also a long-time, one-on-one mentor with Big Brothers and Big Sisters. Being an active member within my community is very important to me. Once it is safe to do so, I look forward to spend more time getting involved and engaging with the community on a more personal level to build better connections.
Ayinde Roberts - Desktop Applications Support
Ayinde started his career with York Regional Police in December 2012 and he has worked in the Information Technology department, the Members' Helpdesk and after a couple of years, moved to the hardware side. He is currently a member of the Desktop Application Support team. Ayinde has a bachelor of arts in computer information systems from Oakwood University in Alabama and a network systems specialist diploma from the DeVry Technical Institute.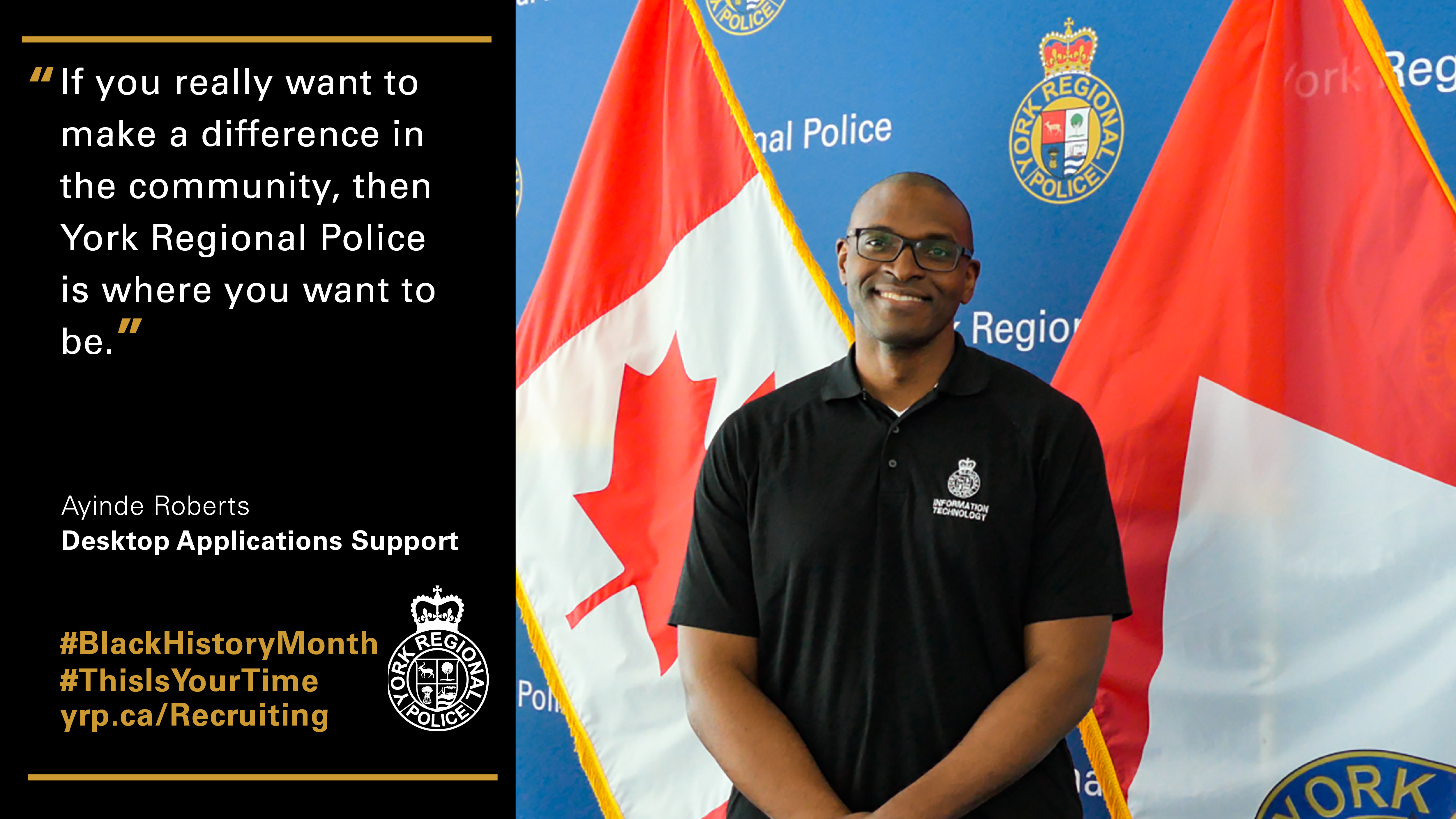 Why did you chose a career in policing?
The reason I decided to join YRP as a civilian was to better utilize my experience and skills in the IT department. At my previous job and first full-time career experience, I felt like my career was not going anywhere. I was hired as a helpdesk technician and remained in the same position for the majority of my nine years at that company. After a while, I noticed my colleagues starting to leave one by one for jobs at other businesses. As a result, I was cross-trained so I could take over their responsibilities. I jumped at the opportunity to learn something new and excel at it. I was excited about the possibilities but that was short lived. The company was downsizing and I thought it prudent and wise to explore other options.
I was encouraged to look at opportunities in policing, so I did just that. YRP happened to have a career opportunity I was well suited for, so I applied. Once hired, I soon realized that this was the perfect place for me. I have worked with exceptional colleagues, friends, mentors and supervisors. The support and team effort here is unparalleled to any I have experienced in my career. I love the work I do and enjoy helping and supporting other members. YRP has been and will continue to be my best employer.
What is a career highlight from your policing career?
Looking back on my eight years at YRP, I've been blessed to participate in and lead different IT projects. Some ran smoothly and others had some hiccups along the way, but they have all been successful. One notable highlight was a hardware refresh project. Working with tight timelines and increasingly curious stakeholders had its challenges. However, I am not one to back down from a challenge and I kept my head down and was laser focused on my task. I did my best to complete my task with minimal disruption to our members.
Once that project was completed, I was surprised with a commendation from Superintendent Chris Bullen for my professionalism, work ethic and successful completion of the project. It is great to feel valued for your contributions.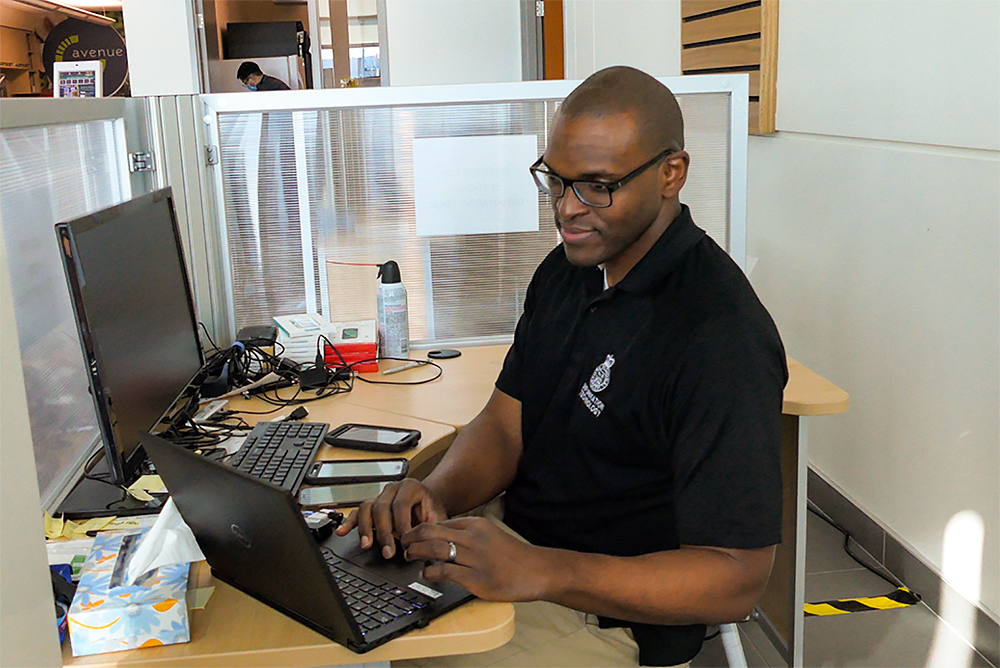 What advice do you have for anyone thinking of starting a career with YRP?
I would sincerely encourage anyone who is considering a career in policing to choose York Regional Police. As a member of the IT department, I get firsthand experience and exposure to innovative technologies that support our organization and the services they provide to our community. I truly feel that YRP is one of the top employers in Ontario. If you really want to make a difference in the lives of the community as a whole, then YRP is where you want to be. If you choose the uniform side, there are many opportunities to positively influence lives and even be a mentor. If you choose the civilian side, the options are there to excel in your field of study or any other essential area. I have certainly felt at home with my YRP family and look forward to the many more years I can be of service.
How do you stay involved in your community?
I enjoy serving the community I live in and the surrounding areas by meeting their immediate needs. I serve as a volunteer member at the Staff of Life food bank in Scarborough. Through this service, I get to meet people from various walks of life as the community is so diverse. I get to form relationships with individuals and witness their appreciation and thoughtful gestures that some of them do. It's rewarding and speaks to the importance of having a cheerful, loving and giving spirit.
Sergeant Deborah Gladding
Sergeant Debbie Gladding began her career with York Regional Police in June 1995. Over the course of her 25-year career, she has worked in #1 District Uniform Patrol, the #4 District Criminal Investigations Bureau, the Homicide Unit, the #2 District Criminal Investigations Bureau and #5 District Uniform Patrol. She is currently a sergeant in Professional Development in the Uniform Recruiting Unit.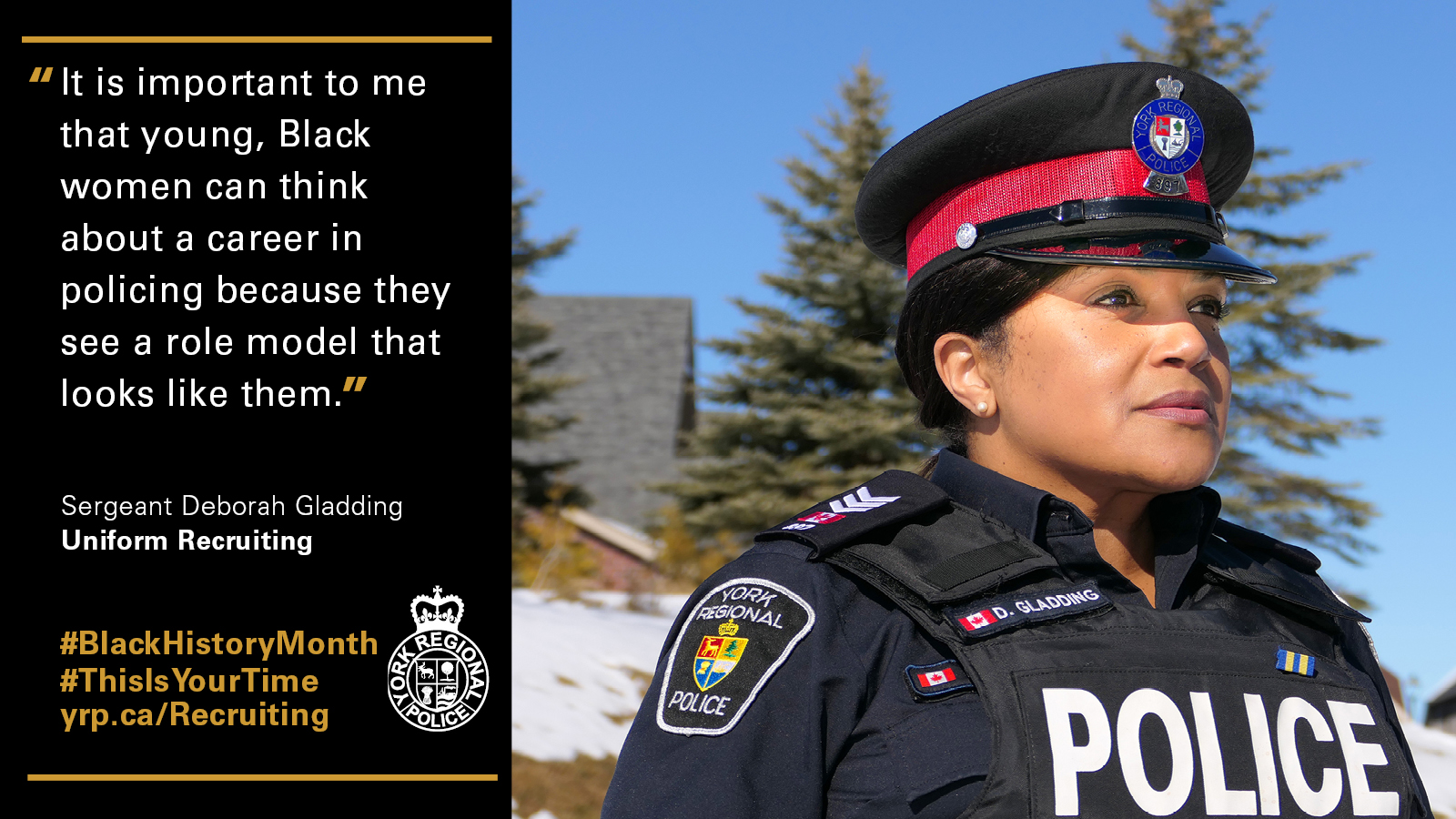 Why did you choose a career in policing?
I come from a family of police officers. My father was one of the first Black officers at York Regional Police, my brother is a sergeant with Peel Regional Police Service and my grandfather served as a police officer in Trinidad.
I grew up in Richmond Hill and was one of only four Black families to live in that part of the region at the time. I consider this organization and this region family and a home to m
e. I wanted to be an officer as soon as I finished high school and wanted to make my dad proud and follow in his footsteps. It was not an easy road to accomplish that goal, but I was not going to let anything stop me.
What is a career highlight for you from your policing career?
I have been the recipient of two Police Appreciation Night Awards: one in 2016 and one in 2017. The Herbert H. Carnegie Award is very special to me because it symbolized my commitment to community, both outside and within our organization. When I started with York Regional Police, I was one of only five Black female officers in the organization, but was fortunate to connect with mentors who guided me throughout my career. This is the most important role for me now in my career. Whether it is guiding applicants who are inter
ested in a policing career or being a mentor to new officers in the organization, giving back is vital to me. Mr. Carnegie faced many challenges in his professional hockey career and in his personal life. Despite those challenges, he persevered and developed a legacy that lives on in the Black community. If he can do it, so can I.


What advice do you have for anyone thinking of starting a career with YRP?
I have been asked this question many times and I say this with a lot of passion and honesty: This career needs both a physical and mental toughness that is like no other. There will be challenges at times that will test your resolve, but you have to push through. I think back to the first time I heard "no" when I applied. I have heard the stories of those who were told "no" more than once. Keep knocking at the door and if you have to, knock a little harder.
How do you stay involved in your community?
I love speaking to the young people in the Black community. When I hear about the challenges and hardships, it reinforces that I need to stay engaged with mentoring and becoming a voice for those who need an advocate, by making real connections and having a real understanding of the lived experiences of others. We are beginning to see small changes for Black women and it is important to me that young, Black women think about a career in policing because they see a role model that looks like them. This is an exciting time and I am glad to be a part of it.
Social Worker Chantal Bennett
Chantal Bennett is a registered social worker with the Ontario College of Social Workers and Social Service Workers. She holds a business management diploma from Humber College, a specialized bachelor of arts degree in psychology from York University, a masters of social worker degree from the University of Toronto and a post-graduate geriatric certificate with McMaster University. Chantal started her career at York Regional Police in June 2016 and provides service navigation to vulnerable residents who have had recent contact with YRP. She co-ordinates the Vulnerable Person Registry and Project Lifesaver program and develops initiatives to assist YRP in enhancing its communication with vulnerable residents. Chantal is also a member of the Senior Safety Team that works to address elder abuse in the community and other issues facing seniors and their caregivers.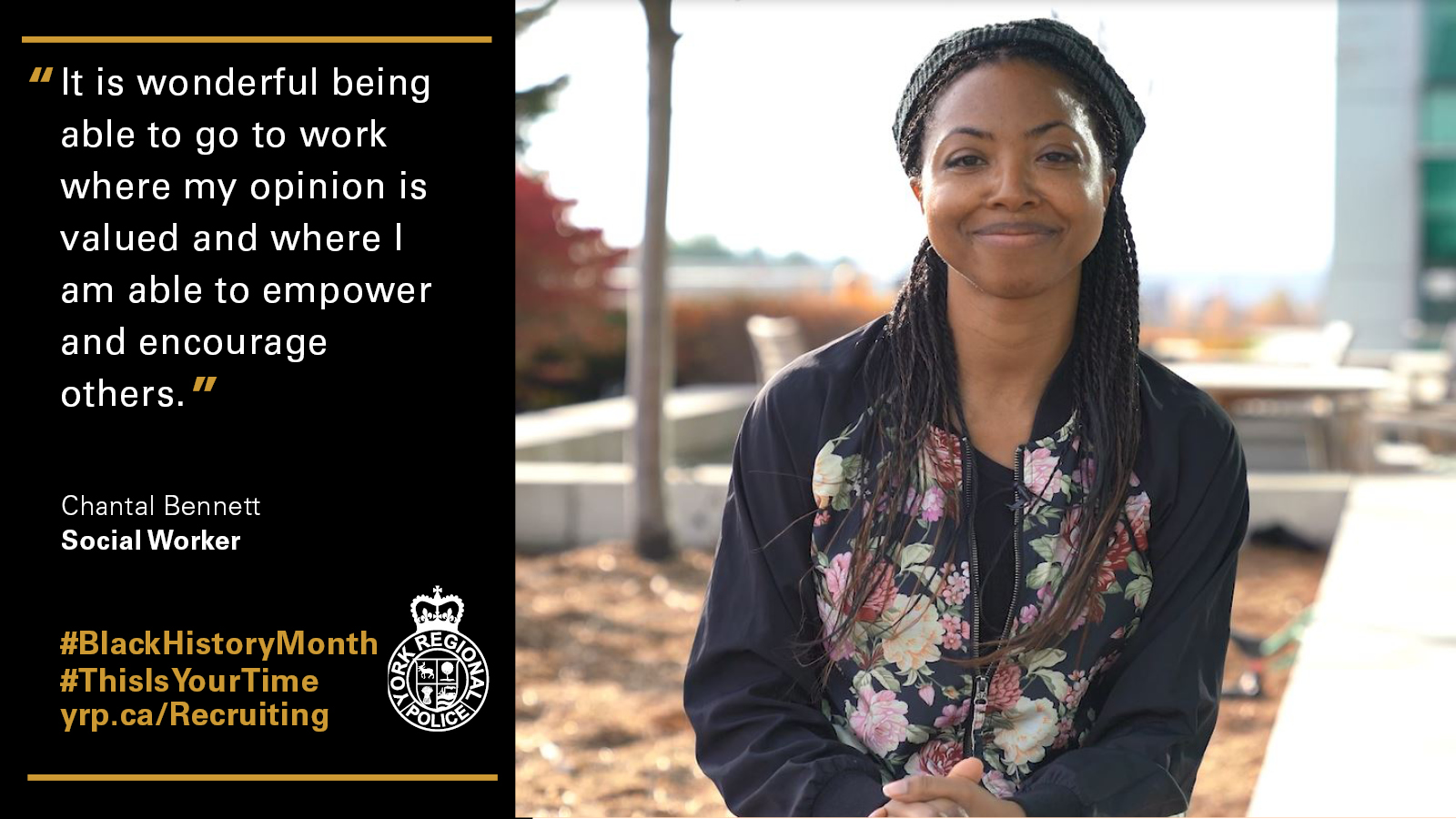 Why did you choose a career in policing/social work?
Like many others, I have endured a fair share of opposition and hurdles in life. I chose to be a social worker to make a positive difference in the lives of others and to equip those facing oppression and conflict with the set of skills/tools to assist them overcome hurdles in their life.
It can be hard to ask others for help when in need and I never want someone to feel like they have no one and nowhere to turn. I want to uplift others by helping people recognize their strengths, enhance their skills and develop strategies to reduce distress.
Through my position, I am able to connect with vulnerable individuals and help address at-risk behaviors in an effort to prevent a cycle of recidivism. Working at YRP allows me to make a difference in my community.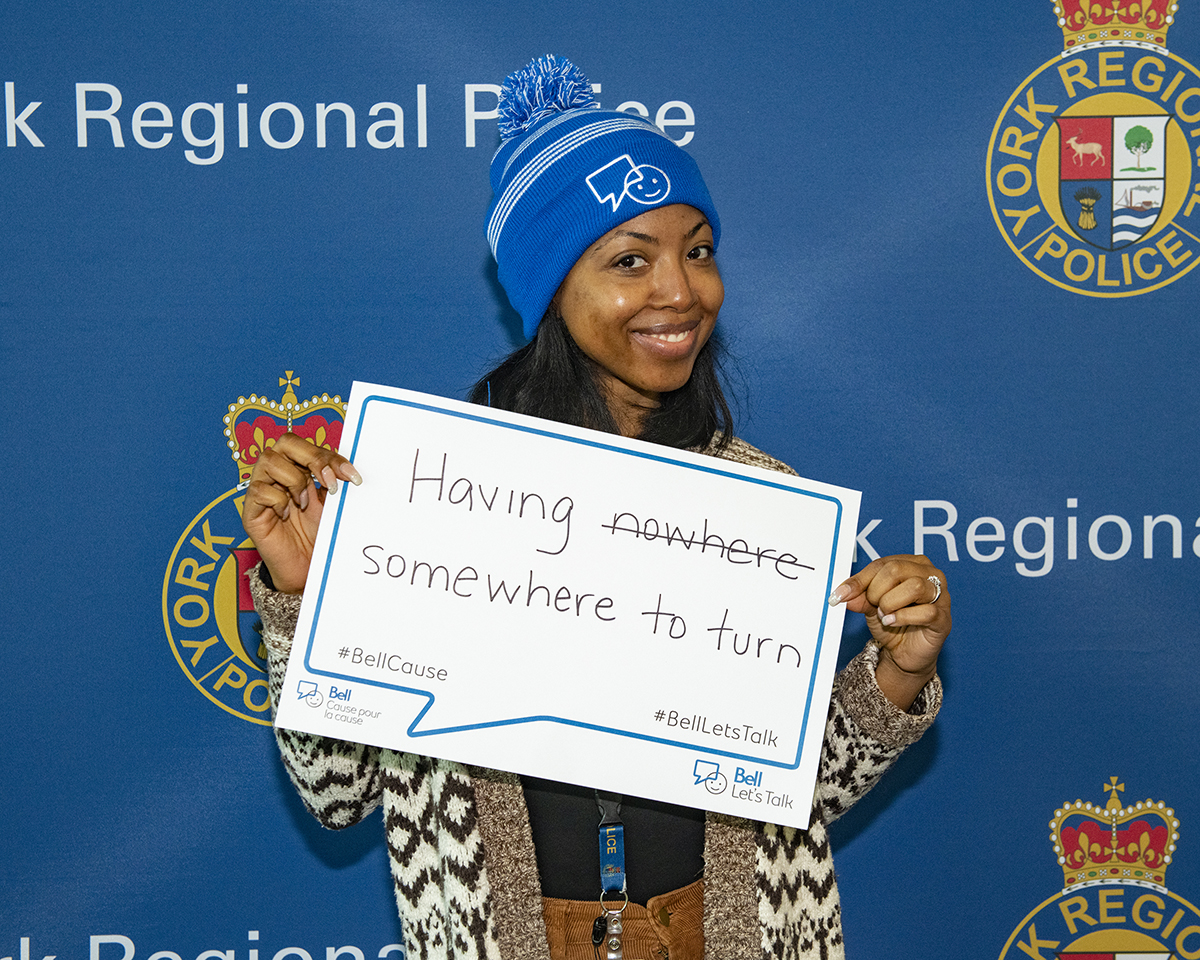 What is a highlight of your career at YRP?
I have been fortunate to work in different settings in the field of social work. Social work can be described as challenging, creative and purposeful and by working in this field, I am able to empower and encourage others.
In addition, I get to be an advocate for those who may be unable to advocate for themselves. Working collaboratively to help people master skills and meet goals, when they didn't think they could, is extremely rewarding. Hearing them say: "Thank you. After speaking with you I feel better and am able to move forward." That lets me know I've helped someone.


What advice would you have for someone contemplating a career at YRP?
I would encourage anyone contemplating a career at YRP to simply apply. Since starting at the organization I have felt embraced. It is wonderful being able to go to work in a professional environment, with amazing colleagues, where your opinions are valued.
YRP is an organization that continually strives to reflect the diversity of the community and has a reputation of being progressive and innovative. Not many police services have social workers, senior safety officers, a Mental Health Support Team and a Call Diversion Unit within their organization. YRP strives to be a leader in policing and recognizes the changing needs of the communities we serve.
How do you stay involved in your community?
I attend different cultural and community events where I have the opportunity to stay connected to my community. The challenges of the pandemic have impacted the opportunity to gather and shine a light on some deeply concerning issues and inequalities that are continuously plaguing the community. Given that social work's core values and ethics are deep rooted in anti-oppressive practice, advocating for underrepresented communities and social justice, I have stayed involved by keeping abreast of domestic and international events. It is important to understand and address the roots of the issues important to one's community. This is integral to my involvement in any community.
Coming together is a beginning, keeping together is progress and working together is success.
Staff Sergeant Dominic Reynolds
Staff Sergeant Dominic Reynolds started his career with York Regional Police in August 2003 and over the past 18 years, he has worked in Uniform Patrol and the Emergency Response Unit. He is currently the officer in charge of the Canine and the Emergency Response Units.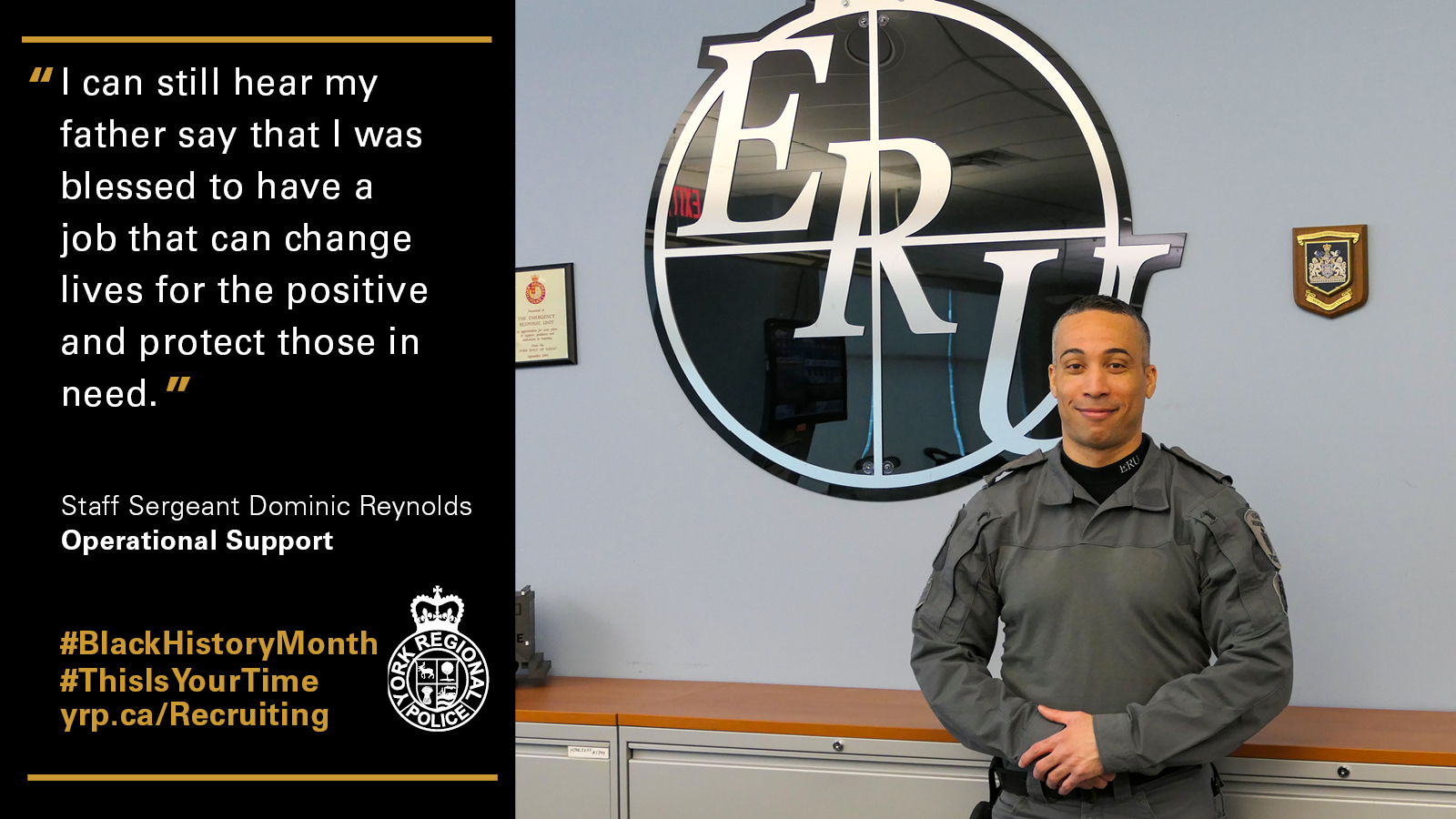 Why did you choose a career in policing?
I grew up in York Region and always had positive police interactions. I grew up with police officers as neighbours and they were great role models for me. I still remember the Community Services officer who was assigned to my class in Grade 6. He was someone I looked up to and respected.
These positive experiences made me consider policing as a profession. My initial goal was to have a career as a professional soccer player and I was lucky enough to play at a high level, but wasn't able to make a career out of it. I then turned my focus to becoming a police officer.
I am the first police officer in my family so I wasn't sure how my parents would react to me choosing policing as a profession, but they were extremely supportive. I can still hear my father say that I was blessed to have a job that can change lives for the positive and protect those in need.
What is a career highlight from your policing career?
A major highlight was becoming a member of the Emergency Response Unit. It has provided me with operational experience that I feel I would not have gained in any other position. I have been involved in some high-risk incidents that have made me a better police officer. The team atmosphere is second to none and I've been able to work for years with a group of officers who are hardworking, dedicated and highly skilled in what they do. Being a member of ERU has developed leadership, compassion and risk-management skills that have helped me throughout my career.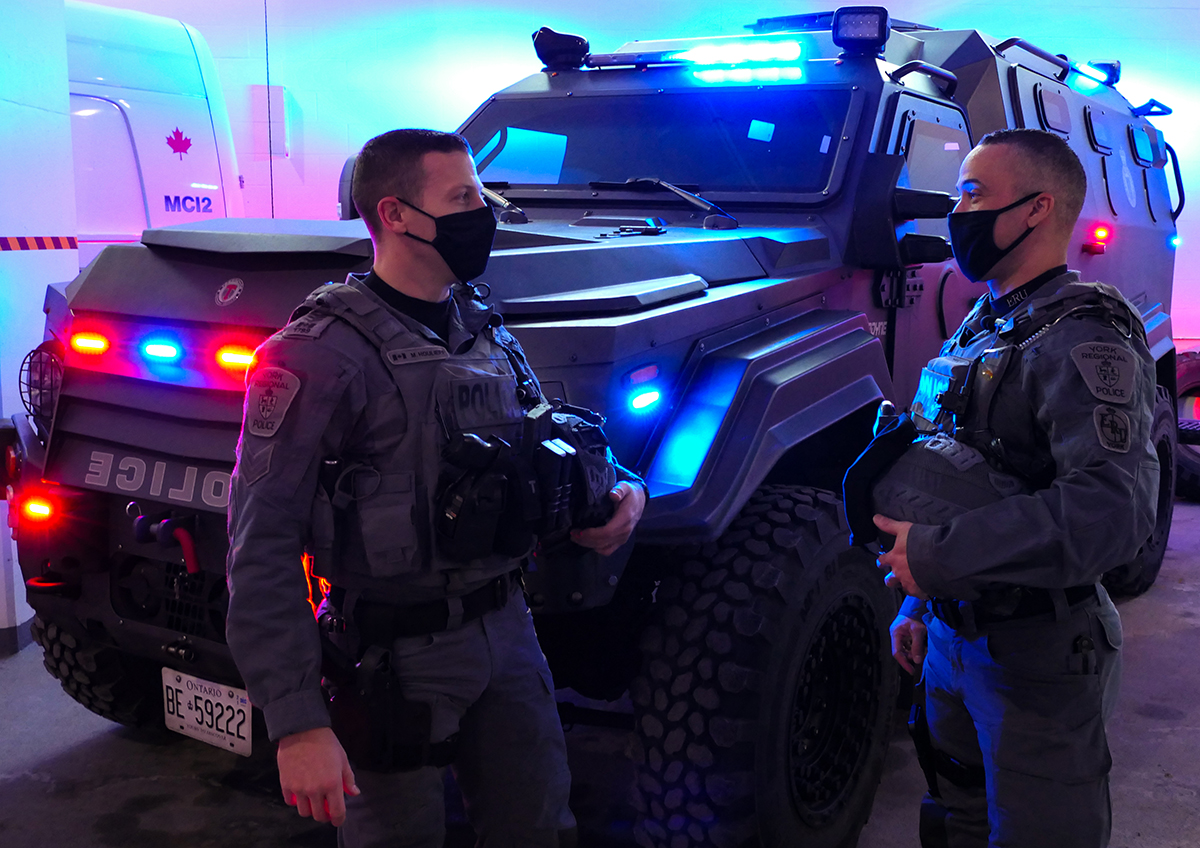 What advice do you have for anyone thinking of starting a career with YRP?
I would tell people that they are considering a great police service. YRP has allowed me to work in a great team atmosphere and do exciting work on a regular basis.
I have received numerous training opportunities, ranging from sniper training to critical incident decision-making training. As the officer in charge of the Canine and the Emergency Response Units, YRP has supported us in terms of technology and equipment so our officers can do our jobs in a manner that is safe for officers and our citizens.
How do you stay involved in your community?
I'm involved in many different ways. I am a youth soccer coach and volunteered for years with soccer clubs in the region. It's something I really enjoy. I attend community events and also support community events by having members of Canine and Emergency Response take part in presentations and speaking engagements for groups within the region.
From your perspective, how has Black culture improved our community?
Coming from a mixed-race background, I believe all cultures improve our community. Growing up, my family functions would have such a range of people and it made those get-togethers special. I believe our community is special because of the joining of so many cultures.