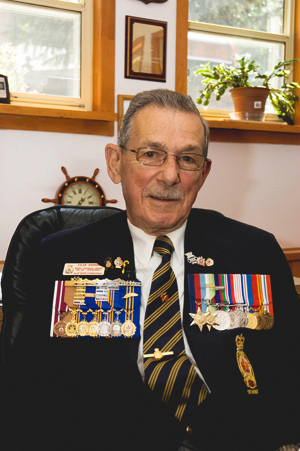 Clay Stones passed away in 2012. He was 86. This story was written in 2011, the year before he died.
Clay Stones joined the Canadian Merchant Navy at the age of 16 and served for three years during the Second World War. Before enlisting, he was a reservist in the Queen's Own Rifles militia regiment but was too young to serve when the war began. He joined the Merchant Marines so that he could still serve his country, despite his age.
"When the Queen's Own Rifles went active, all my buddies went with them," said Mr. Stones. "I decided there's no point in me staying home."
He enlisted with the Merchant Navy and, within a day, he was onboard a Norwegian ship leaving New York.
The Canadian Merchant Navy was first established on September 3, 1939, the same day that Canada declared war against Germany and its allies. The Merchant Navy served as a war-time shipping service, transporting explosives, weapons, and munitions to Allied forces across the globe.Those that manned the ships were known as the Merchant Marines.
Despite their invaluable contribution to the war effort, the Merchant Marines were not recognized as veterans until 1993. Though they were disbanded shortly after the war ended, they are now considered the former fourth branch of the Canadian military during the Second World War.
"One time we were going into Antwerp, Belgium, and we had about 8,000 tonnes of high explosives on board," said Mr. Stones. "After we offloaded the explosives in Antwerp and came off, my ship was torpedoed." This was not the last time Mr. Stones would find himself in danger. When delivering a shipment of mustard gas and explosives in Trinidad, his ship was met with a submarine they mistook to be hostile.
"When we first saw the submarine we thought we were being attacked by it," said Mr. Stones. "I thought with all this mustard gas on board - we're done, we're finished."
Mr. Stones lost most of his hearing from spending so much time below deck. Like other Merchant Marines who sought help, he was turned away by military hospitals because at that time they were not considered to be veterans. However, the war effort could not have been sustained without the contributions of the Merchant Marines and the risks they took to keep the frontlines supplied.
"Approximately 12,500 Canadians were in the Merchant Navy," Mr. Stones recalled. "Out of that 12,500, we lost well over 10 per cent, which is a higher casualty rate than all the other forces put together."
Today, the Merchant Marines are recognized as true veterans and are fully supported by the Canadian government. Mr. Stones was very appreciative of the support that he and other Merchant Navy veterans have received from Canada since being officially recognized.
"I have been to well over 30 countries during my life and there is no better place to call home than Canada," said Clay Stones. "We are blessed to be able to live in such a beautiful, peaceful and caring country."
Of today's conflict in Afghanistan, Mr. Stones thought we should do more to recognize the efforts of our Armed Forces and thank them for their sacrifices.
"Talk to them - learn about their experiences," said Mr. Stones. "We have to recognize every man and woman over there, because they're our kids, and if we don't recognize them, then we don't deserve to have Canada."
Clay Stones, even later in life, was still very active in the Newmarket Legion, Branch 426. He received many awards for his years of dedicated service to the legion. He lived in Newmarket since 1956 and, up to the point of his passing, was happily retired from his career with the Ontario Department of Mental Health. He lived with his wife Rita, to whom he had been married for 57 years. He and Rita have three children - Robert, Joanne, and Donna - eight grandchildren and three great grandchildren.
Photo Gallery: Clay Stones will appear here on the public site.