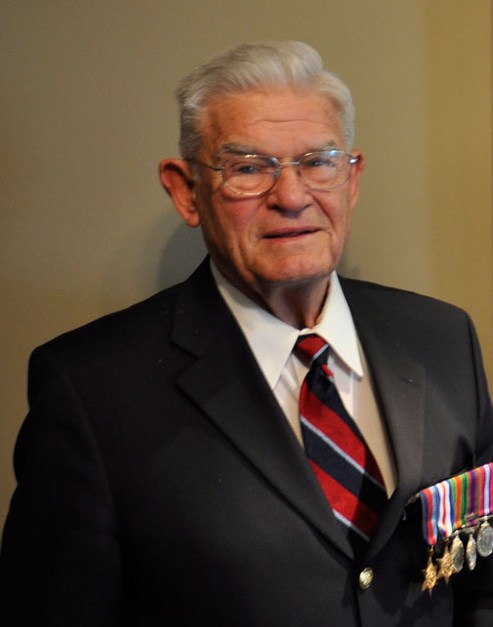 Graham Kennedy passed away in 2015. This story was written in 2011.
Graham Kennedy's home in Newmarket, Ontario is filled with memories of his service as he proudly displays the aircraft he flew and the medals both he and his older brother Bill, received for their loyal and dedicated service with the Canadian Military.
On July 1, 1941, Graham Kennedy joined the Air Force as a pilot. He was only 18 and his older brother had joined the Air Force just six short months earlier.
"I followed in my brother Bill's footsteps all through our life when we were kids," said Graham. "I looked up to him."
Even though he was a Canadian Air Force pilot, he was assigned to fly with the Royal Air Force, along with other pilots from South Africa, United States, New Zealand, Scotland, Ireland and England out of an Air Force base in Eindhoven, Holland.
After successfully meeting all the flying requirements, he was assigned to fly the Typhoon, a British single-seat fighter-bomber, produced by Hawker Aircraft. This aircraft was used for firing rockets and providing gun fire support to ground troops engaged in active combat.
It took two years to be reunited with his older brother, Bill, when they were both assigned to an Air Force base in Holland. Graham Kennedy flew with the 137 Squadron-124th Wing and Bill Kennedy flew a Spitfire with the 400 Squadron-39th Wing.
In one split moment, Mr. Kennedy's life changed when two friends told him Bill had not returned from his afternoon mission.
"I recall taking off with my loaded .38 calibre handgun on my hip and heading to the frontlines," he said. "I got to the first security check point and not knowing the password to get past this post, it was as far as I got."
He continued flying his missions, all the while wondering what happened to his brother.
On November 14, 1944, Mr. Kennedy's aircraft was hit by anti-aircraft fire, forcing him to make an emergency landing in a field with German soldiers nearby. "I recall coming down just about the tree level and when I touched down in the field my plane struck a German trench," said Mr. Kennedy. "The impact caused me to hit my head on the gun sight which knocked me unconscious".
As he lay there, he recalls a person with an English accent asking him if he was all right and he responded as every skilled pilot would: "Of course I am." He awoke in a hospital bed with facial injuries and a compression fracture to his lower back. After six months of rehabilitation, Graham was discharged from the Air Force to begin his new civilian life.
Being short a few high school courses that would allow him to enroll in university, Mr. Kennedy went back to classes offered by the Canadian Military and received the necessary credits to attend the University of Toronto. In 1950, he was awarded a degree as a Mining Engineer.
Mr. Kennedy married his best friend, Helen, in 1949. They have called York Region home for more than 40 years. Now retired over 20 years, Graham and Helen remain close to their five children and enjoy the wonderful moments with their six grandchildren.
In August 2007, Mr. Kennedy was contacted by the daughter of the man who was first on scene at his brother's plane crash. Sixty years ago, Mr. Herman Koekkoek was out riding his bicycle when he came upon Bills' downed aircraft. Bill was buried in a local cemetery near Zute Van, Holland. Since the time Bill was laid to rest, Herman and his family would visit the gravesite every Christmas. When Herman passed away, his daughter Yvonne assumed the care of Bill's grave site and continues to visit every year during the Christmas holidays.
Mr. and Mrs. Kennedy have flown to Holland twice to visit Bill's gravesite and meet Yvonne.
"It was really nice to meet her and to finally find out where Bill was laid to rest," said Mr. Kennedy. "My brother is the only Protestant buried in a Catholic Cemetery."
He keeps in touch with Yvonne through the Internet.
Graham Kennedy is finally at peace with his brother's death and the circumstances surrounding it. Through the power of the Internet, Mr. Kennedy has since learned Lieutenant Alfred Schreiber of the German Luftwaffe shot down his brother. Two weeks after shooting down Bill Kennedy, on the same day Graham Kennedy was shot down over Holland, Alfred Schreiber lost his own life during a take off when both his engines failed.
Together, three members of the Kennedy family served this country. His father was a decorated World War I Canadian Army veteran who was recognized for keeping the lines of communication open for the troops on the frontlines in enemy contact.
Mr. Kennedy continues to be very active within the community by talking with children in schools on his war time experiences. He is very proud to talk about his service and how he and his brother shared a love for the same things in life. He is still a proud member of the Typhoon Pilot's Association. When the group first started to meet, there were approximately 25 to 30 pilots that attended the yearly gathering. Sadly, there are now only 18 members left. As times passes, so will the legacy of these heroes.