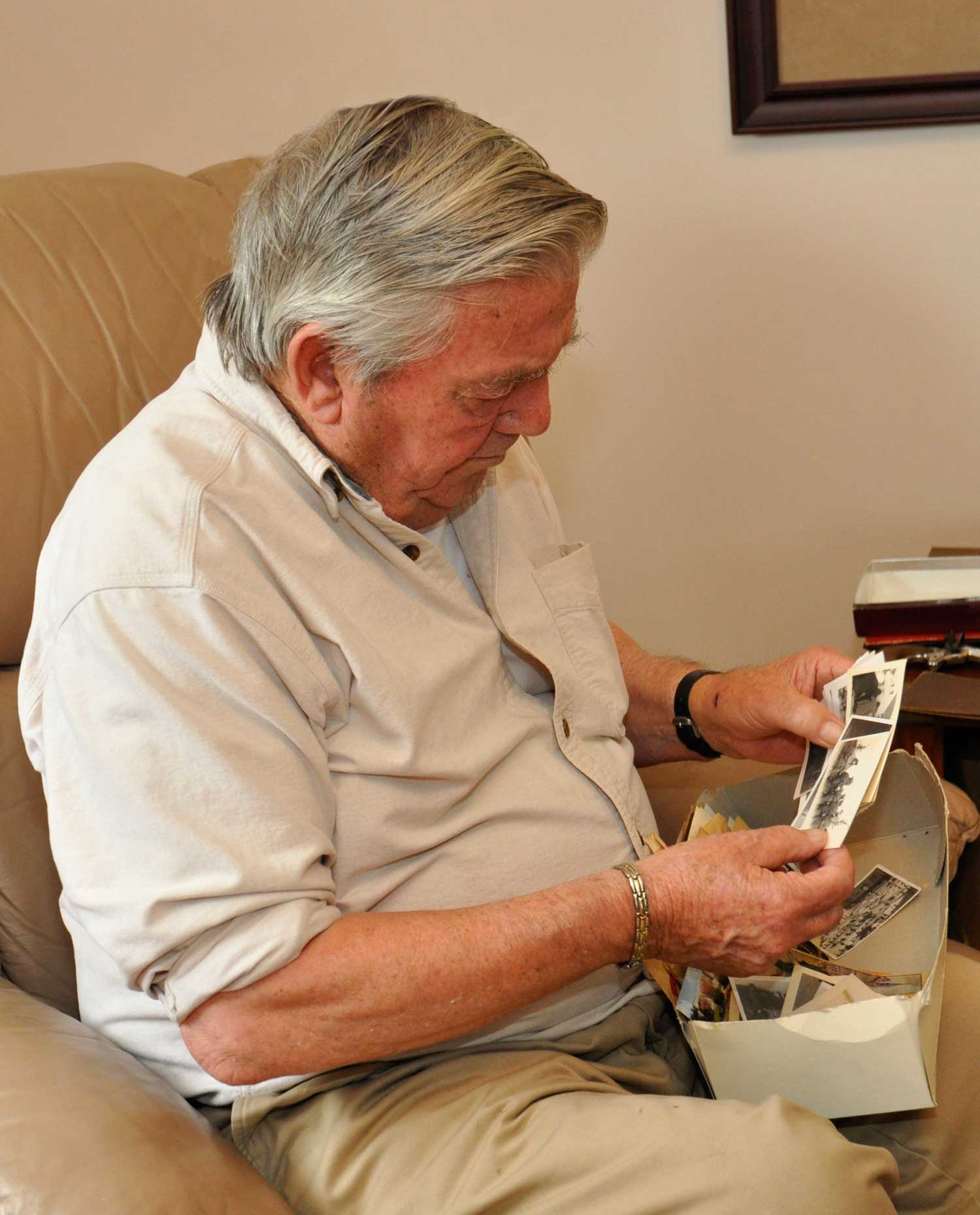 Lloyd Crate passed away in 2014. He was 89. This story was written in 2009.
Lloyd Crate was an 18-year-old kid from Keswick when he enlisted in the army as a member of the infantry division, Stormont, Dundas and Glengarry Highlanders (SD&G). He tested with the air force, but was too impatient to wait to hear back from them, so he went across the road and signed up with the army instead.
Mr. Crate's parents encouraged him to stay home and work at the family business. His father owned what would become the now-renowned marina business, Crate's Marine Sales. But he'd been helping at home and with the business since he left school at Grade 7 and he wanted to go off on his own.
As a private in the army, he drove a WASP, which was a motorized, armoured flamethrower with a mounted Bren gun. While in Germany, he was taken shelter in a residence with his sergeant and six other privates when a shell hit over the window. He was the only one to survive.
"I was lucky," said Mr. Crate. "Others were killed all around me, but I walked away."
He spent time in Holland and Germany and proudly displays a framed map painted by his nephew that shows all of the places he visited during World War II.
While crossing the Dutch countryside, his unit took on fire and had to find shelter behind a barn. Some mortars landed in a nearby pile of manure. And although the manure actually saved their lives, they were less than thankful to be covered in it.
"The first time I'd ever been in action, in Noci, we were following infantry on foot and snipers were spotted ahead in a house. We were told to burn them out. Ten minutes later, the house was completely destroyed," he said. "How many civilians were in there? I don't know. Sometimes, I wake up at night wondering about that."
Mr. Crate thinks it's important to pass on the stories about his time served during the war, but still finds it difficult to talk about.
"You try to forget it," he said. "Even my kids don't know what I saw and experienced."
He celebrated three birthdays while serving in the war. "I spent my 19th, 20th and 21st birthdays overseas, but I was young and one of the lucky ones. It was much harder for the married guys," said Mr. Crate. "If you ran into a 30-year-old, you'd call him an old man."
Mr. Crate earned $1.10 a day fighting for our country. Although he saw casualties and death all around him, he still looks back on that time in his life as "the most fun I ever had."
When he went on leave, he'd hitch a ride on a truck to the English Channel, take a boat across and then hop aboard a train. While on leave, Mr. Crate wouldn't think about returning to the front line when his leave was up, simply living in the moment. "We'd laugh, talk, drink and have fun," he said.
Mr. Crate's hearing was damaged as a result of his time served in the war, and he has several shrapnel injuries. With over two years of active engagement, he saw a lot of shelling, and lived through almost constant explosions. "I've seen them shell a city for five days straight," said Mr. Crate. "I still wake up at night and think about the things I've seen."
Serving in the army changed Mr. Crate for the better and strengthened his leadership skills. "You have to work hard to get ahead in life," He said. "It's a value that's important to share with the youth of today."
After the war, he enjoyed life for a year before returning to the family business, eventually taking over the business when his father passed away. He's lived most of his life in Keswick, with his wife of 45 years, Helen, who sadly passed away a few years ago. He has a daughter, four sons, 24 grandchildren and one great-grandchild. At 84-years-old, he enjoys living in his family home with his German shepherd, Duke.
Mr. Crate supports the work our troops are doing in Afghanistan, but would like to see them come home. "It's not like when I was at war, and the enemy wore a uniform," he said. "How can you tell friend from foe?"