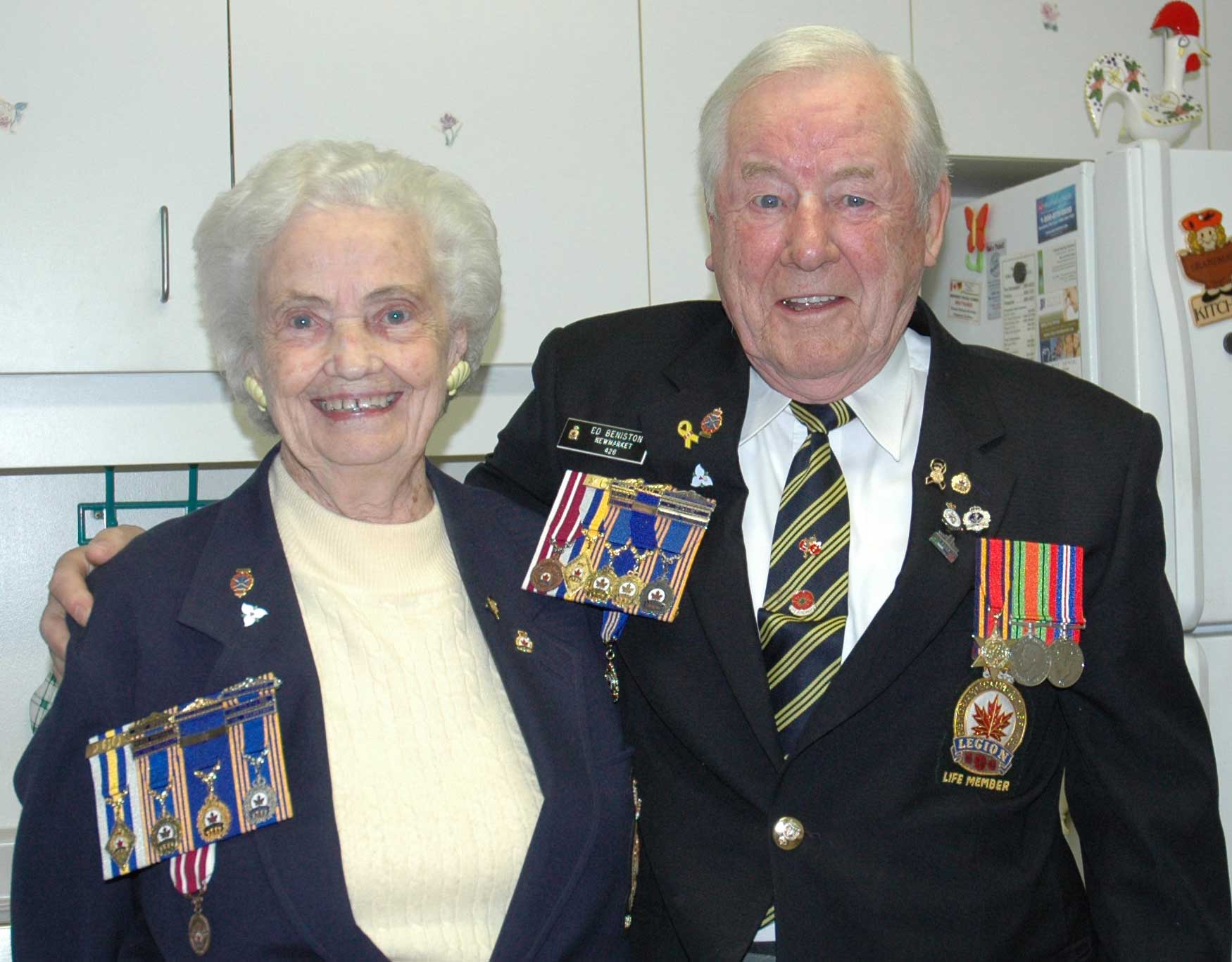 Ed Beniston was orphaned at the age of three and raised by his aunt in Doncaster, located in Yorkshire, England.
He finished school at 14 and started to work full time. At 16, Mr. Beniston and his mates hopped on their bicycles and peddled 30 miles to the recruiting office in Sheffield where he applied to join the Royal Navy. He completed all the testing and rode back home where he kept his secret of applying for the Navy from his aunt.
Shortly after his 17th birthday, he came home to find his aunt holding an envelope addressed to him by her Majesty's Service. Mr. Beniston was to report for duty on November 11, 1943. His aunt was upset with him for keeping his secret, but he explained his strong desire to serve his country and began packing.
Mr. Beniston found himself leaving his home town a few days later onboard a train packed with soldiers for a ten-hour trip to Plymouth, England where he received 10 weeks of training. At the completion of his training, he was assigned the night watch to protect Plymouth in the capacity of a gunner. For six months, he was the man responsible for firing off the large, double-barrel, four-inch guns.
"At first it was okay, but after time, it got to the point where it was stressful," said Mr. Beniston. "I was pulling the trigger with my eyes closed."
With no protective hearing equipment during his time on the guns, he has since lost hearing in his left ear and requires the assistance of a hearing aid in his right ear.
Mr. Beniston recalls his most difficult experience, during his days as young recruit going through his basic training.
"The commando training was the most difficult thing I have ever done. We would hike 10 miles with a full backpack. We had to climb ropes, jump over walls and walk through mud and water holes. All we had for clothing was a pair of coveralls. As soon as we returned, they would send us out into the harbour with row boats. We had to go out to an old ship and climb up the rope on the sides and get onboard as if we were taking control of it," said Ed Beniston. "The worst thing about it was it was in the middle of January."
Mr. Beniston left Plymouth and sailed to Singapore onboard the headquarters ship, the H.M.S. Bulolo, a ship previously used as an armed merchant ship prior to the start of World War ll. He was only in Singapore for one short week. The H.M.S. Bulolo then sailed into the Penang Straight in Malaya where they assisted with shore landings, which saw hundreds of troops land on the shores and advance inland. The ship would follow the troops up the Straight into Penang.
Mr. Beniston remained onboard the H.M.S. Bulolo for a week in Penang and recalls the time the Americans dropped the atomic bomb on Hiroshima.
"I was onboard the ship sailing up the Penang Straight when word came down days following the bomb blast that the war was over," Mr. Beniston recalls. "A week later we got the official report that the war was over."
He was relieved to hear the news, but remembers asking himself "What is going to happen next?"
With the announcement the war was over, the H.M.S. Bulolo departed Malaya and sailed to Singapore. The Dutch East Indies (now Indonesia) had many Dutch women and children whose husbands had been fighting in Malaya and were still in hostile territory. The H.M.S. Bulolo received orders to sail to the Dutch East Indies to rescue the men and women. As they arrived, the dock where the women and children were waiting was being shelled, even after the war was over. Mr. Beniston and the crew rescued 500 women and children from the island.
In 1947, following a six-month peace keeping mission on a naval base in Trincomalee, a port city on the east coast of Sri Lanka, Mr. Beniston was discharged from the Royal Navy and received a discharge pay of £54 . While serving for his country, he was paid a total of £10 every two weeks, out of which the military sent £5 home to his aunt as agreed when he joined.
Ed Beniston brought home more than just memories when he was discharged.
"I had a pet monkey, Chad, that I had board onboard the ship while in Singapore," he reminisces. "I hid the monkey from the captain, but eventually got caught. I was told I'd have to leave him behind."
Mr. Beniston recalls the day he was being discharged.
"I took the monkey and hid him in my gas mask and placed it in my sack," he said. "I was instructed to turn in my gas mask and I asked to keep it. I was able to get the monkey out of the gas mask and placed him in my front pocket before leaving the grounds."
Mr. Beniston arrived back home at his aunt's home and for five more years, he would sit up at night and drink a cup of warm cocoa with Chad. His aunt even made clothing for Chad to wear in the colder days, especially when Mr. Beniston rode his bicycle with Chad sitting on the handle bars.
Ed Beniston returned to the occupation he had started when he was only 15 as a truck driver's helper. He recalls a time in his youth when he was an assistant.
"The driver would leave the yard and drive to his girlfriend's home," he said. "He would get out and I would drive the truck to the delivery site and return to pick him up, so he could drive the truck back to the yard."
In 1956, Ed Beniston left his homeland and immigrated to Canada where he moved in with his brother, George, who had taken up residence in Cooksville, Ontario. He quickly found work at Neptune Meters where he became a machine operator.
It was here he met his lovely wife, Edith and married her 44 years ago on September 5, 1965. They raised their four children, two boys and two girls, and eventually moved to Newmarket, Ontario in 1975. Today, Mr. and Mrs. Beniston are proud grandparents. They have five grandchildren, one great grandchild and one great-great grandchild.
Mr. and Mrs. Beniston are both active volunteers in their community. While in their home you will notice many certificates of appreciation proudly displayed. They have both served a great deal of time with the Newmarket Legion Branch 426, where Mr. Beniston held the role of president. After five years, he completed his term and
his lovely wife, Edith, became the very first female president of Branch 426 and completed a three-year term.
Ed Beniston is a very passionate man. He cares deeply about his community and his strong love and devotion for his family is of the utmost importance to him. Ed Beniston has been by his daughter's side every step of the way during her cancer treatment. He took on the role of driver, supporter, best friend and dad during the most difficult times and is very proud to say his daughter is doing well.
With the love of his life standing close to him holding onto his arm, Ed Beniston shares that Edith is also a cancer survivor.
Mr. Beniston remains active by golfing twice a week and loves watching soccer matches.
He is a strong supporter of the troops currently in Afghanistan. He is truly grateful for the support he has received and continues to receive from our Veterans Affairs, but hopes our troops come home soon.
"They are fighting a battle where they can't see the enemy," said Mr.Beniston.