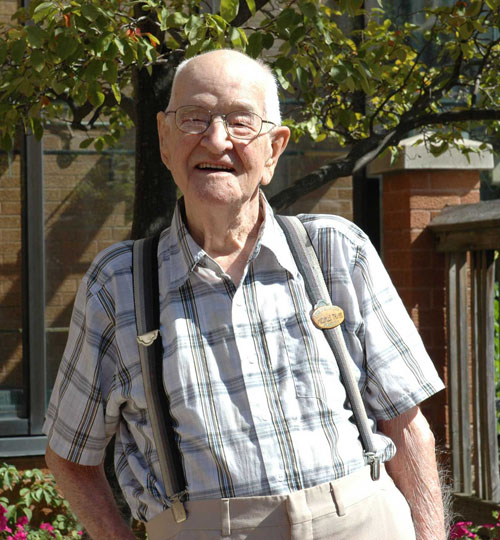 Melville Thomas passed away in 2014. He was 105. The story to follow was written in 2009.
Melville Thomas is a collector. His apartment, in the heart of Stouffville, is filled with his collections of spoons, thimbles and memorabilia from his full life. Mr. Thomas, who celebrated his 100th birthday on September 23, 2009, was happy to speak about his long life, including his war years.
On June 6, 1931, Mr. Thomas joined the military service as a machinist. He was 22-years-old, and having apprenticed as a machinist and toolmaker, he wanted to serve his country. As a member of the Kingston outfit, he travelled the world, spending time in England, North Africa, Algiers, Gibraltar, Naples, Matera, France, Belgium, Holland and Germany. These are places he never thought he would see when he dropped out of school after Grade 4.
"I saw a lot of things that I will never mention," said Mr. Thomas. "I can't talk about that."
But there were a lot of good memories as well. He recounted how he spent Christmas 1943 in Matera, Italy and how the Italian people kindly prepared a wonderful Christmas dinner for his outfit. Most of his service time was spent in Italy.
One of Mr. Thomas's more difficult memories was of a German airplane letting a bomb go over a schoolhouse.
"These things never leave you," said Mel. Although the memories are harsh, he notes; "They made me a better man."
He came away from the war more empathetic to the different cultures and ways of life of people in foreign countries. Mr. Thomas explained that during a 72-hour trip across the North African desert, he was surprised the nights were so bitterly cold. The cars of the train had no heat, and the men just couldn't get warm. During the night, dozens of local boys ran out to the train, begging for food and biscuits.
"It made me appreciate everything I had at home," he said.
Mr. Thomas, who was a corporal and acting sergeant, earned a dollar and a quarter a day while in the service. In addition to this pay, he earned an extra quarter a day for serving in the 5thCanadian Armoured Division, an extra quarter a day for his corporal stripes and an extra fifty cents a day in trade's pay.
"I didn't draw a pay while serving in Italy," he mused. "It was easy to barter and trade to get what you needed."
Using some of his well-earned pay, Mr. Thomas was able to take a small trip to Rome during one of his leaves.
"I toured Vatican City and met the Pope," he says proudly.
Mr. Thomas was discharged in January 1946. It's a day he says he'll never forget. "I was in Holland when the war ended," he said. "It seemed as if something heavy was taken out of my system and was replaced with calmness." He was discharged as a confirmed corporal and returned home to his wife and two children.
Following his time in the service, he made a life in York Region as a machinist and a farmer. He and his wife, Murial, raised their two children, Doris and Bob, and eventually sold their home and moved to an apartment at Parkview Village. Sadly, in 1997, Murial Thomas died of a heart attack. The couple was married 61 years.
"I've had a good life," Mr. Thomas said. "My only wish would have been for my wife to have been around a little longer."
Mr. Thomas is an active volunteer in the community. Service recognition certificates adorn his wall, and he is happy to talk about his work volunteering at the Aphasia clinic. He also makes time to visit schools in his community. "It makes me feel good to speak to children," he said.
Mr. Thomas is a big supporter of our troops in Afghanistan, and would like to see more recognition for the soldiers.
"They volunteered, just like Canadians did during World War II," said Mr. Thomas. "I'd like to see more young people go into the service. They have the education and can do great things."
At 100 years young, Mel Thomas is looking forward to many more good years to come. He keeps youthful cooking for his friends, woodworking and volunteering in the community. He bakes tea biscuits from scratch, without a recipe or measuring ingredients, and loves to make his own homemade vegetable soup. He also has a passion for woodworking, building clocks, cradles and lamps.
In September, hundreds of Mr. Thomas' friends and family gathered at Parkview Village to celebrate his milestone birthday, and his amazing life. "As long as my health keeps up, there's nothing to slow me down," says Mr. Thomas with a smile.
Photo Gallery: Mel Thomas will appear here on the public site.