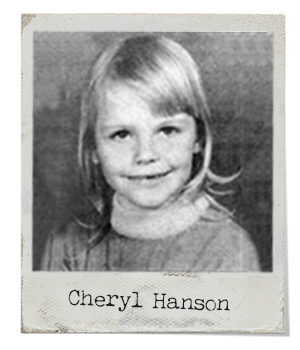 Seven-year-old Cheryl Hanson disappeared while making the 10-minute walk between her house and the home of her cousin's family in Aurora on May 31, 1974. She was never seen again.
Before leaving her house on Bloomington Road near the Blue Hills Academy, Cheryl put on a red coat over a dark brown, checked sweater and pants and a pair of white leather shoes. She was carrying a paper bag holding white pyjamas with a red floral design.
A large-scale search involving police officers, other law enforcement agencies and community volunteers was conducted following Cheryl's disappearance, but the searches were all unsuccessful.
From the cold case files
Photo Gallery: Cheryl Hanson will appear here on the public site.
Crime Scene Locations
Help solve Cheryl's disappearance?
Do you have information about Cheryl Hanson's disappearance? Can you help solve this case?
If so, please contact the York Regional Police Cold Case Unit at 1-866-876-5423 ext. 7865 or email the investigators directly. Want to remain anonymous? Call Crime Stoppers at 1-800-222-TIPS, leave a tip online at www.1800222tips.com or text a tip by sending TIPYORK and a message to CRIMES (274637).