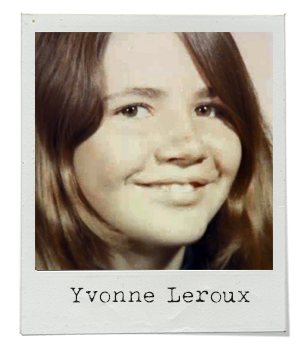 Yvonne Leroux was a 16-year-old Toronto girl hoping to steer her life in a new direction after a group counselling session on a Wednesday night.
Before she got the chance, she was killed.
On November 30, 1972, a passerby made the grim discovery of Yvonne's body off of 16 Sideroad in King Township, between Jane and Keele Streets. That was 24 kilometres north of where she was last seen the night before, at a clinic near the York Finch General Hospital, at Oakdale Road and Finch Avenue. Today, York Finch General is known as the Humber River Hospital.
An autopsy later confirmed that Yvonne died as a result of blunt-force trauma to the head. On the night of her death, she was wearing tan leather boots, a navy blue wool coat, blue jeans and carrying a brown purse.
In March 2016, the York Regional Police Services Board renewed a $50,000 reward, offered to anyone with information leading to the identification of Yvonne's killer.
From the cold case files
Crime Scene Photographs
Photo Gallery: Yvonne Leroux will appear here on the public site.
Points of Interest
Help solve Yvonne's murder
Do you have information about the murder of Yvonne Leroux? Can you help identify her killer?
If so, please contact the York Regional Police Cold Case Unit at 1-866-876-5423 ext. 7865 or email the investigators directly at coldcase@yrp.ca. Want to remain anonymous? Call Crime Stoppers at 1-800-222-TIPS, leave a tip online at www.1800222tips.com or text a tip by sending TIPYORK and a message to CRIMES (274637).