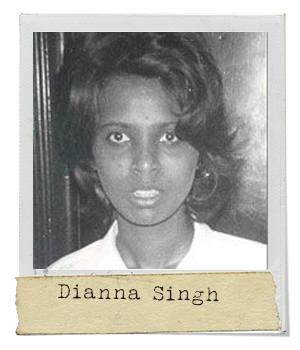 Dianna Singh's body was found near a quiet laneway in King Township, 12 days after she was last seen, on August 25, 1974.
Dianna, a Toronto resident, was just 21 and working as a waitress when she was killed.
An autopsy determined that she was stabbed to death. She was pregnant at the time.
A police investigation revealed that Dianna was last seen outside a Becker's convenience store near Jane Street and Woolner Avenue in Toronto. Dianna might have hitchhiked to the store.
From the cold case files
Crime Scene Photographs
Photo Gallery: Dianna Singh will appear here on the public site.
Points of Interest
Help solve Dianna's murder
Can you help us identify Dianna Singh's killer?
If so, please contact the York Regional Police Cold Case Unit at 1-866-876-5423 ext. 7865 or email the investigators directly. Want to remain anonymous? Call Crime Stoppers at 1-800-222-TIPS, leave a tip online at www.1800222tips.com or text a tip by sending TIPYORK and a message to CRIMES (274637).