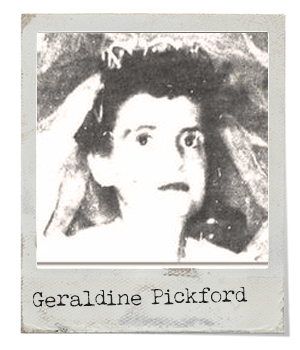 Geraldine Pickford had worked at St. Andrew's College for four months before she was choked to death and left on a bank of the Tannery Creek in Aurora.
The 40 year old was discovered by a group of students at the all-boys' boarding school on September 19, 1965. At that time, the creek ran through the college grounds near the rugby and cricket fields. She was was found completely nude, her clothes strewn about nearby among pieces of garbage.
Working as a server in the college's dining areas, Geraldine would clock in and clock out repeatedly throughout the day, as the boys came and went to eat their meals.
After clocking out for the last time and leaving the women's quarters just after 9 p.m. on September 19, 1965, Geraldine was never seen alive again.
From the cold case files
Cold Case Docs
Crime Scene Photographs
Photo Gallery: Geraldine Pickford will appear here on the public site.
Points of Interest
Help solve Geraldine's murder
Do you have information about Geraldine Pickford? Can you help identify her killer?
If so, please contact the York Regional Police Cold Case Unit at 1-866-876-5423 ext. 7865 or email the investigators directly. Want to remain anonymous? Call Crime Stoppers at 1-800-222-TIPS, leave a tip online at www.1800222tips.com or text a tip by sending TIPYORK and a message to CRIMES (274637).