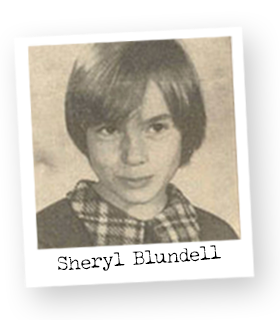 When Sheryl Blundell and her friend Lynn Sprague left home on February 6, 1973 to buy candy at the local store, they told Sheryl's younger brother Bill they would be home in 10 minutes.
Sadly, 10-year-old Sheryl never made it home. At about 7:20 p.m., Sheryl and Lynn had stepped onto the road to give a lost driver directions in front of a building at 233 Main St., in Stouffville. Suddenly, they were struck by another vehicle. Lynn survived after suffering serious injuries, but Sheryl was pronounced dead in hospital.
The vehicle that struck Sheryl, an early 1960s Ford or Mercury in red or grey, slowed but never stopped.
Crime Scene Locations
Help Solve a Crime
Do you have information about Sheryl Blundell? Can you help solve this case?
Anyone with information is asked to contact the Major Collision Investigation Unit at 1-866-876-5423, ext. 7704, or Crime Stoppers anonymously at 1-800-222-TIPS, or leave an anonymous tip online at www.1800222tips.com.